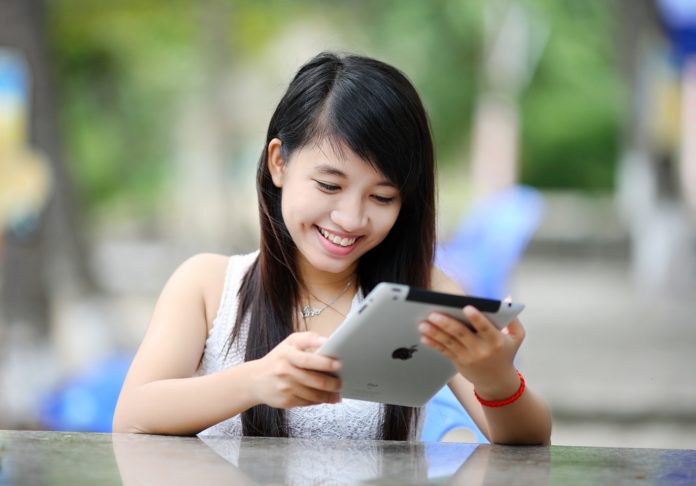 Tech led the market again today as the broader indexes rose across the board. The Dow, S&P, and Nasdaq Composite got September off to a good start following a historic August performance.
Most notable today were overperformers Apple (NASDAQ: AAPL), Walmart (NYSE: WMT), and Zoom Video (NASDAQ: ZM), the last of which rocketed 40% higher in response to another blowout quarter of earnings. The video conferencing provider saw its Q2 revenues quadruple year-over-year, surprising even the most bullish ZM advocate.
With the rich getting richer, investors continue to funnel their funds toward the market leaders.
"That's just the playbook investors are reading right now. They're playing the momentum game, but at some point, I think that shifts," Brent Schutte, chief investment strategist for Northwestern Mutual Wealth Management, said.
"As the economic recovery continues, I think you will see a broadening of the stocks participating in this rally."
We've said it before, that market breadth needs to improve if this market is going to post any sustainable gains. The "Apple and Tesla Show," while entertaining, isn't going to last forever.
Analysts are now pointing to the less popular sectors as ones to watch in September.
"While growth and momentum names continue to be the primary driver of returns, value and cyclicals have begun to participate," explained Mark Hackett, Nationwide's chief of investment research, in a note.
Invesco's chief global market strategist Kristina Hooper expects the upcoming August jobs report (due out Friday) to boost sentiment as well, provided that it's better than expected.
"With regard to US jobs, it's important to keep in mind that the Fed's new inflation target policy may impact how the market receives this news," Hooper said.
"Normally, a good jobs report would spark concern that the Fed might tighten in order to proactively combat inflation and economic overheating. That concern has gone by the wayside, at least for now, with the Fed's new policy."
And on and on the rally will continue. The way things are going, investors should never expect the broader indexes to fall.
Or should they? The economy and stock market have been in disconnect for months. That hasn't stopped bulls from doubling-down and buying more, however.
Eventually, the charade will end. But there's no telling specifically when that will be. And for some investors, especially those positioned in recently sold-off tech stocks, there could be plenty more bullish days to come.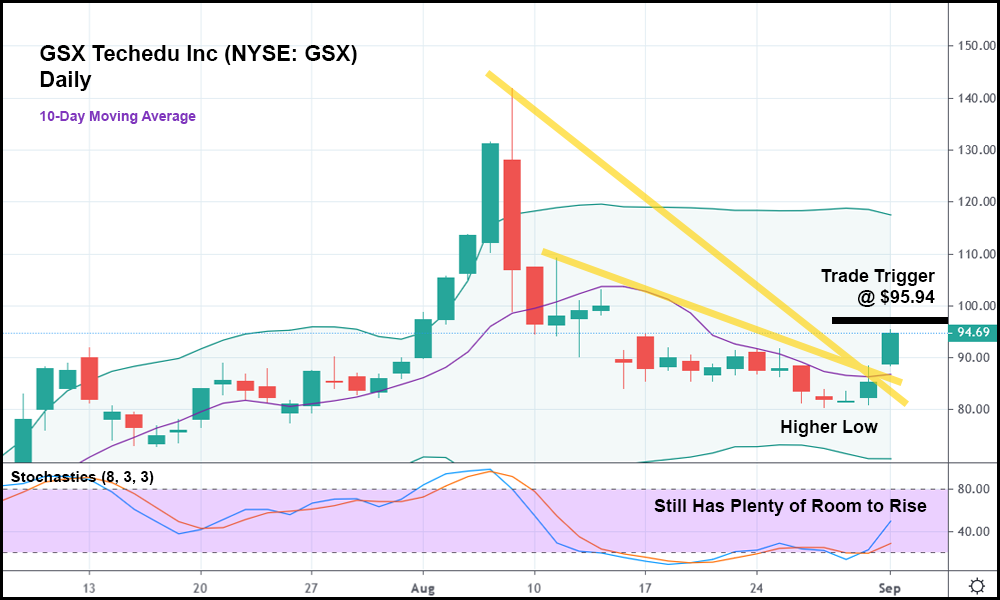 GSX Techedu (NYSE: GSX) should benefit from an additional round of tech buying. After having dropped from a record high in August, GSX is now preparing for another run at the top.
The stock set a higher low this week, and today, broke out above both its minor bearish trend (plus a bearish trend from the all-time high) and the 10-day moving average.
Should GSX trade above today's high, it might make sense to take the stock long with a trade trigger of $95.94. From there, GSX could very well surge to the upper Bollinger Band (BB) as evidenced by the still low stochastics reading.
A prolonged journey above the upper BB would simply be icing on the cake, if not improbable given the stock's recent price action.
So, for short-term traders looking to capture some quick tech profits, GSX may be the ticket. AAPL won't keep rising forever. Eventually, some of August's underperforming tech firms – like GSX – will see a resurgence.
Perhaps as early as this week.