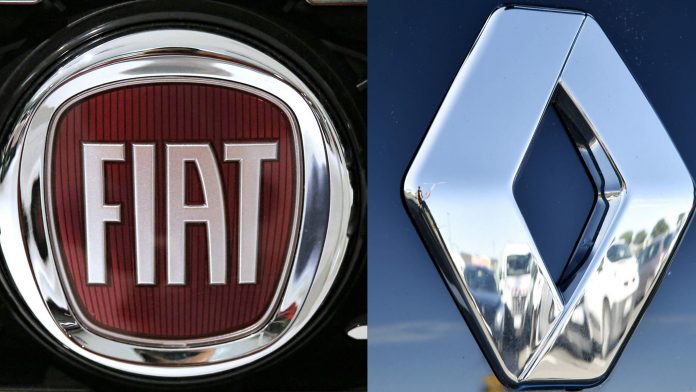 Thought the Fiat Chrysler merger was a big deal?
To quote Randy Bachman from Canadian rock group, Bachman-Turner Overdrive, "You ain't seen nothing yet."
But to be fair, back in 2014, it certainly was a major event.
More than anything, though, it represented a "changing of the guard" for auto manufacturers – a shift that's now starting to take place at other carmakers.
Market share at the cost of efficiency has gone by the wayside, and companies are looking for any way possible to get leaner. Ford, for example, just revealed the next stage in their evolution, "trimming the fat" via mass-firings both in North America and overseas.
But Fiat Chrysler is headed in the opposite direction, as evidenced by their recent announcement to join-up with one of Europe's heavy-hitters.
According to a statement from Fiat Chrysler Automobiles (NYSE: FCAU) this morning, FCAU and Renault are looking to merge in a blockbuster deal – splitting ownership of the conglomerate 50/50 between current shareholders of both companies.
Stock prices for Fiat Chrysler and Groupe Renault (in the European markets) spiked on the news, rising 13% and 11.5% respectively.
Tomorrow morning in the American stock market, you can expect to see a similar reaction.
Under the newly formed partnership, Fiat Chrysler is expected to save $5.6 billion annually while becoming a portion of the world's third largest car manufacturer.
More importantly, though, they'll get a chance to become a leading developer of electronic and autonomous vehicles – a (supposedly) transformative new niche that every carmaker is desperate to dominate.
And in addition to satisfying long-term shareholders, FCAU may also present a unique opportunity to short-term traders.
FCAU's stock price dropped well below its regular range last week during a market-wide deflation, but with shares recovering sharply on the recent news, investors might be able to ride the trend a little higher.
Whenever large companies announce a major (positive) happening and shares rocket upwards, it's not unusual for the price to continue rising for at least a few more days.
Eventually, the hype dies down, and the underlying stock drops to around 50% of the recent gains.
Qualcomm (NASDAQ: QCOM) is going through this as we speak, after having won and lost some significant legal battles.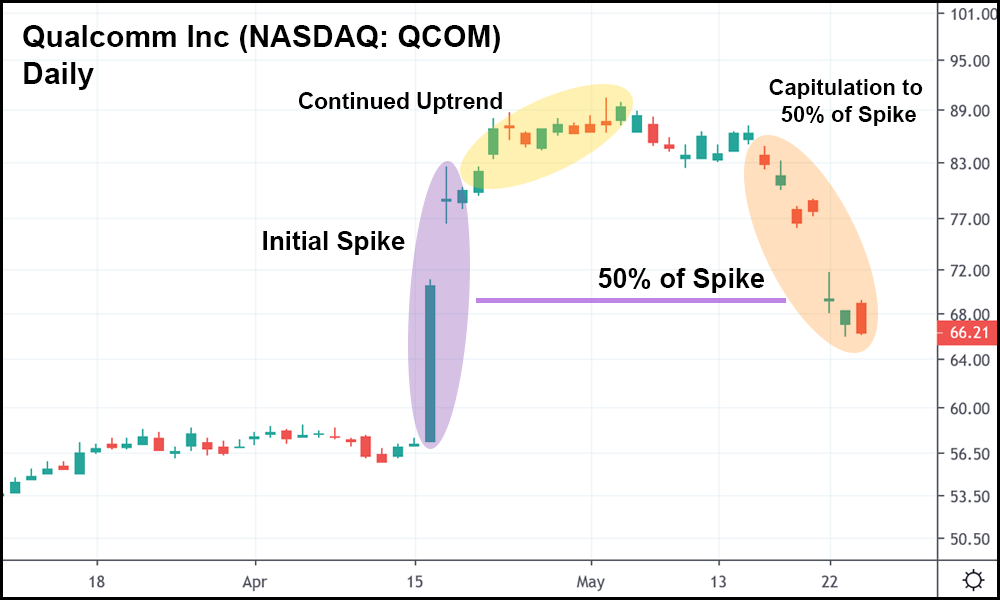 As you can see in the daily candlestick chart above, QCOM is tracing the scenario I just described. Yes, there has been a recent antitrust ruling that went against them, but ultimately this kind of price action is to be expected following a huge burst in value.
FCAU shares could do the exact same thing – rise sharply at first, continue to rise a bit more, and then sell-off after having chopped sideways.
It's one of those things you notice when you've traded the markets for as long as I have, and until human nature changes (it won't), this pattern will continue ad nauseum.
If it doesn't, chances are some other news will have derailed the trend. But usually, the stock ends up dropping back down regardless, unless there's another truly amazing headline right around the corner.
For Fiat Chrysler, it looks like this is as good as it gets for the near-future, so don't be surprised if FCAU shares move just like QCOM's did over the last month and a half – satisfying both long-term holders and short-term opportunists in one fell swoop.