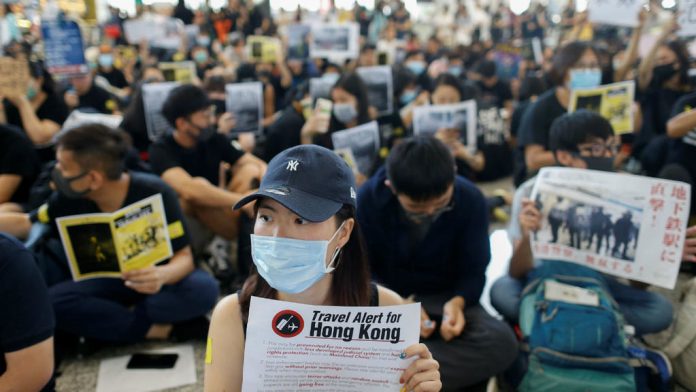 It was bad enough when we only had the trade war to worry about.
Now, investors are tangling with anti-government protests in Hong Kong. Which, according to celebrity analyst Jim Cramer, is without a doubt the biggest threat to global markets – not the trade war.
Huh?
How can a group of protestors impact equities the world over, you may ask?
For starters, they might cause the Chinese government to shut down Hong Kong, one of Asia's major financial hubs.
And to Cramer, it's an uncertainty "time bomb" waiting to blow.
One that could potentially destroy 2019's gains.
"I just don't think the Chinese communists can avoid it anymore," he said.
"The Chinese government is more worried about Hong Kong than they're worried about trade. Because Hong Kong is something that's very visible in Europe."
Cramer continued on Monday morning's CNBC broadcast, adding:
"This is more serious than the trade talks. If you want to know what could tip you into a worldwide recession, it is just a shutdown of Hong Kong."
The protestors themselves – who don't have any identifiable entities leading the movement – seem intent on going toe-to-toe with nu-communist China. And without anyone to negotiate with directly, the Chinese government may end up responding with force.
At worst, it could potentially create a new "Tiananmen Square" moment, but with tens of thousands of smartphones ready to document the ensuing carnage.
Hopefully a peaceful conclusion can be reached, for the sake of both China and the protestors.
But if a full shutdown occurs and things get ugly (something the protestors may want, deep down), Cramer thinks the markets would suffer greatly as the harsh Chinese government gets exposed on an international stage.
As of right now, the only outcome of the demonstrations has been a grounding of all Hong Kong flights. That could change in a hurry, however, if tensions continue to escalate.
"I'm not saying the protesters are playing with fire. I think the protesters want fire," he said.
"This airport needs to be opened for me to feel better about what's going on."
As of midday, the Dow (-1.00%), S&P (-0.80%) and Nasdaq Composite (-0.40%) are all down significantly following the news.
What's getting lost in the noise, however, is the effect the protests could have on the U.S./China trade war. If the crisis in Hong Kong snowballs out of control, Xi and his administration may be inclined to finally accept President Trump's terms.
And for President Trump, the protests couldn't come at a better time. With another set of tariffs threatened for September, he'll potentially deliver a "sucker punch" to China while the Hong Kong protests reach a boiling point.
It's the kind of stuff that makes for compelling headlines.
As well as a whole heap of uncertainty, which has run the market ragged since the 1st of August.
And from the way things look now, there could be even more selling until investors see stability in Hong Kong.
Will the Chinese be able to defuse the situation peacefully? The protestors are asking for Hong Kong leader Carrie Lam to withdraw a Chinese extradition bill from future consideration.
The Chinese, meanwhile, are insisting that it remain on the table.
If Lam and China can pull off a de-escalation, though, the market would likely rejoice.
However, it also means that China would be able to focus more of its attention on the trade war – something that could end up being even more detrimental long term.