Stocks plummeted this morning, erasing their post-FOMC gains as tech shares led the market lower.
We predicted in yesterday's commentary that equities would fall in response to the Fed's rate hike announcement before rallying strongly as Fed Chairman Jerome Powell gave his press conference to explain the Fed's policy approach moving forward.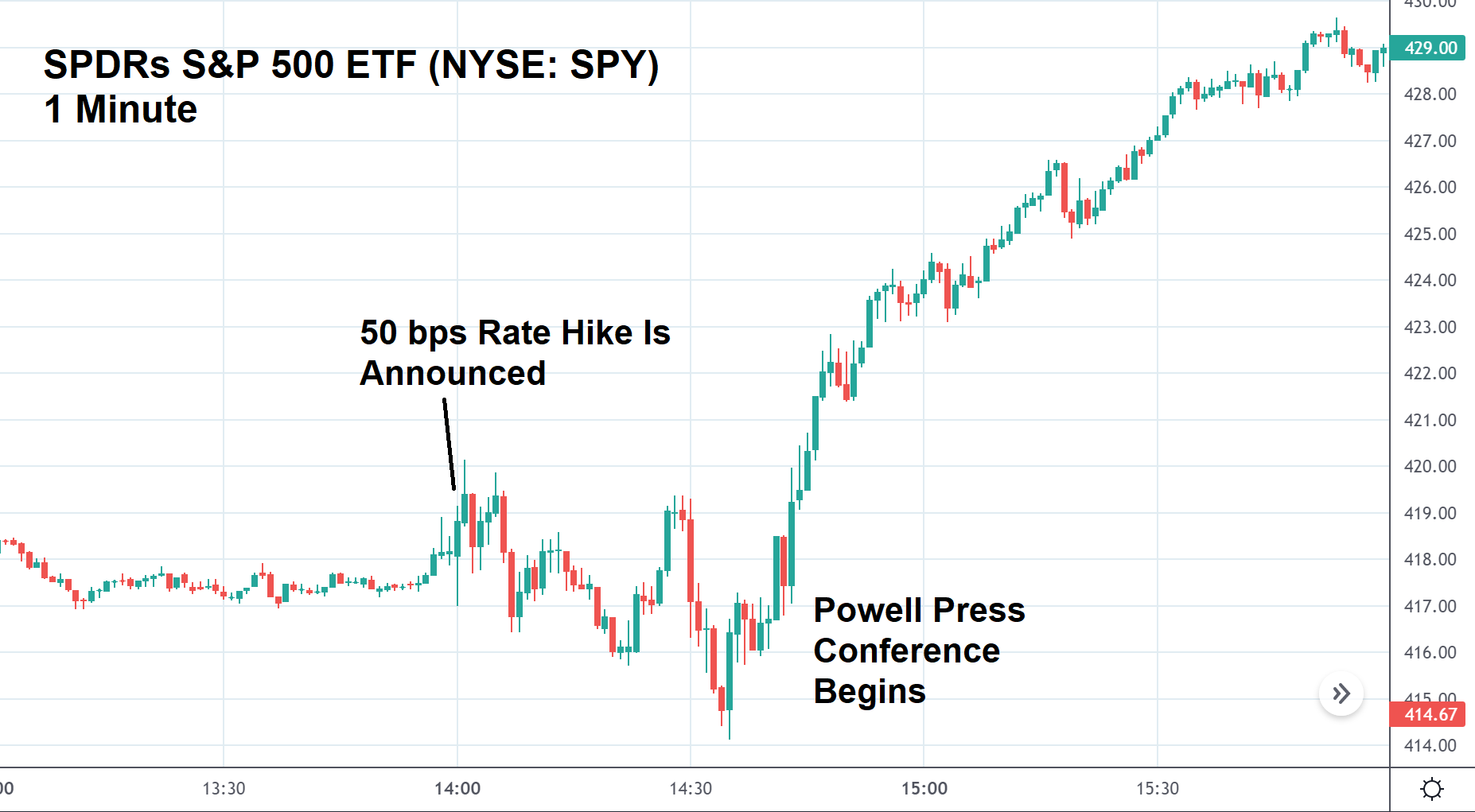 That's exactly what happened. How did we know it would? Because this is how the last rate hike announcement played out in March, when the Fed raised rates by 25 basis points.
Say what you will about Powell, but he's mastered the art of delivering bad news over the years. He even managed to spark the late March rally.
And yesterday, Powell triggered another buying frenzy despite vowing to get inflation under control. This would have been received as hawkish (ie bearish) if he didn't clarify his statement by adding that the Fed was "not actively considering" a 75 basis point rate hike in the future.
This caused a massive intraday rally into the close as bulls piled into nearly every stock available.
Today, however, has been a different story.
"If you go up 3% and then you give up half a percent the next day, that's pretty normal stuff. […] But having the kind of day we had yesterday and then seeing it 100% reversed within half a day is just truly extraordinary," explained an exasperated Randy Frederick, trading and derivatives chief at the Schwab Center for Financial Research.
Zachary Hill, head strategist at Horizon Investments, noted that the Fed's intent to drive rates significantly higher probably won't coincide with a bull market.
"Despite the tightening that we have seen in financial conditions over the last few months, it is clear that the Fed would like to see them tighten further," Hill said.
"Higher equity valuations are incompatible with that desire, so unless supply chains heal rapidly or workers flood back into the labor force, any equity rallies are likely on borrowed time as Fed messaging becomes more hawkish once again."
Stocks looked oversold in the short-term, and as a result, were arguably due for a rally.
But a bearish continuation this quickly, especially after Powell said "no" to 75 basis point hikes, may have dire consequences as the major indexes dip again near their 2022 lows.
"Thursday's stock selloff suggests that Wednesday's post-FOMC market action was a relief rally. We are still not out of the woods yet, as there is still too much uncertainty over how the Federal Reserve's actions will tame inflation without causing a recession," wrote Carbon Collective CIO Zach Stein in an email.
"The concerns that triggered the stock market correction over the past few months, such as inflation, the Russia and Ukraine war, and surging oil prices, are still with us and haven't been resolved yet."
These market stressors could easily lead to additional losses in the coming weeks. Keep in mind, though, that stocks could rally again tomorrow.
They may even stage another intraday rally this afternoon.
Volatility was the name of the game in April. And in May, it looks like we'll see even more of it, regardless of whether the Fed is seriously considering a 75 basis point hike in June.