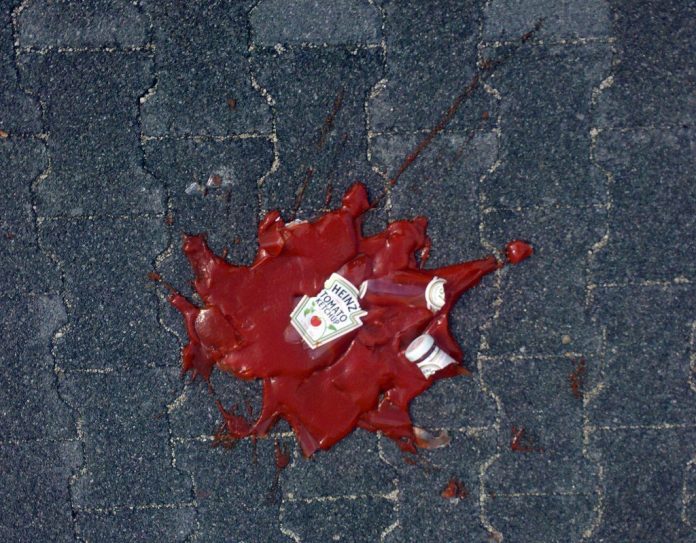 Heavy is the head that wears the ketchup crown.
Well, maybe not anymore after Kraft Heinz (NASDAQ: KHC) shares enjoyed a huge lift during today's trading session. KHC soared 1.89%, potentially kick-starting a rally past the stock's December highs. With earnings lingering in late February (2/20), short-term traders may have been gifted a moderately sized window to snatch up some low hanging gains.
Condiments (and Kraft Dinner) not included.
Kraft Heinz sales have been dropping – something that normally wouldn't cause share prices to rise – but the company has also stabilized after a rough three-year stretch. Back in 2015, the Kraft and Heinz merger was celebrated as a major success. The stock had its best year ever and returned a 44% gain for shareholders.
The going was still good in 2016, too, when KHC rose another 20%. But after topping out in 2017, it's all been downhill. The stock is now down 67% from its all-time high.
And though KHC has fallen, that doesn't mean a recovery isn't out of the question. In fact, over the last few months, KHC is starting to turn things around. And even with today's major spike, the stock could still have plenty more room to grow.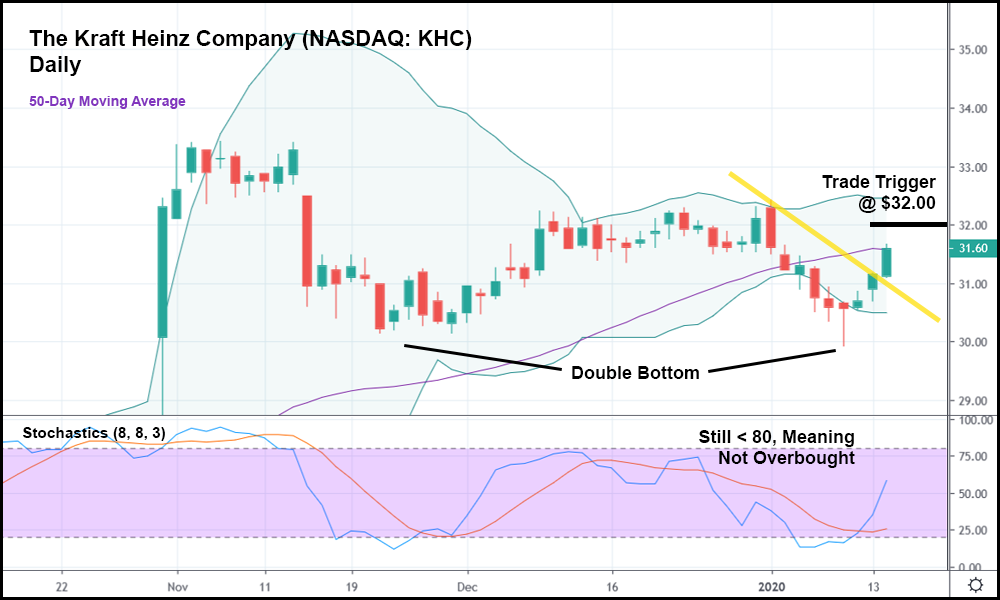 In the daily candlestick chart above, you can see that KHC is shifting to a more bullish posture. The 50-day moving average is pointed up, and the stock managed to set a double bottom (reversal indicator) since blasting upwards in late October.
Now, with key support resting beneath it at the double bottom, KHC could make another move higher. The stock broke out above its minor bearish trend (as represented by the yellow trendline) today, signaling a major momentum swing. It even bounced off the lower Bollinger Band (BB) a few sessions ago, serving as another base from which to launch a rally.
The stochastic indicator remains below 80, too, suggesting that KHC is not yet overbought. If the stock rises above today's high by a significant amount, it might make sense to go long with a trade trigger of $32.00. KHC's not necessarily a fast mover, but an appropriately priced and dated option could do very well here.
At its current rate, KHC's due to bust out past its December highs within the week. After that, its November high is next – another level of resistance that could easily be breached with enough positive price action.
Plenty of analysts have KHC pegged for a turnaround but are waiting for earnings on 2/20 to make their final decisions. Based on what the chart is telling us, bulls are already willing to buy, which should excite short-term traders heading into February.