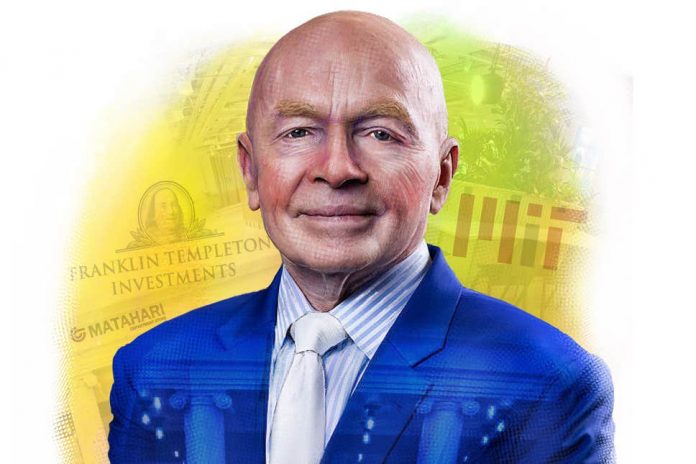 According to emerging markets legend Mark Mobius, 2020 could be a standout year for stocks.
Hard to believe? A few months ago, such an optimistic view would be met with laughs from investors.
But these days, things are starting to look up. Mobius predicts a Trump win next year, right alongside a moderately strong U.S. economy.
More importantly, he doesn't see a recession happening any time soon — a slowdown, maybe, but not the full-blown recession that economists warned us about.
"I don't see a recession risk," said Mobius in an interview with Financial News.
"The simple reason is that with interest rates going down and down, it will be much easier for people to raise capital. There is a lot of money sloshing around the world looking for a home."
And though a recession seems unlikely from his point of view, Mobius said that there could still be a bit more belt-tightening in the near future.
"There might be a slowdown as a result of the trade war, but I don't see a recession any time soon."
He doubled down on his optimism, adding that the chances of a European recession are slim as well.
Mobius is in the majority here – according to a recent survey of 175 different fund managers by Bank of America Merrill Lynch, 31% expect a global recession (not a slowdown) next year.
In September, 38% of survey respondents believed a recession was coming in 2020, suggesting that pessimism among fund managers is on the decline.
But unlike other analysts, Mobius bases his opinion less on macroeconomic indicators and more on the President, who he thinks can boost the economy come election time.
"He has certain levers he can use — he can ease up on the China rhetoric or invest more in infrastructure. He can do a lot that could maintain the US economy," Mobius said.
Also, he believes that Trump has an easy path to victory – something that should galvanize investors moving forward.
Trump's going to win, Mobius says, not just because of his job performance, but because of the competition (or lack thereof) as well.
"At this stage, I think he will definitely get re-elected," Mobius said.
"The Democrat line-up appears to be rather weak. Someone may come up on the Democrat side to compete with him, but if there was an election now, Trump would definitely be re-elected."
And Mobius may be completely right. As it stands, predictive models suggest a strong Trump victory in 2020. If he can keep his seat in the Oval Office, corporations (and investors) will have reason to feel good about the future.
Interestingly enough, Mobius skipped over any mention of earnings season in his commentary. Despite Amazon's revenue "miss" from this morning, bulls continue to circle the wagons. The major indexes are all trading slightly higher as of midday.
To Mobius, that's inconsequential. The 2020 election and trade war are the economy's true limiting factors. And if Trump, the man who can "solve" both of those problems, does so, the economy will be just fine.
So long as the impeachment proceedings don't get too out of control, that is.