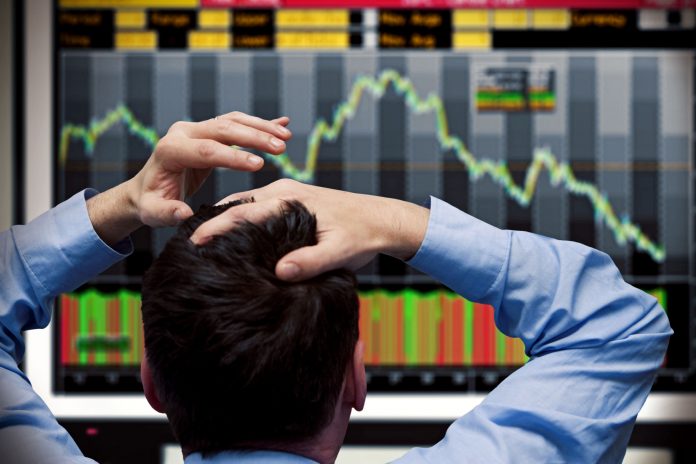 Another day, another drop. Investors are getting used to the "coronavirus correction" now that it's logged four negative sessions in a row.
Today's was a bad one.
The indexes fluctuated wildly during trading, at one point almost retracing this morning's losses.
But instead of recovering, stocks plummeted before the close.  The Dow fell over 1,100 points (-4.54%) while the S&P (-4.43%) and Nasdaq Composite endured (-4.72%) severe losses of their own.
Don't forget that on Monday, analysts were telling investors to buy. American stocks were on a 3% "discount."
Then, equities plunged again on Tuesday. Wall Street parroted the same message.
Wednesday (yesterday) stocks seemed to be searching for a bottom. Surely, this was the buying opportunity experts were talking about.
Today, the bottom completely collapsed.
Many unfortunate souls took Wall Street's advice. They snapped up shares at "bargain bin" prices, only to get scorched over the next three days.
"Buy and hold" has rarely looked so grim.
Thankfully, we made the wise decision to short stocks, not go long as the market collapsed. American Airlines (NYSE: AAL), a stock we featured as a short last Wednesday, is down almost 30% from our proposed entry point.
That's a dream trade if I've ever seen one, especially if you bought a 1-strike in-the-money-put option.
And though stocks continue to crumble, that doesn't mean the selling is done. Yes, the market is falling at a historic rate. But without a visible turnaround via positive price action, short trades will continue to look extremely attractive.
We don't get corrections all too often anymore. Might as well "make hay" while the sun is shining, as they say.
McDonald's (NYSE: MCD), for example, looks ready to sink further.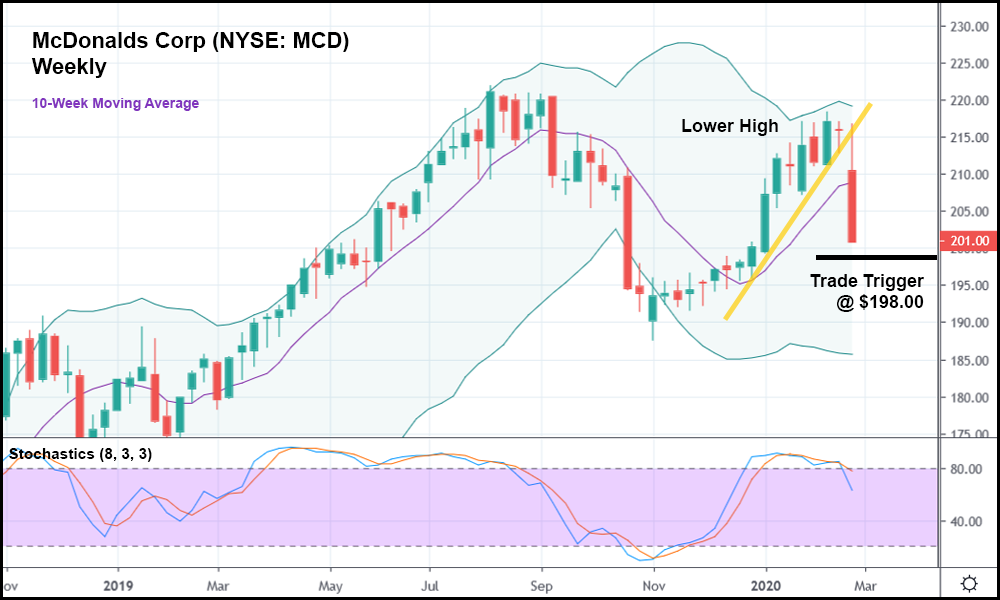 In the weekly candlestick chart above, you can see that MCD got crunched during the selling this week. After the stock fell past the 10-week moving average, the bull move ended for Ronald McDonald and friends.
MCD also set a lower high, which is an indicator of a reversal. It's not as strong as a lower low, but in this case, it's good enough since the stock broke out below its minor bullish trend (represented with the yellow trendline). Better yet, despite the major selling this week, the stochastics suggest that MCD isn't even close to being oversold.
From here, it might make sense to go short on MCD below the current week's low, which at present would put our trade trigger at $198.00. From there, the fast-food giant would likely tumble if the rest of the market continues to struggle.
Which, based on the current selling, could intensify until world health officials get a handle on the coronavirus outbreak.