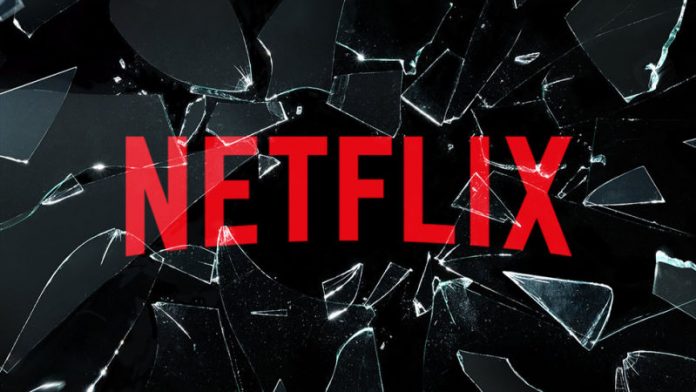 Stocks traded flat overall this morning as tech shares lagged while Dow components gained. Netflix (NASDAQ: NFLX) shares pulled the tech sector lower after a disastrous earnings report was revealed last evening.
"Our relatively high household penetration — when including the large number of households sharing accounts — combined with competition, is creating revenue growth headwinds," Netflix said in its quarterly letter to shareholders.
"Account sharing as a percentage of our paying membership hasn't changed much over the years, but, coupled with the first factor, means it's harder to grow membership in many markets — an issue that was obscured by our COVID growth."
The streaming giant reported that it lost 100,000 subscribers last quarter, which hasn't happened since 2011. Even worse, Netflix expects to lose another 2 million in Q2. Company leadership believes more than 100 million households may be sharing passwords, which has cut significantly into Netflix's subscriber count.
Co-founder and co-CEO Reed Hastings said Netflix never cracked down on password sharing because the company was "doing fine" amid a strong surge in new subscribers.
"In terms of [password sharing], no plans on making any changes there," he said back in 2016.
"Password sharing is something you have to learn to live with, because there's so much legitimate password sharing, like you sharing with your spouse, with your kids [….] so there's no bright line, and we're doing fine as is."
In the quarterly shareholder letter, Netflix observed that password sharing probably carried some benefits.
"Sharing likely helped fuel our growth by getting more people using and enjoying Netflix. And we've always tried to make sharing within a member's household easy, with features like profiles and multiple streams."
NFLX shares were down a stunning 35% through noon. Streaming industry peers Disney (NYSE: DIS), Roku (NASDAQ: ROKU), and Warner Bros. Discovery (NASDAQ: WBD) all fell as well.
This prompted major downgrades from Wall Street's top advisors, who hilariously had pegged the company with lofty price targets pre-earnings.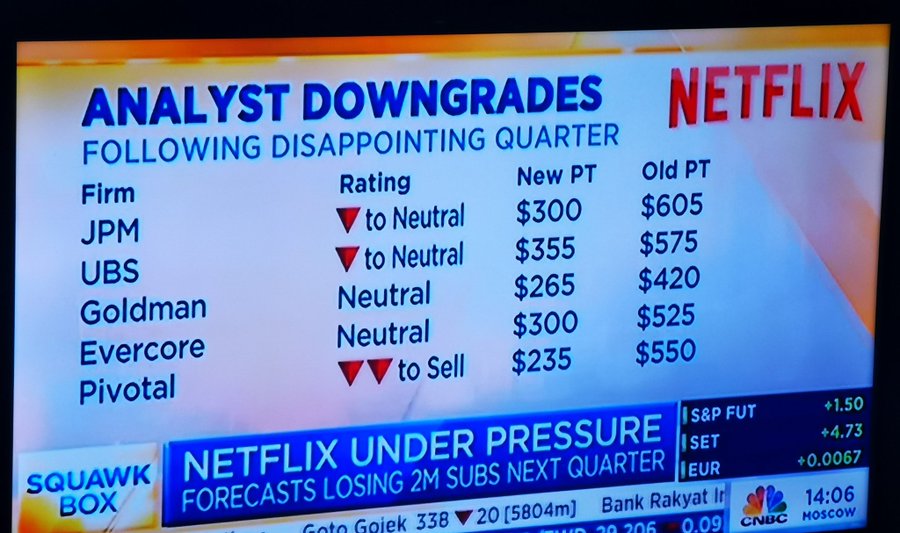 Now, those price targets have been slashed significantly. Plenty of elite investors were caught in the carnage as well, like Pershing Square Capital's Bill Ackman, who bought $1.1 billion worth of NFLX at $400 per share in January. His hedge fund is sitting on a near $500 million loss with this position as of this morning.
Value stocks, on the other hand, impressed. Procter & Gamble (NYSE: PG) climbed 2% after beating quarterly estimates while hiking its full-year revenue guidance. IBM (NYSE: IBM) beat estimates, too, and enjoyed a +7.65% lift.
"Earnings will continue to be the key catalyst," said Baird strategist Ross Mayfield.
"Companies so far are highlighting strong demand across the industry, despite inflation and supply chain pressures. While we expect this year to continue to be volatile, earnings strength and bearish sentiment is a really nice backdrop for a near-term pop."
If growth stocks follow NFLX's lead, however, only value shares will participate in the next rally, especially if rates continue to climb sharply – something growth stocks simply can't tolerate.
So, heading into May, be on the lookout for a continued value rally. Banks could flourish, too, on the prospect of rising long-term yields after weeks of selling, which may finally be drawing to an end.