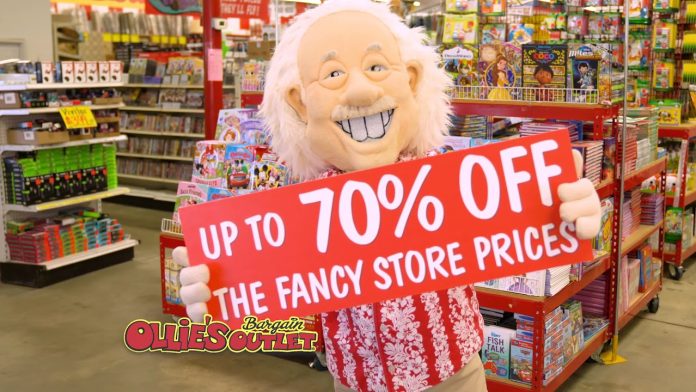 After starting off the morning with a bang, stocks fell flat by midday. By the afternoon, equities sunk into negative territory.
Now, after the close, it's official:
Bulls failed to generate a mid-dip rebound.
There's no shame in it. Stocks have appeared overvalued for weeks, after all.
This is the sell-off everyone was afraid of. Or, for some bears, expecting.
And though the coronavirus is unlikely to keep stocks down for good, that doesn't mean investors should run out and buy-in quite yet.
Billionaire investors like Warren Buffett and the controversial George Soros both recommend buying, however. Yesterday morning, Soros went out and snapped up shares of Activision Blizzard (NASDAQ: ATVI), Pioneer Natural Resources (NYSE: PXD), and BellRing Brands (NYSE: BRBR).
Two of the three (ATVI and PXD) got hammered over the last two days, while BRBR dropped slightly.
It's too bad he didn't wait for the selling to stop to get some "discount shares."
That was the strategy among hedge fund managers and analysts yesterday, to find buying opportunities in oversold stocks. They thought the market reached a bottom.
They were wrong.
Without any upwards movement, stocks could keep falling. We've seen it before in 2019 when the market made several multi-session slides.
Equities recovered in the long run following those dips, but it's important to note that they all lasted a whole lot longer than two days. More importantly, the plunges weren't caused by an economy-freezing supervirus; just more trade war drama.
The current market-wide decline is very different from the others. Hopefully, stocks come back, but until they do, short-term traders would be better served looking for stocks that have yet to drop.
Because all it takes is just one bad coronavirus headline to send the market spinning.
Ollie's Bargain Outlet Holdings (NASDAQ: OLLI), for example, hasn't fallen too far out of its normal trading range. That could change tomorrow, though, if it continues dropping.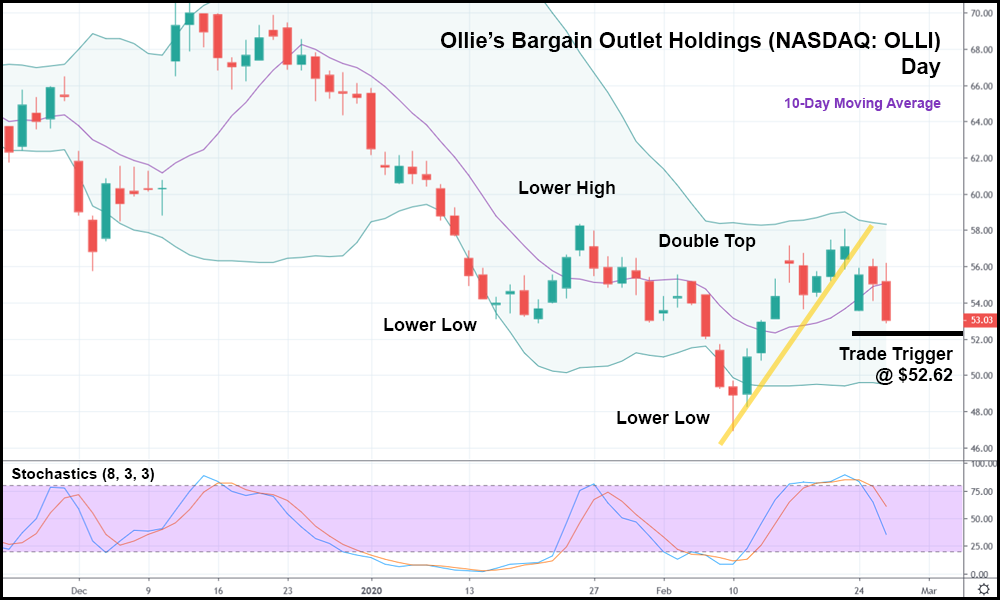 In the daily candlestick chart above, you can see that OLLI has been trapped in a bit of a downtrend since last year. There were several attempted recoveries, but in general, the stock just hasn't had enough power to kickstart an uptrend.
And now, after stalling a few days ago, OLLI broke out past its minor bullish trend (represented with the yellow trendline). Several lower lows, a lower high, and a double top have been set – all of which indicate that OLLI's going lower.
If the stock moves below today's low, it might make sense to go short on it with a trade trigger of $52.62. Best of all, it's not overly coronavirus sensitive but should still fall with the rest of the market if tomorrow's session turns out to be a stinker as well.
So, before you run out and buy back in on "discount stocks," give the market a chance to show you where it's headed. Because until we see evidence of a real recovery, shorting stocks like OLLI may simply be the smarter move.