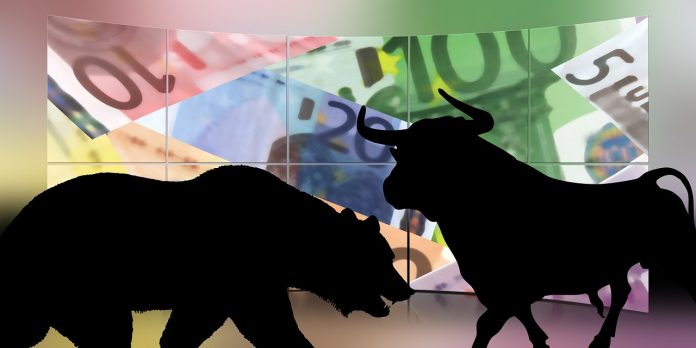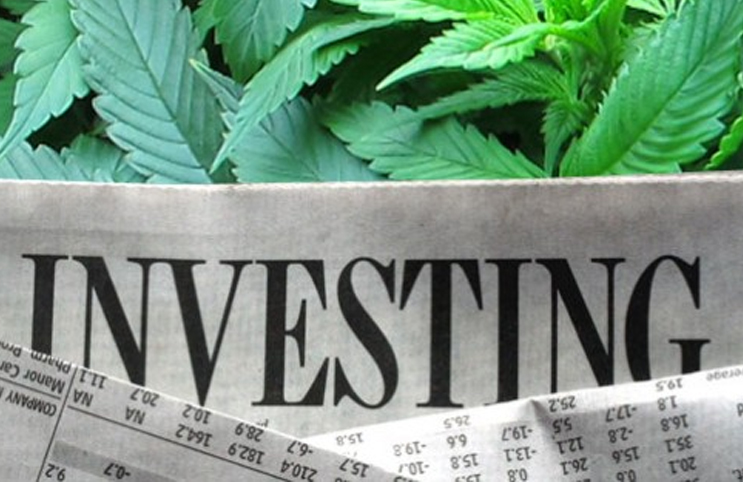 Yesterday, pot stock Tilray, Inc. (NASDAQ: TLRY) shot up like an absolute rocket, closing out trading up a staggering 38.12% in just one day. The surge came after news broke that the Drug Enforcement Agency (DEA) approved a plan to import cannabis to the United States for an in-depth medical study.
Sure, this is good news for the marijuana industry, but what happened yesterday to Tilray was borderline obscene. In fact, yesterday's session was so wild that trading was halted five times Wednesday afternoon, to prevent Tilray shares from fluctuating out of control before the market's close, where the price settled at $214.06.
However, at one point, shares almost touched $300, putting Tilray in some impressive company. At that price, the cannabis corporation was temporarily worth more than Twitter, CBS, American Airlines, Clorox, Tiffany & Co., and many more instantly recognizable names.
We've covered pot stocks in the past, and in particular discussed how many of these companies were overvalued, with Tilray being the worst offender (and this was before yesterday's major run).
But I don't think anyone was prepared for Tilray to be worth $20 billion in total market cap, when the company is only doing $28 million in sales. So far, TLRY is up over 1,159.18% since its IPO in July that priced each share at $17: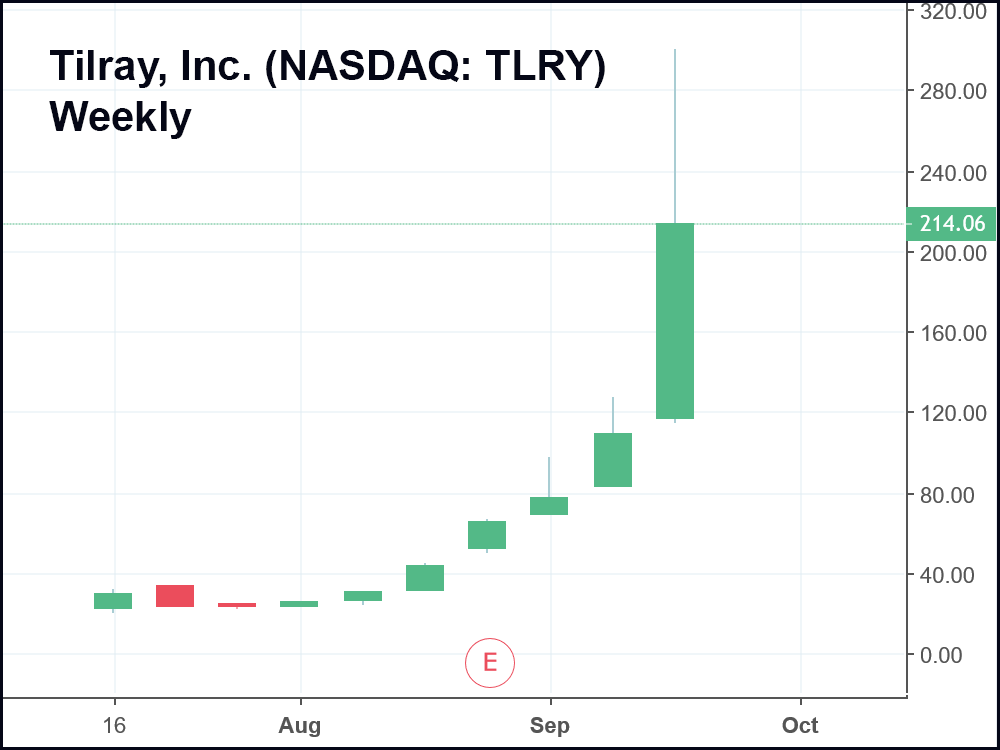 While its sudden rise certainly is impressive, I don't believe that the recent news about the DEA's cannabis study is what has pushed Tilray to new heights. Because honestly, a medical marijuana study isn't that big of a deal.
After all, the other leading pot stocks (like Canopy Growth or Aurora) didn't get nearly as big of a lift, and some of them even dropped.
Instead, Tilray's extreme volatility (and price surge) was driven by two things:
A low number of tradable shares
Tilray, unlike the other cannabis companies out there, has an extremely constricted mount of transactable stock, with only 17.8 million shares available for trading. Remember, Tilray investors who participated in the IPO are still in the "lockup" period, meaning that they can't sell their shares until the 180-day no-trade window expires. By comparison, Aurora Cannabis (who are in talks with Coca-Cola) has roughly 912 million shares ready for trading.
That, as a result, makes it easy for investors to generate significant price action in either direction. Over the last two months, it's mostly been rapid movement in one direction, but Tilray could just as easily experience a similarly quick descent.
On top of that, Tilray stock is changing hands at a blistering pace. According to data gathered by our analysts, the average volume for the past five days is around 17.8 million shares. Yesterday, however, traders outdid themselves, and exchanged a staggering 31.5 million shares over the day's trading session – which was full of both panic selling and buying. To put that in perspective, there were only 17.8 million available shares, which means that daily volume almost doubled the number of tradable shares.
That leads me to the second big reason Tilray took off so quickly…
Fear of missing out (or FOMO)
Much like with Bitcoin back in late 2017, investors from all walks of life were afraid that they'd miss the boat with Tilray, and piled in as prices started to rise in the pre-market hours of Wednesday morning. Even though the stock is heavily shorted (and boy, do I feel sorry for cannabis bears right now), the stock is not currently undergoing a "short squeeze", which is a phenomenon where short-sellers dump their positions in a rapidly surging market, potentially further fueling the quick upwards burst.
Again, our analysts found that there was virtually no change in the amount of Tilray shares shorted yesterday, and the total number of shorted shares stayed at roughly 3.46 million despite the massive price swings: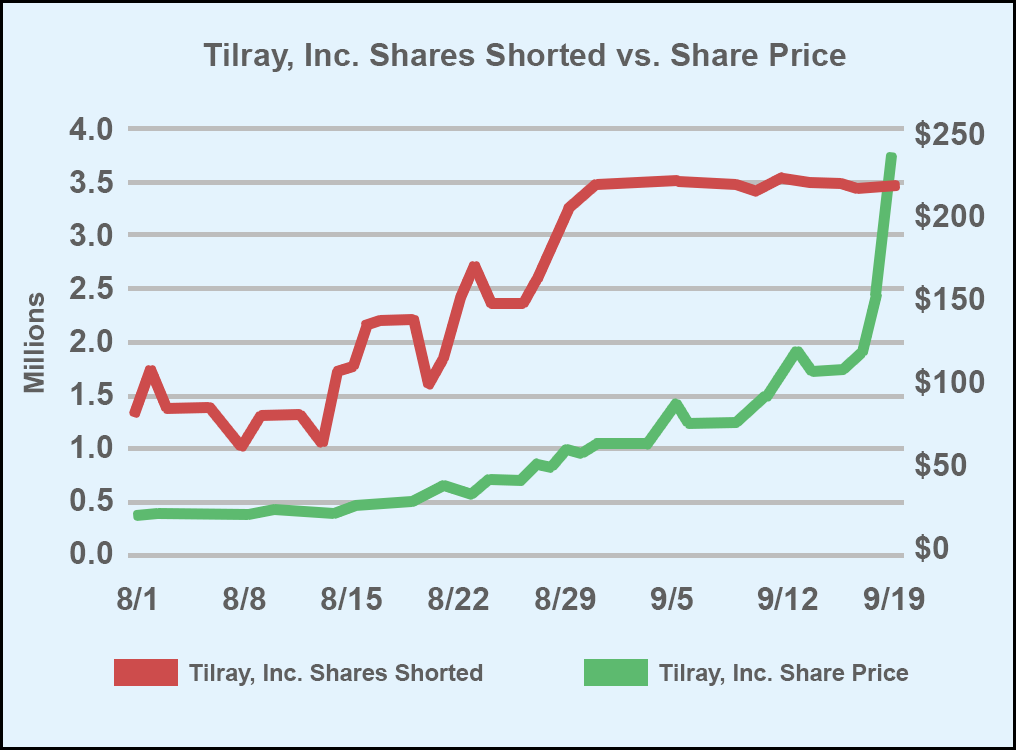 Because there's no "short squeeze" situation like many analysts initially speculated, that means that buyers alone were likely responsible for quickly spiking share prices – as a result of some serious FOMO during Tilray's major move.
What we can learn from this
Even though Tilray is flying off the charts, it's usually never a good idea to get involved with a stock that's trading at its all-time-high, especially when it's as overvalued as this one. To make matters worse, there has been some absolutely mind-boggling volatility over the last trading session, as investors dip in-and-out of the market at the slightest shift in sentiment. Because of that, Tilray could be an extremely dangerous stock to buy, or even short for that matter, as premiums on puts are currently through the roof.
The reality is that Tilray looks primed for a major correction back downwards, and may not see a market cap north of $20 billion for another decade after this mini-bubble pops. The company has some major growing up to do before it becomes a legitimate contender in the marijuana industry, and investors certainly aren't helping any by contributing to the hysteria.
If you do feel compelled to snap up a few shares, though, I'm not going to stop you – but I am going to warn you:
Going it alone is a risky endeavor, especially with heightened volatility across the sector. Many of our members are currently taking advantage of these quick movements, but only because they're equipped with tried-and-true trading methods that have been sharpened in nearly every market condition, with almost every security imaginable – even stocks like Tilray.
Whatever you decide to do, just know that several pot stocks are set for a rollercoaster ride up and down over the next year.
Make sure you're ready for the next drop, because it looks like it could be a real doozy.