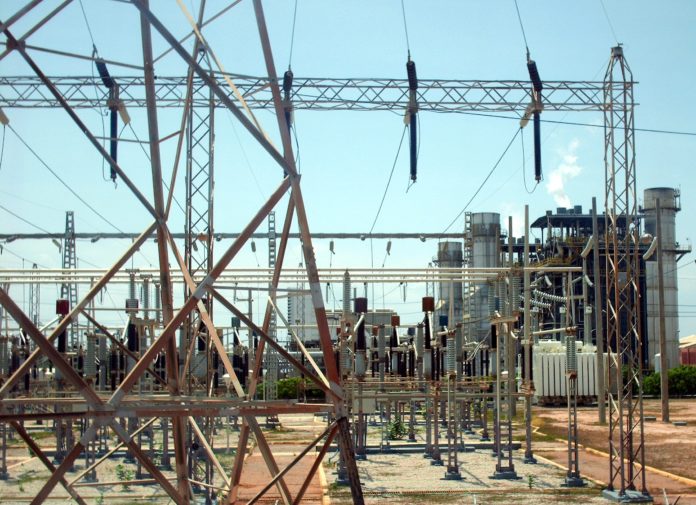 Stocks soared today, pushed higher by a surge from the market's underachievers. Apple (NASDAQ: AAPL) and Tesla (NASDAQ: TSLA) finally dropped as the Dow, S&P, and Nasdaq Composite logged impressive gains.
"We're seeing buyers perhaps looking for a little bit more durable growth, but not wanting to pay the kinds of crazy tech valuations that are out there," said Mike Bailey, director of research at FBB Capital Partners.
Bailey was particularly impressed with semiconductor stocks, which erupted this afternoon.
That's not to say every analyst was completely enamored with the market's performance, however. Morgan Stanley Chief U.S. Equity Strategist Mike Wilson is remaining cautious, even while continuing to hold long positions.
"I remain very constructive over the next 12 months," he said.
"I think we're a little bit overcooked […] It's impossible to try to time these types of corrections. It would not surprise me if we got a 10% correction, but it wouldn't be surprising if we didn't, either. We're in a bull market."
Opposite the bullish continuation was a jobs report estimate from ADP this morning, which predicted a payroll gain of only 428,000 in August. Dow-polled analysts expect a 1.17 million job gain by comparison.
Over the last few months, though, ADP has repeatedly underestimated the strength of U.S. labor. The Bureau of Labor Statistics (BLS) is set to release its official numbers on Friday, possibly revealing another "bad call" on the part of ADP in the process.
"This print makes Friday's BLS report really interesting because not only was the private sector BLS July print 1.46 million but the August estimate is 1.29 million, well different and well above than what ADP has said," explained Peter Boockvar, chief investment officer at Bleakley Advisory Group.
And so, until the market gives us a sign that things are truly slowing down, we have to assume the rally will continue.
Most likely from the bottom-up.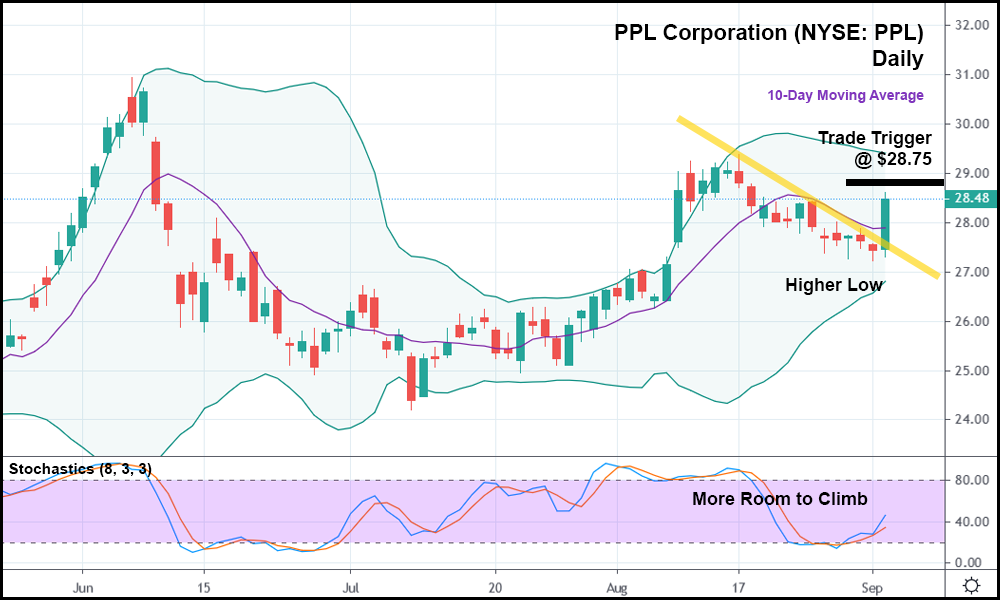 Thankfully, there are stocks like PPL Corporation (NYSE: PPL), which haven't quite "shot the moon" following the coronavirus crash. PPL shares peaked in June, sold-off, then peaked again in mid-August.
Now, after dropping from that August peak, PPL is rising once more. It set a higher low over the last week to boot.
And today, the stock managed to close above both its minor bearish trend (represented by the yellow trendline) and the 10-day moving average.
For those reasons, should PPL trade above today's high, it might make sense to take the stock long with a trade trigger of $28.75.
From there, key resistance lingers nearby at the mid-August high. A breakout past that level of resistance could lead to a much larger move.
Best of all, PPL isn't overly market-correlated.
So even if the broader market doesn't scorch higher, PPL could still rise all on its own.