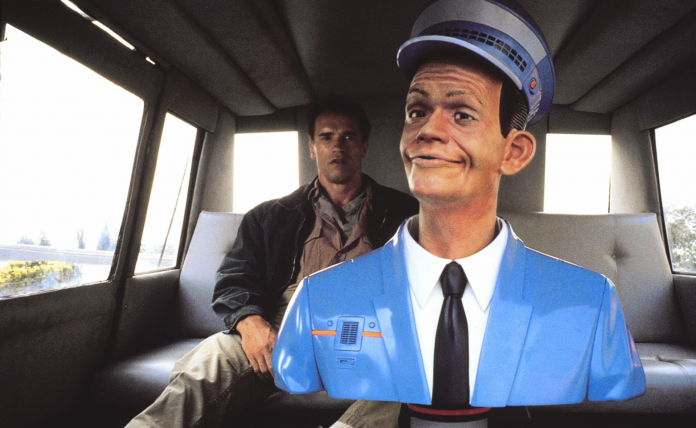 Thought stocks were breaking out?
Think again.
After this morning's surge, the market got crushed in the final hours of trading. The Dow, S&P, and Nasdaq Composite all gave up their earlier gains in a whirlwind of selling. By the end of the day, two of the three (the S&P and Nasdaq Composite) major indexes finished in the red.
Optimism surrounding Pfizer's (NYSE: PFE) new coronavirus vaccine candidates – which got "fast-tracked" by the FDA – had investors initially ready to buy.
That all changed, however, when California Gov. Gavin Newsom ordered all restaurants, bars, movie theaters, and museums in the state to cease indoor operations. Newsom also closed indoor operations for malls, offices, fitness centers, worship services, personal care services, and hair salons/barbershops in 30 counties representing 80% of California's total population.
Bulls had long feared a second lockdown.
Today, California took its first step in that direction. Other Covid-19 afflicted states could soon follow.
And though plenty of stocks whipsawed during trading, Tesla (NASDAQ: TSLA) perhaps endured the worst of it. The stock soared as much as 16.2% higher before eventually closing 3.1% lower.
"Tesla is the poster boy of a parabolic move here. Tesla started to roll over at 11:40 a.m.," observed Peter Boockvar, chief investment officer at Bleakley Advisory Group.
"That accelerated and at about 2 p.m. The California headlines just exaggerated the move […] we know it's a one-way street. It got really just stretched and overbought and over-crazed in these tech stocks."
Many analysts – myself included – observed just how "stretched" the market has become over the last few weeks.
We said that if bulls weren't careful, the rally would get extended to the point of "snapping" when put under any sort of significant stress.
Today, investors may have witnessed the start of a complete structural failure. Some companies now look like they could plunge even deeper, giving short-term traders a handful of surprising new opportunities.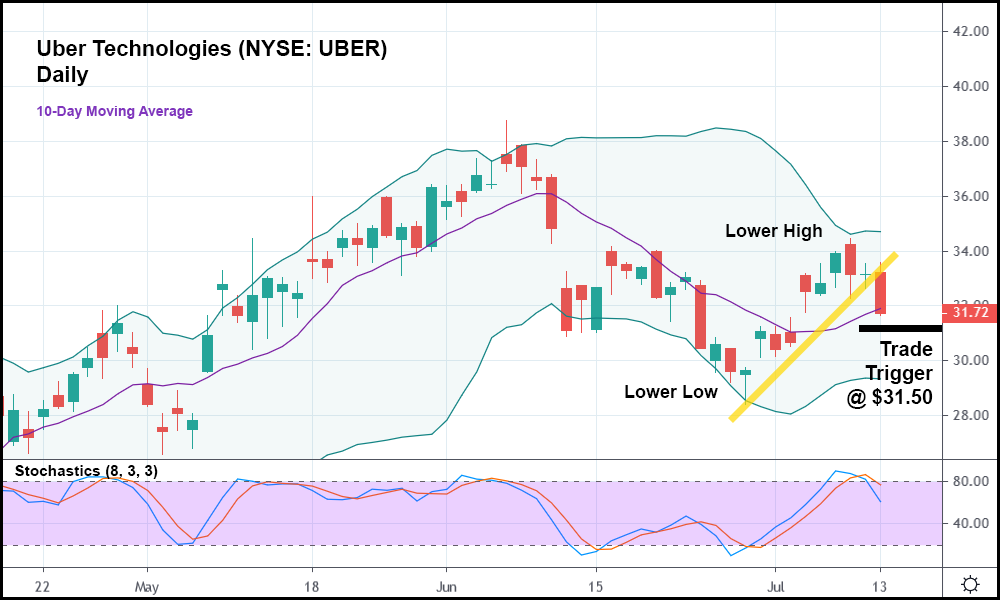 Uber Technologies (NYSE: UBER), for example, is in prime position to drop. Like many others, the stock peaked in early June and has since chopped sideways. It set a lower high (relative to the early June high) and a lower low.
Now, UBER's trading below both its minor bullish trend (represented with the yellow trendline) and the 10-day moving average.
Should the stock trade below today's low, it might make sense to take it short with a trade trigger of $31.50.
From there, UBER could easily surpass that recent lower low on the way to another one. Keep in mind that not only will coronavirus-related lockdowns continue to put pressure on stocks, but corporate earnings will, too.
Q2 earnings will be released this week and if the results aren't great, bears could end up "winning" July handily.
All while Covid-19 dominates headlines, and as a result, market sentiment.