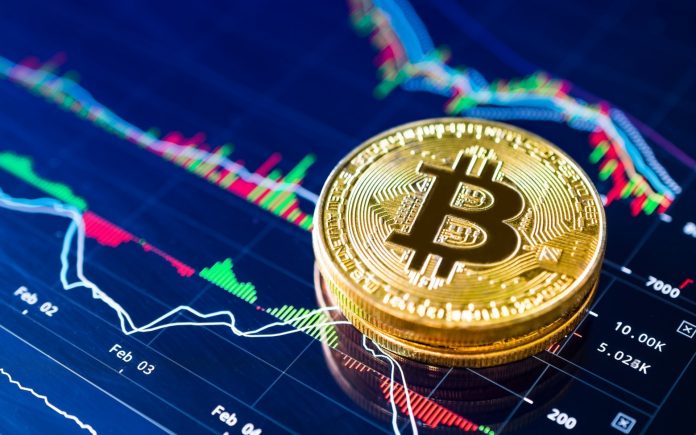 The Bitcoin futures ETF is here and crypto bulls couldn't be happier. In anticipation of the ETF, Bitcoin screamed higher over the last few days, almost hitting a new all-time high in the process. Stocks are up, too, over the last week.
But for the month of October, Bitcoin's stolen the show. It even took most altcoins (cryptocurrencies that aren't Bitcoin) to the cleaners in recent weeks as the top "alts" have been unable to keep pace with Bitcoin's impressive climb.
That, in turn, increasingly titled the crypto market toward its most popular coin.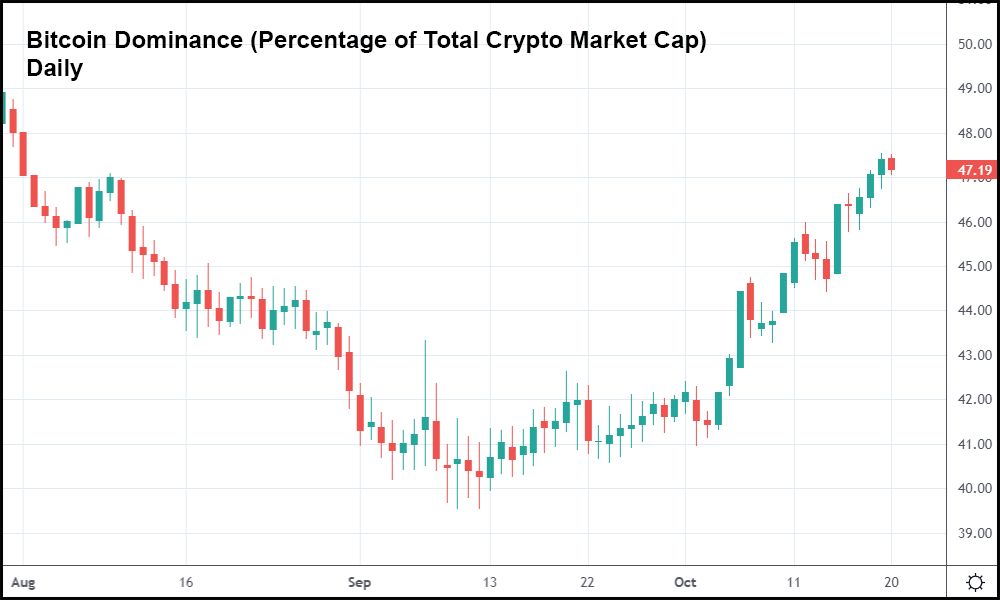 As pictured in the chart above, Bitcoin's market dominance has risen from 40% in mid-September to 47% within the last few days. And though that might not seem significant on its own, it could be indicative of a stronger Bitcoin rally to come.
Historically, when Bitcoin has risen alongside market dominance, Bitcoin outperformed altcoins. What's more, Bitcoin won't engage in an epic run-up unless dominance is climbing as well.
Now that dominance is finally pitching higher again after months of falling, Bitcoin could very well be preparing to make the leap to $70,000 once it surpasses the all-time high of roughly $65,000.
Altcoins, meanwhile, will lag until dominance starts trending lower again. When dominance falls and Bitcoin rises, "altcoin season" ensues, where altcoins outperform Bitcoin. For now, though, Bitcoin's still in charge.
Not everyone is convinced that Bitcoin's due for another spike higher, however. Crypto analysts have been concerned about how the Bitcoin futures ETF (which opened for trading yesterday) could allow institutional forces to manipulate Bitcoin's price as most retail traders may prefer buying and selling Bitcoin directly.
"Demand for these bitcoin futures ETFs is likely to be disappointing. These could be of interest to a limited audience of institutions that can't hold spot or derivatives directly, as well as retail investors that prefer the familiarity and convenience of ETFs," said Noelle Acheson of Genesis Global Trading.
"Most investors, however, are more likely to continue to access BTC exposure through spot or derivatives, or through any of the many listed securities or international funds that offer spot BTC exposure."
Digital asset brokerage Bequant's head of research, Martha Reyes, noted that institutions have already started to influence Bitcoin through the CME's existing Bitcoin futures market.
"Speculation about an imminent futures ETF really took off last week as the SEC had been uncharacteristically quiet ahead of the approval deadline for the first of the ETFs on October 18," Reyes said.
"US institutions, in particular, have been fueling the rally as evidenced by activity on the CME and the basis flippening on the CME over the retail-led exchanges."
If Bitcoin's going to continue its long-term rally, it'll have to burst past the all-time high (roughly $65,000) to do so. Otherwise, a dreaded "double top" will form, which often precede major bearish reversals.
For the time being, though, the Bitcoin bull run is still alive. And it's not showing any signs of slowing.
That could be enough to help Bitcoin reach greener pastures, stretching out the rally into November and beyond.
Especially if market dominance rises in tandem with Bitcoin's price in the coming weeks.