Stocks are up thanks to a tech comeback. Energy shares are rising, too.
It was another "see-saw" trading session today, marked by a morning drop and afternoon rally. The market closed for a moderate gain when all was said and done.
Leading the way was the tech-heavy Nasdaq Composite, which leaped 2.3%. Both Netflix (NASDAQ: NFLX) and Facebook (NASDAQ: FB) had big days, surging 5.3% and 4.2%, respectively. The Dow (+1%) and S&P (+0.5%) got in on the action, too, with small gains of their own.
"This is a day trader's market," observed Christian Fromhertz, CEO of Tribeca Trade Group.
"That's not my favorite type of trading, but the day-to-day swings and the overnight moves are pretty insane."
Other analysts see a further bounce back on the horizon, especially as the Fed continues to pump liquidity into the market.
"Markets are clearly in a state of panic and forced liquidations — but risks remain skewed to the upside," said Adam Crisafulli, founder of Vital Knowledge, in a note.
"This should become much more apparent once some of the solvency issues are addressed."
Want more FREE research and analysis on the best "unseen opportunities" in the markets?
Gregory Faranello, head of U.S. rates trading at AmeriVet Securities, explained that increased demand for the U.S. dollar has the markets off-kilter.
"There's a dollar strain on the system, globally. Whether it's Asia, Brazil, emerging markets, Europe or here in the U.S., the dollar is in demand right now," he said.
"If you look at everything across the board, it's all going down together. The one thing that's going up that's dollar-denominated is the U.S. dollar."
What's also going up is the aforementioned American tech sector. And while some companies (like Netflix and Facebook) had a great day, others appear to be gearing up for a larger (and longer) move.
Amazon.Com Inc. (NASDAQ: AMZN), for example, just broke out of its recent bearish trend.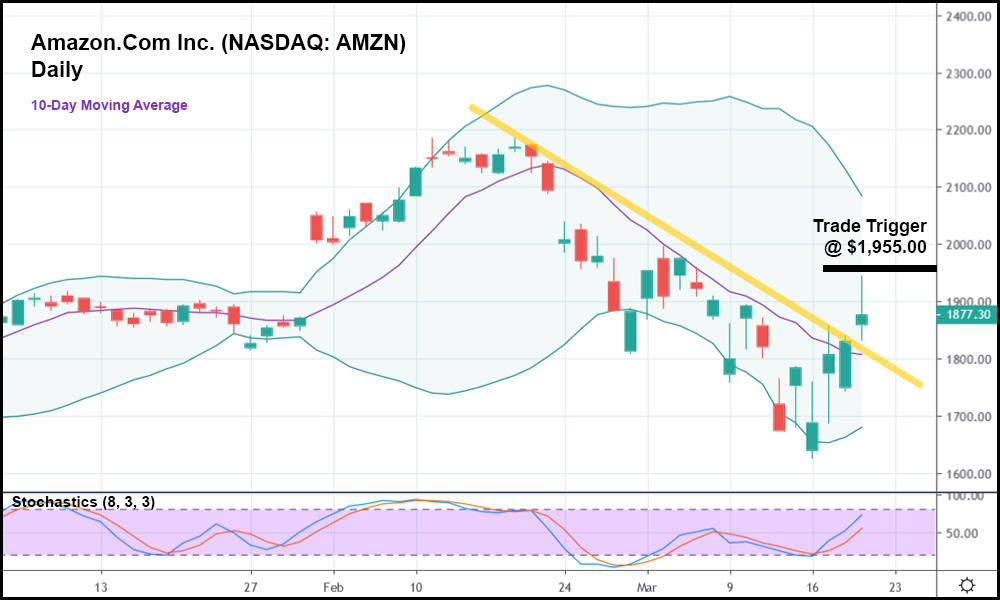 In the daily candlestick chart above, you can see that AMZN has been fighting tooth and nail to avoid a total collapse. Over the last few weeks, the stock has slowly trended down, swinging wildly the whole way.
Today, however, AMZN just broke about above its minor bearish trend (represented with the yellow trendline). The stochastics indicator, though high, is still below 80, suggesting that AMZN isn't overbought quite yet. The lower Bollinger Band (BB) was recently hit as well, meaning that AMZN could have serious rebound potential.
For those reasons, it might make sense to go long on AMZN if it trades above today's high with a trade trigger of $1,955.00. From there, its 2020 high will be well within reach. If the market can turn things around in the coming weeks, AMZN should soar.
Perhaps regardless of whether the U.S.'s COVID-19 cases peak or continue rising.