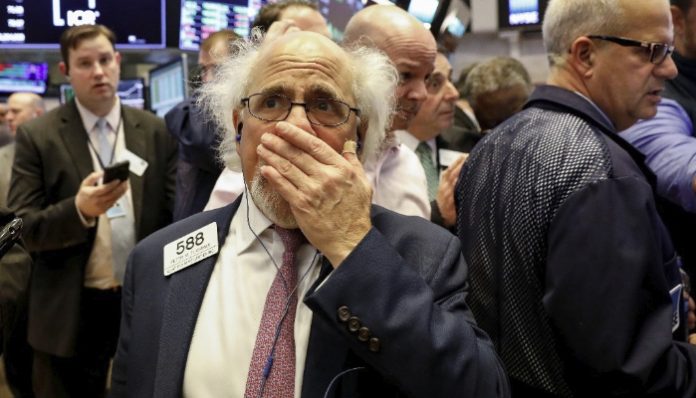 Stocks were up this morning, alongside U.S. coronavirus cases. 13,677 have contracted the disease stateside.
Many more are likely to get it.
Most interesting of all, however, is that volatility finally started dropping.
And for short-term traders trying to buy at the bottom, that could be a huge deal.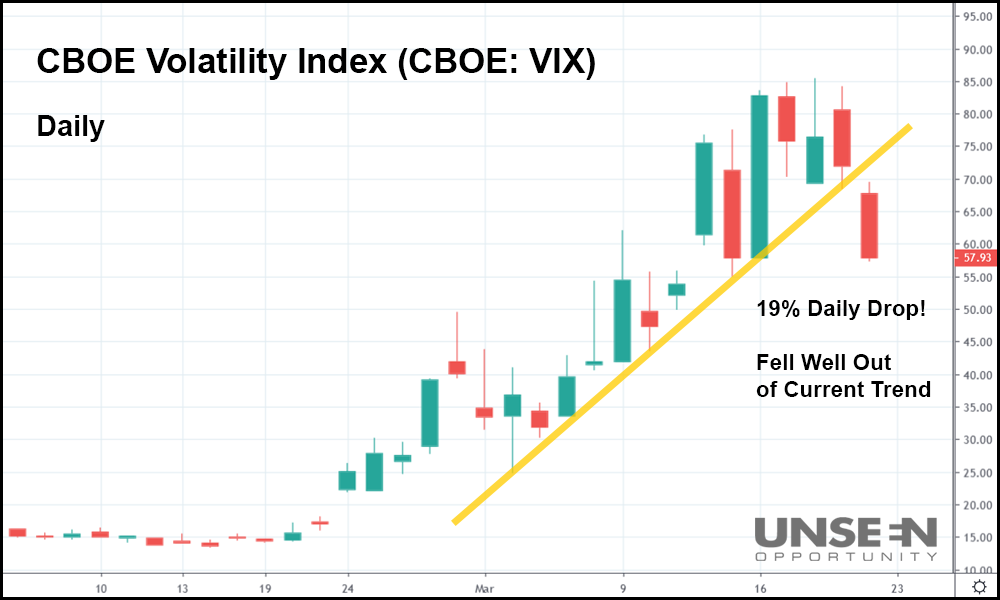 In the daily candlestick chart above (in which each bar represents one trading day), you can see just how out of control volatility has gotten over the last few weeks. The Volatility Index (or VIX), an often-referenced index by analysts, tracks market volatility.
As the old saying goes, "when the VIX is low, it's time to go," and conversely, "when the VIX is high, it's time to buy."
Those two phrases assume that volatility is the enemy of a rising market. When the VIX bottoms out and starts reversing upwards, stocks typically stop rising shortly thereafter. When the index tops out and starts falling, that usually means a stock rally is on the horizon.
Want more FREE research and analysis on the best "unseen opportunities" in the markets?
With that in mind, today's VIX plunge is significant. Not only does it represent a large volatility decrease (of roughly 19% as of midday), but it also puts the VIX below its current uptrend. The yellow trendline in the chart above traces the VIX daily lows going back to early March. Today's dip below that line could mean a reversal is coming.
If the index falls below today's low (currently 57.42) on Monday, don't be surprised to see it tumble further.
And if the VIX is falling, stocks are likely to soar. Especially if volatility drops again like it did today.
That has analysts taking notice, even with a coronavirus outbreak raging in the background.
"Mad Money" host Jim Cramer sees a rally approaching, too, albeit for a different reason.
"I think there's a technical rebound coming," he said on "Squawk Box."
"I don't know how long it will last because I think people are very worried."
Cramer continued, adding that the stock market is "the most oversold [it's] ever been."
Stocks opened trading slightly higher this morning but ended up falling by noon after a "work from home" order from New York Governor Andrew Cuomo.
With coronavirus cases surging in New York, Cuomo told non-essential businesses to keep 100% of their workforce at home.
"This is the most drastic action we can take," he said.
New York City Mayor Bill de Blasio urged the governor to take action following an infection spike that sent the state's total number of cases to 5,700.
"We're seeing an explosion of cases here in New York City," de Blasio said in a press conference today, in which he announced that 3,615 total cases have now been confirmed in the city's five boroughs.
And though that's certainly not good news for an already wounded market, the technical indicators still suggest that a rally could be right around the corner.
Stocks have already gotten decimated by the coronavirus. How much worse will the sell-off get?
The VIX is dropping, after all, and equities appear oversold.
That means the market may have finally hit the bottom.
If that's true, traders need to prepare for a whipsaw rally next week – one of potentially historic proportions.
Even if, like Cramer says, the gains don't "stick" moving forward.