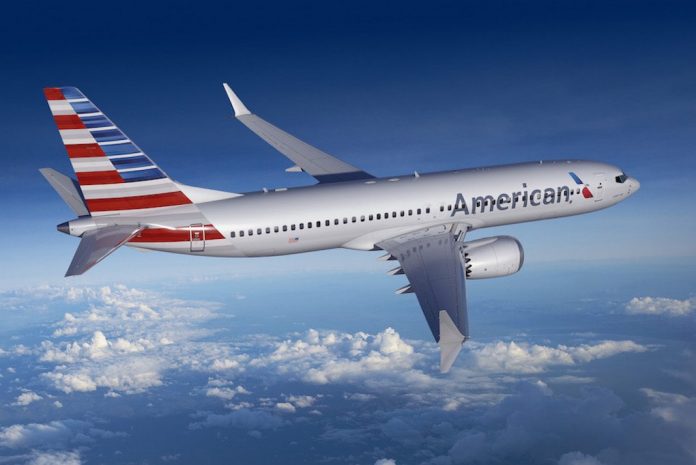 We're almost three weeks into the coronavirus outbreak and uncertainty continues to twist the market. The S&P and Nasdaq Composite hit new all-time highs today while the Dow climbed over 100 points, just one day after most of the market sold-off.
This morning's boost came by way of reinvigorated investors, who apparently felt much better about the coronavirus. Only 1,749 new cases were reported in China today, marking the smallest daily increase since late January.
"Encouraging signs have continued to emerge over the past week that China's coronavirus outbreak […] is contained," said Yan Wang, Alpine Macro's emerging markets and China strategist.
"China's stringent quarantine requirements will likely soon be relaxed, and the government's focus will shift quickly from containing the virus to supporting the economy."
And though sentiment is shifting, some believe the outbreak could still cause significant long-term damage.
"It could be a short-term shock but one that ends up having a somewhat longer-term impact," said Eswar Parasad, who served as Chief of the Financial Studies Division at the International Monetary Fund.
Prasad, now a Cornell University professor, believes that China will do whatever it takes to prop up financial markets. And while he agrees that something must be done, Prasad also thinks China's countermeasures won't be enough to prevent a local economic drawdown.
The G20, which is made up of financial leaders of the world's 20 largest economies, has its concerns as well. In a draft document prepared for the organization's February 22nd meeting, the group remains wary of the outbreak despite other positive indicators.
"After signs of stabilisation at the end of 2019, global economic growth is expected to pick up modestly in 2020 and 2021," the draft said.
"However, global economic growth remains slow and downside risks to the outlook persist, including those arising from the impact of the novel coronavirus outbreak, geopolitical tensions and policy uncertainty."
And so, with so much still "up in the air," the market might be outpacing itself. Or, it could just as easily be a few sessions away from the next major leg up.
However, one sector – airlines – has completely missed today's gains and looks ready to drop further.
Take American Airlines (NASDAQ: AAL), for example, a stock that could fall even without any more coronavirus-driven travel bans.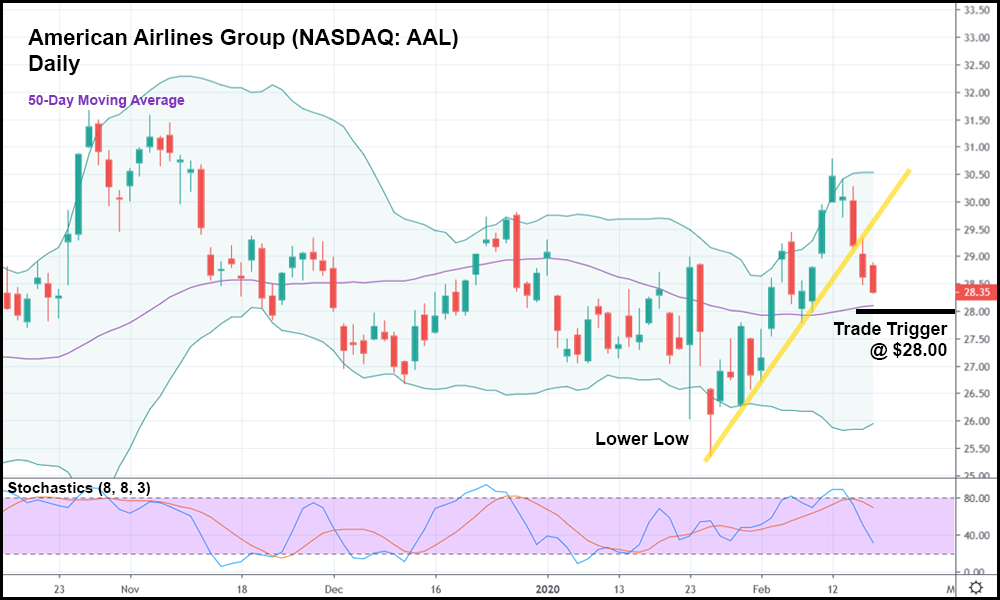 In the daily candlestick chart above, you can see that AAL has been chopping every which way. Normally, I'd avoid a stock that does so.
But in this case, AAL just set a lower low and it slammed right into the upper Bollinger Band, both of which suggest that the stock's going to dip. It's already fallen off a bit since peaking a few sessions ago, but now that it's broken out below the minor bullish trend (represented by the yellow trendline), it could absolutely plunge.
In this case, it might make sense to go short on AAL if it falls below natural support at the 50-day moving average with a trade trigger of $28.00.
Another lower low would be in sight from there. The last time AAL hit the upper BB, it set a lower low in January.
And based on the stock's recent price action, that certainly looks likely to happen again.