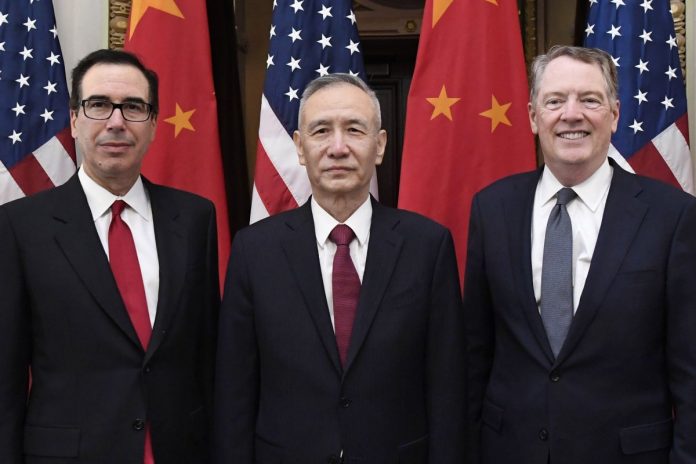 On Friday, White House economic advisor Larry Kudlow said that the U.S. and China were close to striking a "phase one" trade war deal.
Today, an unnamed Chinese "government source" told CNBC senior correspondent Eunice Yoon that the feeling is less than mutual. According to the source, China's ready to wait out a few key events before any deals are made.
"Mood in Beijing about trade deal is pessimistic, government source tells me. China troubled after Trump said no tariff rollback. (China thought both had agreed in principle,)" wrote Yoon on Twitter.
"Strategy now to talk but wait due to impeachment, US election. Also prioritize China economic support."
And into the sentiment "spin cycle" we go.
Unsurprisingly, equities retraced their impressive Friday gains when the market opened earlier this morning. Since then, conditions have improved, but stocks remain slightly lower than where they closed last week.
As usual, contradictory statements – both official and unofficial (through anonymous leaks) – are making it difficult for investors to gauge where the trade war is truly headed.
What's even more frustrating is that the Chinese Ministry of Commerce just said that the two sides had "constructive discussions" about "each other's core concerns" on Sunday.
"If both sides reach a phase one agreement, the level of tariff rollback will fully reflect the importance of the phase one agreement," said Ministry of Commerce spokesman Gao Feng.
But that's precisely the issue – the rollbacks themselves. President Trump remains hesitant to roll back tariffs at all.
China, on the other hand, apparently needs the rollbacks to feel good about moving forward with the "phase one" deal.
If the Chinese government source is legitimate, and China is fine with waiting for a Trump impeachment or 2020 loss, then the trade war could continue well into next year.
Or, if Trump wins, even longer. After all, he won't have to worry about re-election in 2024.
The "gloves" in that case could officially be "off."
For bulls, that could potentially be devastating news, as the market just made new all-time highs on a positive swing in trade war sentiment.
And to some analysts, the goodwill is starting to wear thin.
"The [White House] is again talking up trade prospects, while actual Chinese purchases of US grains are lagging volumes promised in earlier discussions," wrote Jim Vogel, interest-rate strategist at FHN financial.
"Global stocks like the White House spin but are not gaga. The expected uptick in yields is muted, however."
Meanwhile, others are concerned that industries have fallen too far behind for consumers to keep the U.S. economy afloat.
"The consumer was the sole support to the economy in Q2 and Q3, but the question remains whether or not consumption can continue to provide indefinite support without improvement in other key areas?" said Lindsey Piegza, Stifel's chief economist, about the recent retail sales reports.
But in the end, a robust consumer base might not be necessary to propel the economy forward. Even without huge retail projections, corporations expect strong growth in 2020.
Regardless of whether the trade war is still raging or not.