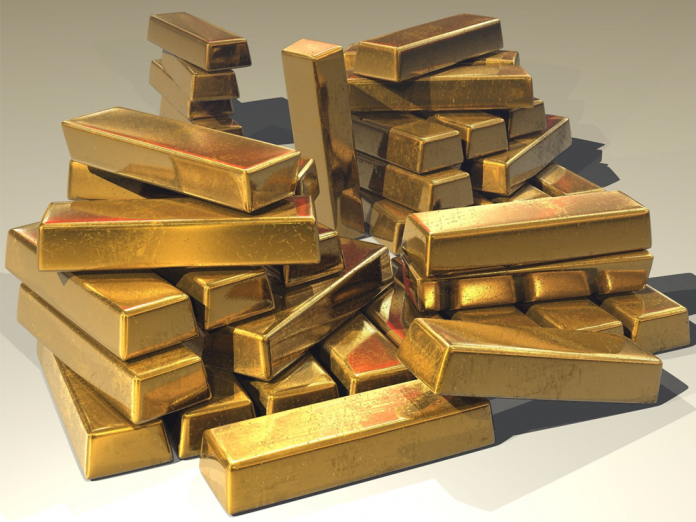 The COVID-19 pandemic is picking up speed.
Confirmed coronavirus cases in the U.S. just breached 200,000. A few hours ago, U.S. officials reported that China was underselling its infection numbers – something most folks suspected.
That likely means two things:
China got hit way harder than Xi Jinping's willing to admit.
The U.S. outbreak, by comparison, might not be as out of control as we thought.
Yes, the disease is still spreading stateside. And yes, President Trump did in fact say that the White House is projecting between 100,000 and 240,000 COVID-19-related deaths in the U.S.
But that doesn't mean it's the "end of the world," nor even the stock market.
Although stocks sunk today, there's still hope of an upcoming revival. The S&P 500 has another 11% to fall before hitting last week's low (a 3-year low at that).
Savvy traders know this, and are looking to buy when the timing's right. That could've been yesterday or today. Or maybe it'll happen a week from now.
The truth is, nobody really knows.
That's the problem with trying to buy at the best price; it's nearly impossible.
So, if the recent standout low holds, don't be surprised to see a wave of optimism take stocks higher…
…And gold lower.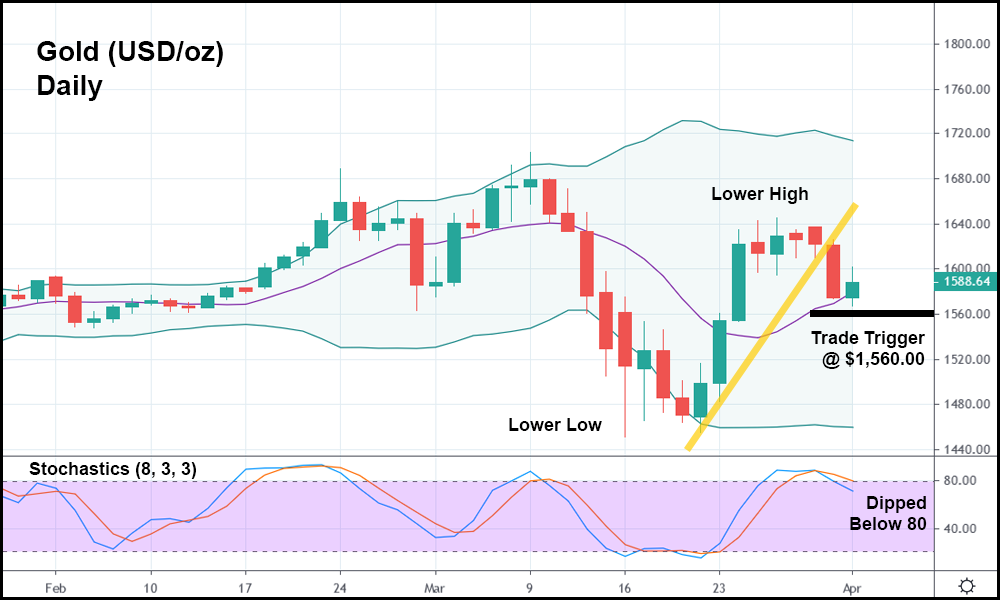 That's right, gold might actually tumble over the next week or two amid rising COVID-19 fears. In terms of U.S. dollars per ounce, gold broke out below its minor bullish trend (represented with the yellow trendline) yesterday. Today, it stabilized as the market faltered, but remains dangerously close to crossing the 10-day moving average.
If gold drops to $1,560, it might make sense to go short. The stochastics indicator suggests that it's losing steam, too, having just fallen below 80 (anything above 80 would suggest gold's overbought).
Gold also set a lower low followed by a lower high, both of which indicate a downtrend continuation in the coming days.
And if stocks make a comeback? "Gold bugs" could be in for a rough ride as the coronavirus continues to spread.
It doesn't make much sense, but right now, nothing really does. Investors have American stocks "marked for death." In a few months, both the economy and market will be recovering.
Hysteria – not logic – is driving share (and gold) values. Until that changes, precious metals investors need to be ready for the unexpected.
Possibly as early as tomorrow morning.