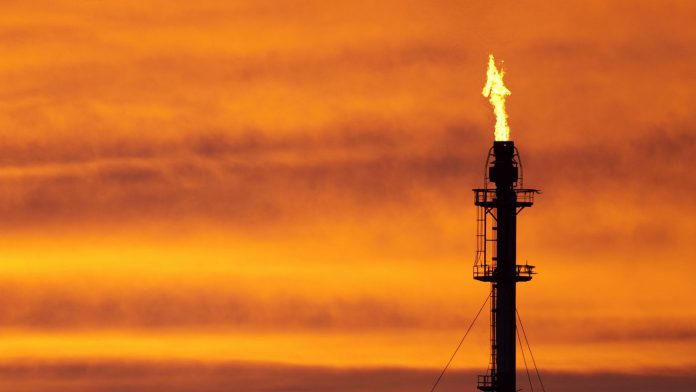 The market's rising today in what's been a highly volatile trading session. Coronavirus cases are climbing, but oil prices are, too.
Stocks opened lower to start the morning before surging on a rumored end to the Saudi/Russia "oil war."
In an interview with CNBC, President Trump said that he spoke with Russian President Vladimir Putin and Saudi Crown Prince Mohammad Bin Salman. Both countries, Trump explained, are expected to cut production by roughly 10 million barrels. Possibly 15 million at the highest.
Whether that actually happens or not remains to be seen. If the cuts do go as planned, however, RBC Managing Director and Global Head of Commodity Strategy Helima Croft believes that they won't come cheap for the U.S.
"What we know is the Saudis were looking at this through the lens of the financial crisis and believe they needed a response commensurate to 08/09," she said.
"The question is can Trump put together the package that gets them to do that? We know there's an emergency OPEC meeting. They will be looking for signs that U.S. production will be curtailed. They will be watching what happens with the Texas Railroad Commission and with Canada."
The 10 million barrel reduction has yet to be confirmed by Russia or Saudi Arabia. But that hasn't stopped speculators from spiking prices, and as a result, American stocks.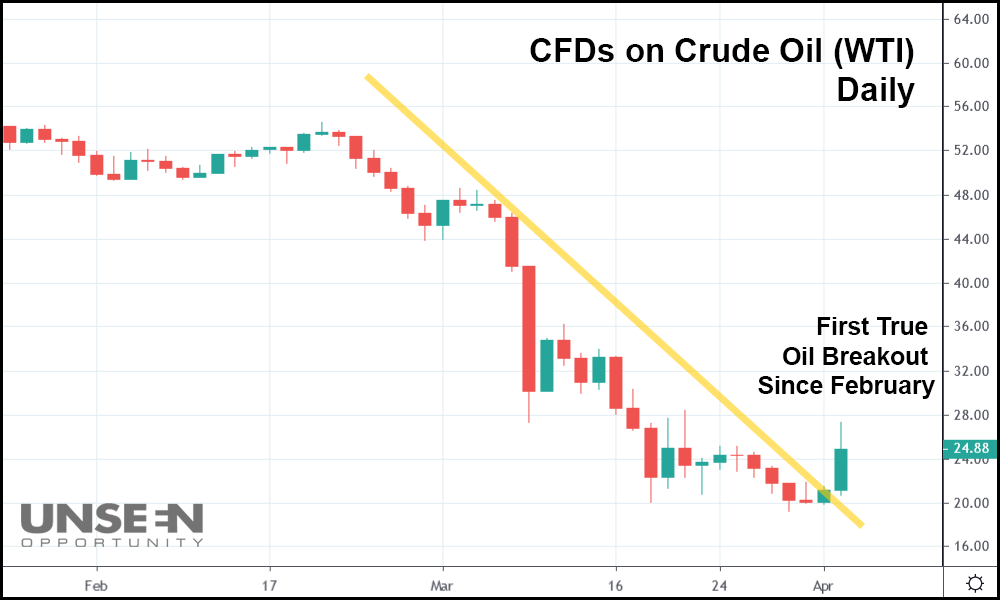 In fact, today's crude "eruption" represents the first oil breakout since mid-February when prices attempted to recover from losses earlier in the month.
If crude oil can stay above its recent low and even surpass today's high ($27.32), that might not only bode well for oil speculators but the general market as well. The recent oil losses have been so massive that investors were forced to sell other assets to cover their plunging crude positions. The U.S. shale industry, which has drawn the attention of several analysts over the last week, got whacked by sinking oil prices, too.
Whiting Petroleum, a U.S. shale company, filed for bankruptcy protection yesterday. If other shale firms follow suit, millions of jobs could be lost.
"The oil patch is falling apart. […] This is the other bomb that's dropping," said "Squawk on the Street" host Jim Cramer yesterday.
"I think they're the first of many. This is something that we have to keep an eye on because when we start seeing the layoffs, some of the layoffs are going to bounce back, and some of them are not coming back at all."
On the other hand, if oil prices keep rising, U.S. shale might be saved. Cramer said that the U.S. economy "can't afford oil to go down to $5, $10" per barrel. With today's surge, oil prices remain well above that threshold.
And if the gains stick, they'll serve as a major boon for the market moving forward.
But if they don't?
Get ready for higher unemployment numbers that could last longer than the COVID-19 outbreak, complete with a set of new lows for the major indexes.