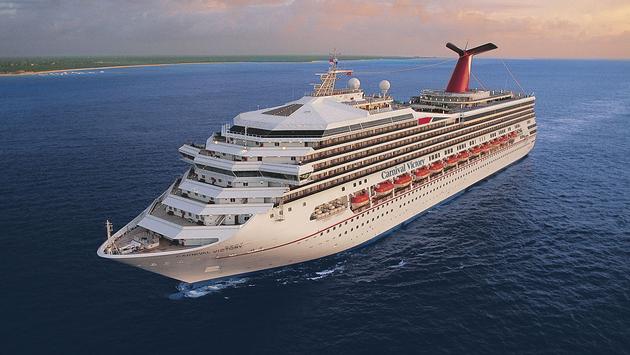 Tesla (NASDAQ: TSLA) is up, Facebook (NASDAQ: FB) is down, and Wuhan coronavirus fears are back. The market dropped again today, weighed down by nervous investors. A bigger plunge is to be expected if a correction is truly coming, but for now, has yet to arrive.
That hasn't stopped gold prices from rising, though. Precious metals and Bitcoin – considered by many to be "digital gold" – are up, too, as uncertainty derails the bull run.
More than 8,200 people have contracted the coronavirus worldwide, now, and 171 have died within Chinese borders. The CDC just announced the virus' first person-to-person transmission in the United States, making it five total countries in which that type of transmission has taken place.
SARS, which ran China ragged in 2003, only infected about 8,100 worldwide by comparison. U.S. officials are working around the clock to contain the coronavirus, and will take more drastic action if needed.
Up until now, the World Health Organization (WHO) has yet to declare the outbreak a global emergency – an event that would likely send stocks spinning.
And so, while most stocks have already been wounded by the coronavirus, others still stand to drop further. Especially travel companies if more travel bans are confirmed.
One in particular, Carnival Corp. (NYSE: CCL), has already fallen significantly. The stock could continue its rapid plunge, though, if the WHO classifies the outbreak a pandemic – something many analysts see as inevitable at this point.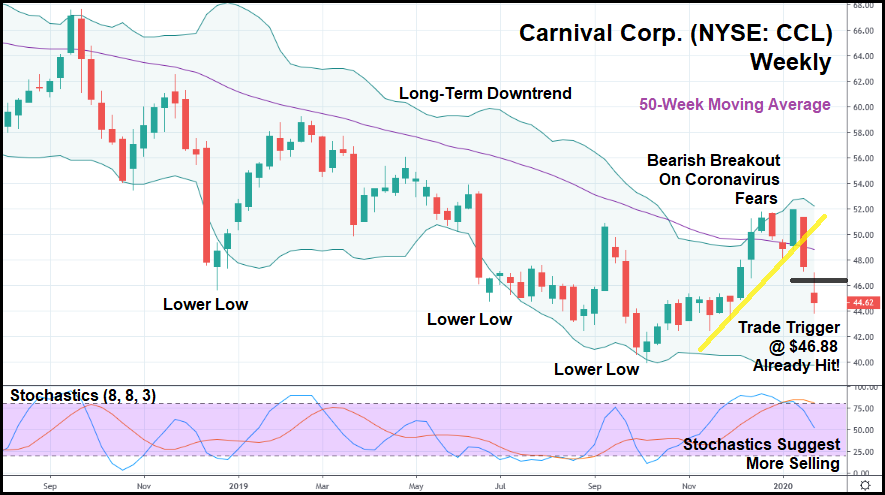 In the weekly candlestick chart above, you can see that CCL has been locked into a protracted downtrend since September 2018. The stock has attempted several recoveries since the downtrend started, but ultimately failed each time. More importantly, it set several lower lows in the process; the most recent being in October 2019.
Two weeks ago, with plenty of downward momentum behind it, CCL broke out below its minor bullish trend (represented with a yellow trendline). This week, it descended past a trigger price of $46.88, dropping to a low of $43.76 before recovering to $44.62.
And though CCL has already "triggered," it could still have more room to sink. The stochastics indicator currently sits just north of 50, suggesting that the stock isn't even close to being oversold (anything under 20 is usually considered oversold).
The WHO is scheduled to meet next week to discuss the coronavirus outbreak. If the organization announces a dreaded "pandemic" classification, the market will likely crater, with travel stocks leading the collapse.
CCL being one of them.
Going short at this point, despite the fact that CCL has already fallen so much, might make sense provided that the stock doesn't fall below the current week's low. Because if the coronavirus truly gets out of control, travel bulls are going to pay the price.
All while short-term bears enjoy a handsome profit.