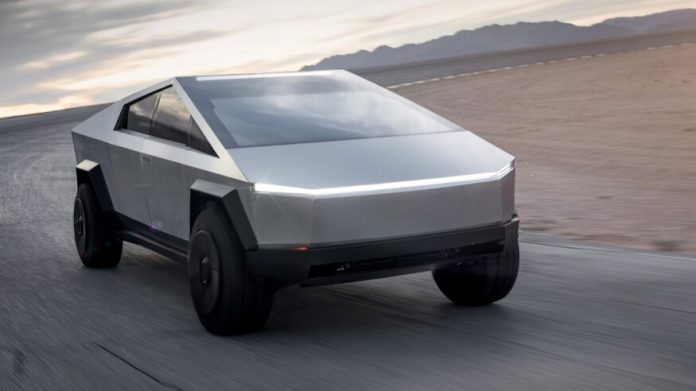 Last night, Tesla (NASDAQ: TSLA) debuted their new discount pickup truck, dubbed "Cybertruck" by CEO Elon Musk. The vehicle features several powertrain packages and, depending on the model, will cost anywhere from $39,000 – $70,000. The automated driving assist will be available as a $7,000 add-on.
But the real story from the reveal wasn't Cybertruck's many options. Instead, investors and event-attendees were shocked when the vehicle's design lead, Franz Von Holzhausen, shattered Cybertruck's windows with a metal ball.
Yes, you read that correctly.
Within his presentation, Musk had planned to actually attack Cybertruck, which he claimed was "bulletproof" against a 9mm handgun earlier in the night.
And while Musk made the wise choice not to shoot Cybertruck on stage, he did decide to have one of his employees throw a heavy metal ball at it – something that the futuristic truck should've shrugged-off with ease according to Musk.
Instead, the vehicle's windows shattered into spiderweb-like impact patterns when Holzhausen unleashed his barrage.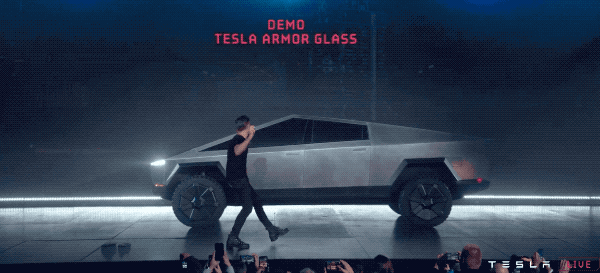 "Oh my f—— God," Musk shouted after the first metallic orb made contact.
"Well, maybe that was a little too hard."
Holzhausen tried again, this time with the rear driver's side window. The result was the same.
Sadly, since Musk wasn't armed (as far we could tell), we never found out whether Cybertruck was truly bulletproof or not.
We do know, however, that it's certainly not "heavy metal ball-proof."
But in the end, Musk's theatrical display wasn't the main takeaway from his presentation. I don't think most folks expected Cybertruck's windows to stand up to a heavy metal object. For what it's worth, the ball didn't penetrate the glass, which Musk made note of amid chuckles from the crowd.
The big issue was the vehicle's exterior.
Cybertruck, for better or for worse, looks like a science-fiction movie prop. Don't get me wrong – it will likely be popular with Tesla fanboys/girls, but ultimately, it won't succeed in the mainstream market.
In many ways, it's the next Pontiac Aztek – boxy (to the extreme) and somewhat tone-deaf to the current wants/needs of drivers. Even though the Aztek now has a cult following, it was an expensive, bloated failure when it released.
Shoot, Cybertruck even has a (conceptual) camping package – one of the Aztek's top selling points.
And for Tesla, that's bad news. Cybertruck is Musk's new "light truck", which is part of a market slice that includes pickups and S.U.V.s. These days, American automakers generate almost all their profits from light trucks.
It is, without a doubt, a market that Tesla needs to enter to continue chasing aggressive growth.
Sadly, based on what we saw last night, Cybertruck won't get Tesla's foot in the door. Yes, the vehicle's certainly eye-catching, but barring a complete exterior redesign, it's simply too niche to succeed.
That doesn't mean Tesla bulls should dump their shares, though. At least, not yet.
TSLA shares are down 6% as of midday, and if they keep dropping, by all means, go ahead and get out. But today's drop is in response to two things, one of which being a much bigger deal than the other:
Cybertruck's poor reception.
And, more importantly…
TSLA's position near its all-time high.
Investors – particularly short-term traders that managed to grab TSLA at a bargain in September – are cashing out. If share prices make another significant leg down, then it might be time to sell.
Long-term, though, Cybertruck won't be the end of Tesla. Even though it's a planned production vehicle, plenty can happen between now and its eventual release. If you're a "buy-and-holder" like most ardent Tesla fans, last night's reveal isn't a reason to swear off the company's stock for good.
What Musk & Co. do in response to the bad press will be the biggest "reveal" of all, and should serve as guidance for TSLA speculators moving forward.