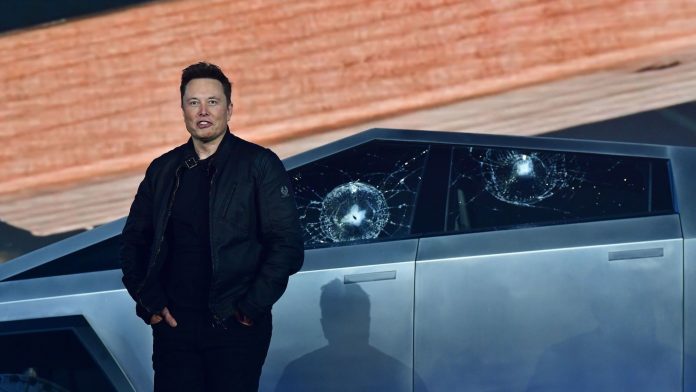 On Thursday night, CEO Elon Musk revealed "Cybertruck," Tesla's brand-new electric pickup that looks like it was taken right out of a sci-fi blockbuster. Marked by hard angles and industrial features, the vehicle quickly became a hot topic on social media.
But what really kickstarted the Cybertruck discussion was design lead Franz Von Holzhausen's on-stage experiment, in which he shattered the truck's driver side windows with a heavy metal ball.
"Tesla tried to throw a lot of stones at the legacy pickups on the market, with Tesla highlighting advantages in durability, towing, payload, and 0-60," wrote Credit Suisse in a note.
"Yet we think the legacy OEMs (original equipment manufacturers) can breathe a sigh of relief, as we don't expect Cybertruck to encroach on large pickup share."
Deutsche Bank piled on, adding that, "The shattering of the truck's unbreakable glass windows during the live demonstration was not a good start."
And though the unveiling may have left Tesla a little embarrassed – especially since Musk claimed that the truck was "bulletproof" moments before the windows were shattered – he maintains that the glass held up in prior tests conducted by Tesla.
"We threw wrenches, we threw everything even literally the kitchen sink at the glass, and it didn't break. For some weird reason, it broke now," he said.
"I don't know why. We will fix it in post."
Want more FREE research and analysis on the best "unseen opportunities" in the markets?
The botched "window test", while by no means a damning failure nor indicative of Cybertruck's engineering, became the subject of many an internet meme. After Tesla revealed that the vehicle came with a (conceptualized) camping package, it drew comparisons to the Pontiac Aztek, another "ahead of its time" automobile that boasted questionable design features.
Unlike the Aztek, though, it appears that Cybertruck has drummed up considerable pre-release hype.
Last night, Musk tweeted that Tesla had received 200,000 orders for the truck – up significantly from the day before.
"146k Cybertruck orders so far, with 42% choosing dual, 41% tri & 17% single motor." Musk said on Saturday via Twitter.
To Tesla fanatics, it was proof that Cybertruck could outrun the "haters" on its way to becoming an instant, market-disrupting hit.
And while 200,000 pre-orders are nothing to scoff at – especially for Tesla shareholders – Musk's tweet is also a little misleading.
The statistic, though impressive, likely accounts for worldwide orders, not just ones from the U.S., where the bulk of the market resides. If Tesla's going to make its mark on "light trucks" (a segment that includes SUVs and pickups), then the company will need to do it stateside.
It's the most profitable niche for American automakers, after all. Combined, GM and Ford sold roughly 1.8 million pickup trucks in 2018.
200,000 pre-orders, even if they were all made by American drivers, won't be enough to impact the pickup market. Of course, more Cybertrucks will undoubtedly sell after Tesla officially releases it.
But at present, the pre-order tally might not be worth getting excited over.
Don't forget that to secure a Cybertruck, shoppers only need to put down a refundable $100 deposit. For Tesla's Model Y (an SUV), they had to pay a much more expensive $2,500 deposit as part of their reservation.
Whether that translates to "abandoned" pre-orders remains to be seen.
For now, though, it might be worth tempering expectations. We've got a long way to go until Cybertruck hits the streets (planned for late 2021), and plenty can happen between now and then.
That includes another Cybertruck gaffe – intentional or otherwise – that thrusts Musk's new toy back into the headlines, where it will undoubtedly polarize consumers even further.