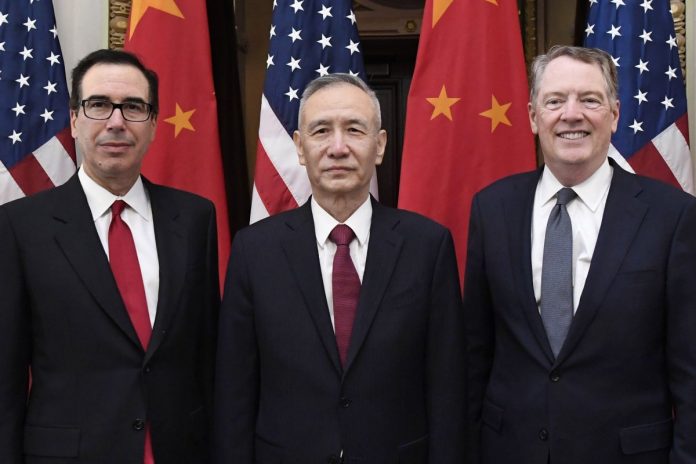 It's been a wild 24-hours for trade war-sensitive investors.
Yesterday morning, Bloomberg News reported that a partial trade deal was within reach. The U.S. and China were allegedly considering a "currency pact," (as reported by Bloomberg last night) involving a suspension of U.S. tariffs.
The market cheered, and stocks opened higher to start the trading session, eventually closing for a moderate gain.
Then, later that night, the South China Morning Post reported that today's trade talks wouldn't extend through Friday, and Vice Premier Liu He's visit would be cut short.
Dow futures dropped over 300 points as a result.
Shortly thereafter, though, a White House spokesman told CNBC the South China Morning Post's report was inaccurate. "We are not aware of a change in the Vice Premier's travel plans at this time," the spokesman said. A senior White House official added that Liu is still scheduled to leave on Friday evening, not Thursday.
Better yet, the New York Times reported that President Trump might allow American companies to sell supplies to Huawei, the blacklisted Chinese telecom giant. Back in May, the Trump administration restricted sales to the company.
Dow futures recovered, down only 50 points.
Want more FREE research and analysis on the best "unseen opportunities" in the markets?
And as of this morning, the market opened slightly lower before immediately pushing higher. If today's gains can hold, equities could be in prime position to push to new all-time highs in the event of a trade deal.
"We expect the WH to announce that progress has been made sufficient to put the Oct 15 tariff on 'indefinite hold,'" said Donald Straszheim, Evercore ISI's head of China research, in a note.
"If we are correct on these delays, the tariff war has already hit its peak intensity. That's a plus. Both sides we believe want to turn down the heat. Tariffs hurt everybody."
Not to be outdone by the media (or analysts, for that matter), President Trump doubled down on the wave of optimism by confirming Liu's extended stay. Twenty minutes after the market opened, he tweeted that a Friday meeting between the two, as of now, is scheduled.
"Big day of negotiations with China," wrote Trump on Twitter.
"They want to make a deal, but do I? I meet with the Vice Premier tomorrow at The White House."
In response, the market surged. The Dow shot 160 points upwards as investors regained much of their confidence.
And though everyone's feeling excited about a trade war conclusion – or at the very least, a suspension of the October 15th tariff – remember this:
Over the last day, stocks have whipsawed back and forth on conflicting headlines. Even Trump's tweet leaves the door open for a "no-deal" scenario.
So, before you buy into the hype, consider that nobody actually knows what's going to happen. There's no trade war crystal ball, and if the talks prove to be less than fruitful, bulls could get scorched after the meetings wrap up.
Do you want your portfolio to become the next trade war casualty? If so, go ahead and lap-up the good news while it's still pertinent. If the tide shifts, stocks will crater in an instant.
And even if a "partial" trade happens, is that really a good thing? China could get out of this whole ordeal with a slap on the wrist, free to continue raiding American intellectual property while utilizing unfair trade practices.
If Trump lets China off the hook, the long-term damage could be far greater than what we're witnessing now. Stateside, the economy is still showing signs of moderate strength despite revised Q3 guidance from corporations.
It's China who, if they don't play by the rules, will be kept "on the ropes," well within punching distance of another Trump tariff – something that could kick off a significant correction very soon.