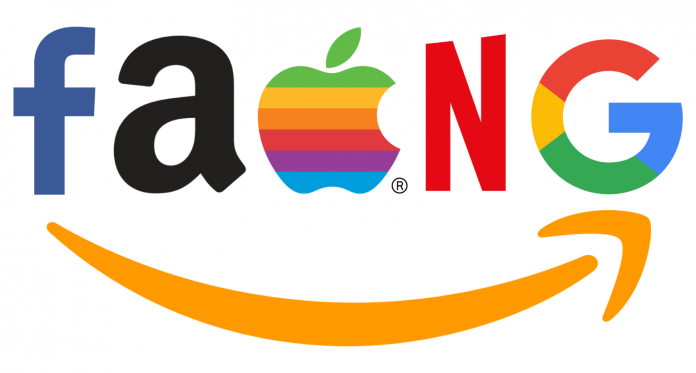 The new unemployment numbers are out and America's down another 2.44 million jobs.
Yes, it's a stunning weekly loss, but it also marked a decrease in the rate at which payrolls are declining. Last week, 2.69 million new unemployment claims were filed.
The U.S. labor market is showing at least some improvement in that regard.
Still, though, many analysts were quick to point out that the job losses are in no way good for an economic recovery, even if they're trailing off.
"Net, net, the states may be opening back up, but the labor market is still closed for millions across America and the loss of the income and spending of those without jobs will be a considerable headwind for this economic recovery," Chris Rupkey, chief financial economist at MUFG Union Bank, said.
Investors aren't taking the news very well, either. The Dow (-0.25%), S&P (-0.60%), and Nasdaq Composite (-1.15%) are all down today as a result.
The cause of this morning's slump goes beyond mere unemployment statistics, though. FAANG stocks (plus Microsoft) have been leading the market for months.
Now, they're all starting to stumble save for one (Facebook) and the indexes are getting dragged down with them.
Want more FREE research and analysis on the best "unseen opportunities" in the markets?
CNBC's Jim Cramer observed on Wednesday evening just how dominant the group has become since the bottom of the coronavirus-crash
"These Big Tech stocks led us higher," said the "Mad Money" host following Wednesday's market-wide surge.
"This market's been going through leadership groups like there's no tomorrow."
In particular, Cramer liked what Mark Zuckerberg & Co. were doing over at Facebook.
"I think this is the future of small business: lots of sole proprietors making things work over the web […] and apparently Facebook agrees," he said.
"And while I've been lukewarm on some of Facebook's actions over the years, this one I think can really make a positive difference in a time of painful unemployment and sputtering small and medium-sized businesses."
Cramer then switched to Microsoft:
"Microsoft's working its way relentlessly higher. Some of it's momentum, although some of it might be their cloud and gaming divisions," he added.
And while Cramer's right that FAANG and Microsoft have been "knocking it out of the park," he didn't talk about how overpriced these stocks currently may be.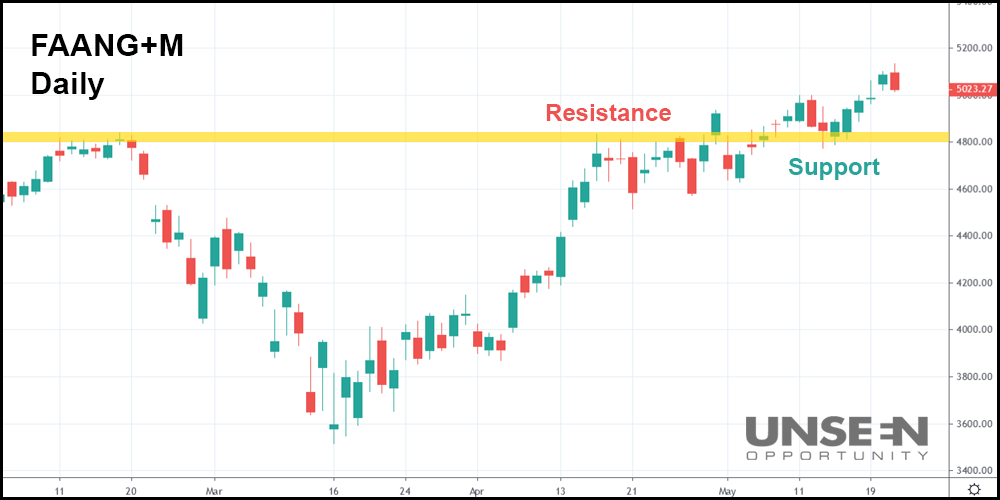 In the daily candlestick chart above, we've plotted the "FAANG+M," a proprietary Unseen Opportunity index that, as its name implies, tracks the investment results of Facebook (NASDAQ: FB), Amazon (NASDAQ: AMZN), Apple (NASDAQ: AAPL), Netflix (NASDAQ: NFLX), Google parent company Alphabet (NASDAQ: GOOG), and Microsoft (NASDAQ: MSFT).
Out of that entire cluster of stocks, only FB is up today. The rest are down, and it's hurting the performance of the entire index.
Back in mid-April, FAANG+M faced serious resistance at the pre-COVID-19 highs. The index temporarily broke through resistance on April 30th, before finally bursting above on May 7th.
When it did so, that resistance became support, which the index consequentially bounced right off of on May 14th.
FAANG+M is now well clear of support, but that doesn't mean it won't re-test it in the coming days.
The general market seems overbought. Significant economic headwinds still stand in the way of a true U.S. recovery.
FAANG+M certainly looks positioned to keep rising long-term as the companies contained within have done relatively well during the pandemic. However, in the short-term, there could be a major buying opportunity for traders.
When equities begin to tip over, don't be surprised to see FAANG+M test that level of support once more. If the index bounces higher, it might be time to buy Big Tech.
If support fails, and FAANG+M trades below support, it could be a sign to sell. Or, even better, a signal to go short on tech stocks that are trading near their all-time highs.
Eventually, FAANG+M will sell-off. How investors react to that sell-off, and how far it goes, will likely determine the fate of the continued post-crash rally, too.
Just make sure that you're on the right side of the market – and Big Tech – when it happens.