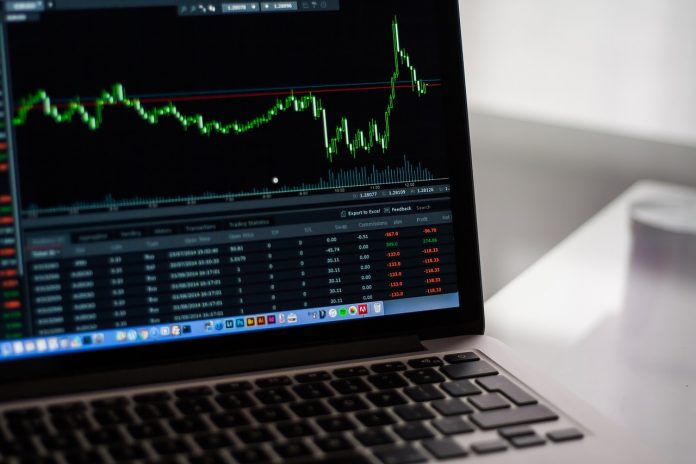 Here's How Tesla Posted It's Third Ever Quarterly Profit
It was Elon Musk's last time presenting an earnings report as chairman for at least three years. But as usual, he's going out with a bang.
The report, which was published on Wednesday, quickly led to an afternoon surge in Tesla's share price. The company had crushed expectations across the board, posting earnings of $516 million for the quarter, and finally reaching its goal of 5,000 Model 3's per week (even if it wasn't for the entire quarter.)
And the good news kept coming. The number of labor hours fell by 30% for the Model 3 from Q2 to Q3, increasing investor hopes of even faster production times. Demand had also increased. Musk noted that the demand for Model 3s was "probably on the order of anywhere from 500,000 to 1 million cars a year."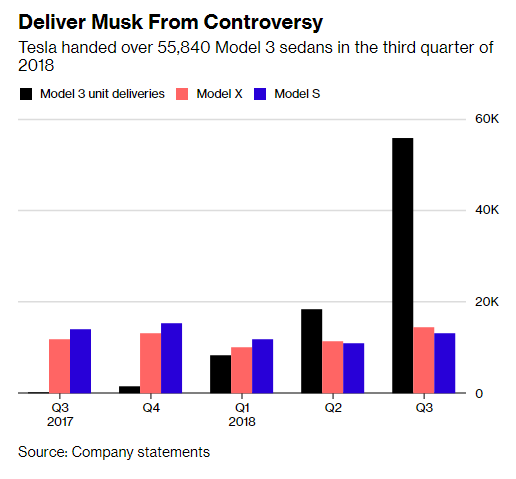 Musk was especially keen on mentioning China, noting that plans were moving ahead to build factories in both China and Europe.
Shareholders and Market Analysts Bust Out the Champagne
Tesla shares shot up 12% after Wednesday's earnings report, taking the company's stock price to a level not seen since Musk's "funding secured" tweet. In fact, if current stock prices hold, Tesla may be one of the few stocks to print a bullish candle for the month of October. Quite a feat, considering how brutal the month has been for equity markets.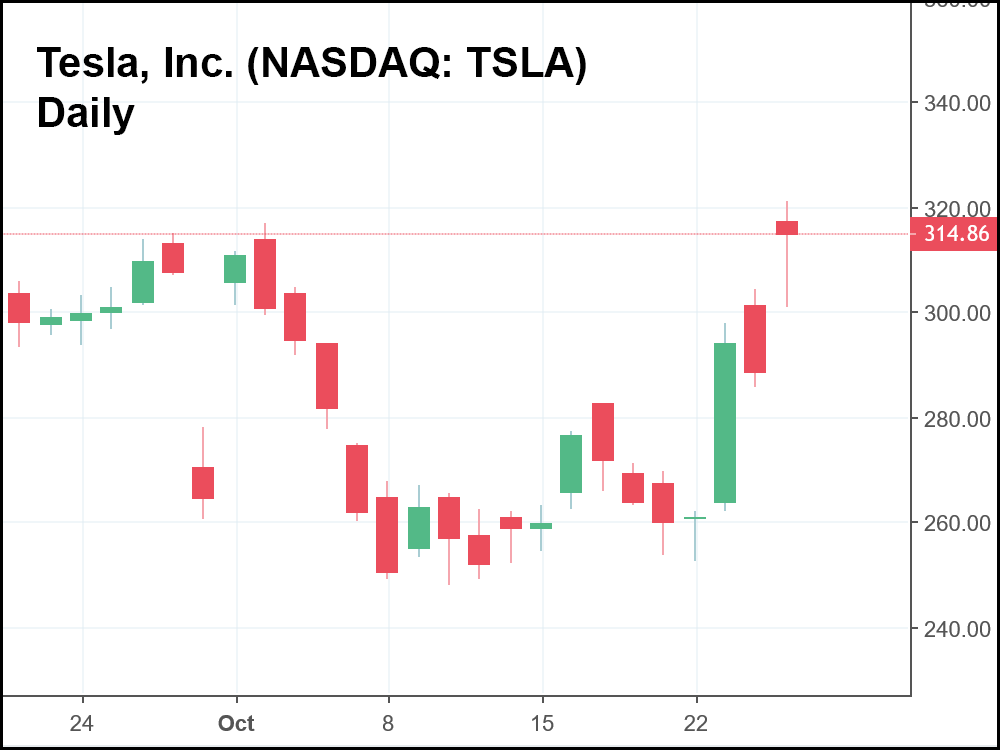 Meanwhile, major market analytics were so stunned by the news, many have repositioned themselves on Tesla.
Morgan Stanley was one of the most vocal in its praise of the company, moving the stock into its "buy" category. "This quarter was different,' noted Adam Jonas, a research analyst for Morgan Stanley. "The quality of cash flow was stronger than expected."
Piper Jaffray of Alexander Potter also suggested the stock was now a buy. "Q3 was a milestone quarter for Overweight-rated TSLA, with margins, earnings, and cash flow easily beating our expectations," he said.
And while Goldman Sachs still has the stock as a sell, they still seemed impressed by the news. Sach's own David Tamberrino had this to say: "We question if this is not as good as it gets from a near-term upside surprise for shares."
Our Take: Focus Less on Musk, More on Tesla
Elon Musk is good at keeping Tesla shareholders on their toes, but the real story is the regular progress Tesla is making toward a future as one of America's (and perhaps the world's) premier auto makers.
Tesla's an ambitious company that seeks to dominate and profit from an almost untapped electric car market. To stay ahead of its competitors—most of which are better funded and more established—it needs to move fast, and that means blowing through billions of dollars annually.
The fact that Tesla's on the cusp of achieving this despite all the negative press it's received suggests that something both rare and significant is happening at this company.
As a result, you might want to take Musk's production quotas with a grain of salt. Don't get too caught up by how he manages his own affairs on podcasts and his twitter feed, either. Tesla remains an attractive stock so long as the company continues to show signs of generating profits and taking more market share – something that Musk has managed to achieve through sheer force of will.
Will Tesla usurp the major automakers any time soon? Probably not, but they're well on their way to dominating the electric car niche, and that should have the "big guys" shaking in their boots.