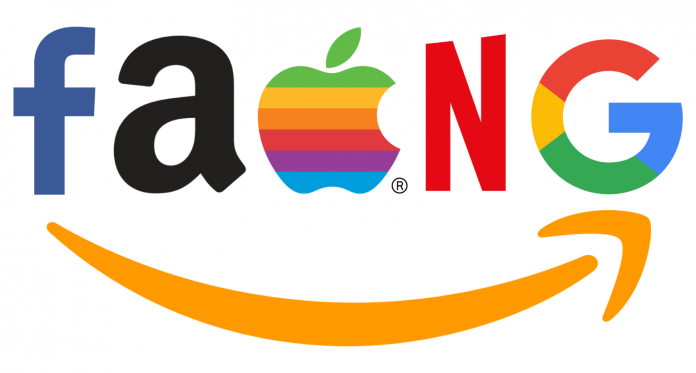 Equities are up this morning thanks to a strong performance from FAANG.
Facebook (NASDAQ: FB), Amazon (NASDAQ: AMZN), Apple (NASDAQ: AAPL), Netflix (NASDAQ: NFLX), and Google parent company Alphabet (NASDAQ: GOOG) are leading a rising market just one day after it dipped.
The Dow, S&P, and Nasdaq Composite are all trading roughly 1.5% higher as of midday. Big tech and government stimulus are responsible for the current rally's longevity. And even though it's showing signs of slowing down, the dominance of these "top stocks" has bulls feeling optimistic.
Ed Yardeni, president and chief investment strategist at Yardeni Research, said it has everything to do with FAANG's uncanny ability to function in a complete lockdown.
"While we have all become even more dependent on the products and services provided by the FAANGMs during the Great Virus Crisis, they might have become more immune to government regulation," Yardeni explained in a note.
"They have great balance sheets and generate lots of cash flow."
Out of all the FAANG stocks, Facebook shares have seen the biggest lift, rising a staggering 50% since bottoming on March 18th.
Whether they deserve that valuation is debatable. What isn't, however, is just how impressive FB's run truly is.
Want more FREE research and analysis on the best "unseen opportunities" in the markets?
Energy stocks surged as well, as indicated by the SPDRs Energy Select Sector Fund's (NYSE: XLE) 4% gain this morning.
And though sentiment flipped positive to start the day, plenty of analysts remain concerned that Friday's jobs report will spoil the party. Over 3 million Americans filed for unemployment last week.
The seven-week jobless total now stands at 33.5 million.
ADP released April unemployment data Wednesday that suggests the Labor Bureau's findings will be dismal. Investors barely absorbed the blow from ADP's numbers as stocks traded lower.
Tomorrow (Friday) could serve as the rally's "make or break" moment, even if the market is already prepared for bad news.
"When we get Friday's employment report it is going to be so bad that we're going to be debating whether we're in a serious recession or a depression," said CNBC's Jim Cramer on Wednesday.
Cramer continued, arguing that while some industries have been somewhat immune to the effects of a COVID-19 shutdown, most are feeling some pain.
"If you make technology that helps businesses cut costs, especially by firing people, you're doing fine. If you make something that people literally can't live without, like medicine, you're in good shape," Cramer advised.
"But just about everything else is struggling here, hence the staggering number of layoffs."
Thus far, bulls have pointed to FAANG earnings as evidence of a snapback recovery. Once the U.S. gets back to work, they argue that the jobs will quickly return.
What's been lost in the shuffle over these last few weeks, though, is that only five stocks – Facebook, Amazon, Apple, Microsoft, and Alphabet – account for roughly 20% of the S&P 500's entire market capitalization.
That's a historic high. Those stocks are, more or less, moving the market.
On Friday, investors will get a reality check from the April jobs report. It's likely to tell a very different tale – one that reveals just how out of work America actually is.
Yes, FAANG (and Microsoft) earnings have been strong. And yes, those stocks have done very well during the pandemic, all things considered.
But the rest of corporate America is suffering. Bulls need to be careful, here, because once the unemployment genie's out of the bottle, it'll be difficult to put it back in.
Especially if non-FAANG earnings continue to disappoint.