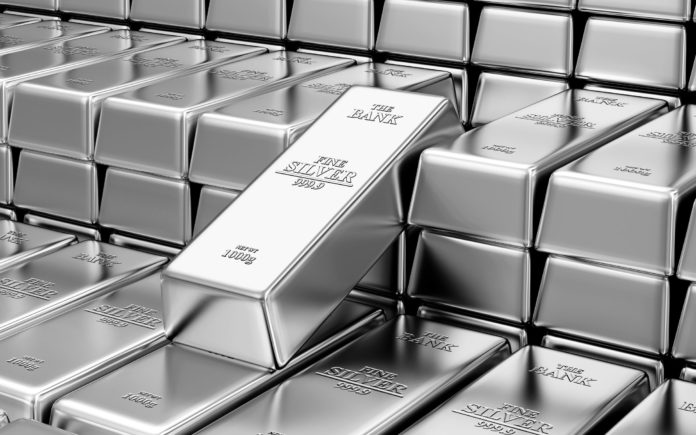 Stocks were up again today but failed to give bulls any confidence that the gains would stick. The Dow, S&P, and Nasdaq Composite all closed right around where they opened, for returns of 0.89%, 1.15%, and 1.41%, respectively.
Tech stocks lead the way, as usual, and the tech-heavy Nasdaq Composite actually managed to go up on the year (+0.08%). The S&P and Dow, by comparison, both remain down in 2020.
Analysts are split on what that could mean. Tom Wright, director of equities at JMP Securities, believes it could be indicative of a better-than-expected recovery.
"The equity market is telling you, as a leading indicator, that there are scenarios for the economy that aren't as draconian as some of the things you read in the press," he said.
Today's lift comes one day before the April jobs report from the Labor Bureau, due out tomorrow. 3.17 million Americans filed for unemployment last week, bringing the seven-week total to a staggering 33.5 million.
Thankfully, jobless claims are beginning to level off – something Bleakley Advisory Group's Peter Boockvar pointed to as evidence of economic progress.
"As awful as these figures are, it is the least amount of claims since mid-March as we've likely cycled through the worst of the forced shutdown," Boockvar said.
"We can now start analyzing the pace of reopenings, the level of business, and what that new reality will look like."
Want more FREE research and analysis on the best "unseen opportunities" in the markets?
Others, like JJ Kinahan, chief market strategist at TD Ameritrade, fear that the U.S. won't quite "snap back" as quickly as bulls hope.
"My worry is that we get to the end of the month, more states start to go back to work, and demand is not to the level that the market would expect," said Kinahan.
He tempered his statement, though, asking that outside of equities, "where else are you going to put your money?"
To long-term investors, those kinds of conflicting statements are only making matters worse, not better. Will the economic re-opening happen soon? Will the market re-test its March lows?
Nobody really knows at the moment, and when there's that much uncertainty at play, one kind of asset usually goes higher:
Precious metals.
And no, I'm not talking about gold. Instead, silver is having a shot at the limelight, which could mean big things for short-term traders.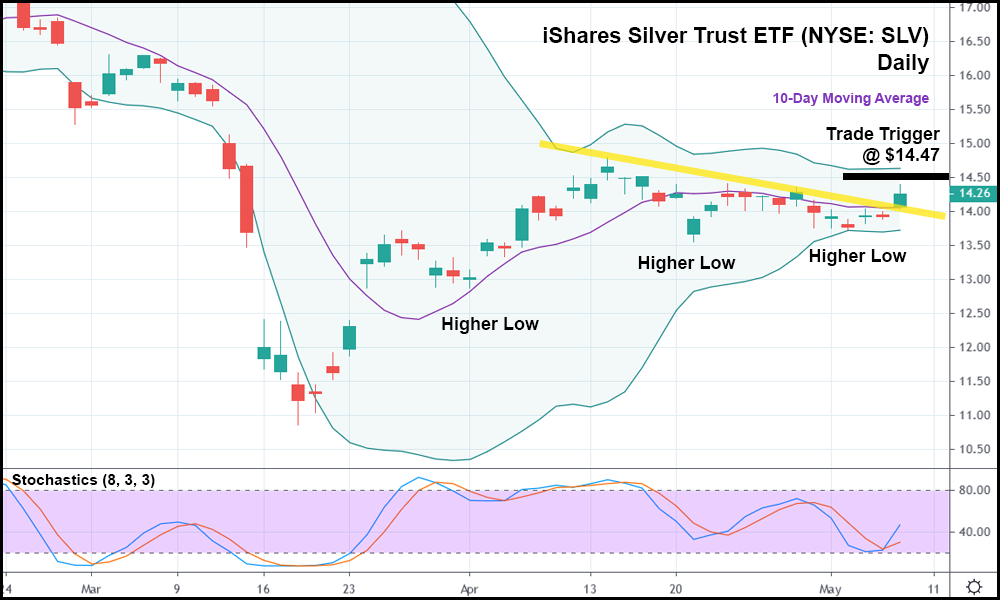 The iShares Silver Trust ETF (NYSE: SLV), which, believe it or not, tracks the price of silver, has fallen from its April high set back on April 14th. Since then, silver's attempted to recover several times but ultimately fell flat upon trying to do so.
Now, however, SLV is trading above both its minor bearish trend (represented with the yellow trendline) and its 10-day moving average. Plus, the ETF has set three consecutive higher lows.
If SLV rises above today's high, it might make sense to go long on the ETF with a trade trigger of $14.47.
Analysts and investors alike are completely "crisscrossed" on stocks at the moment. With trillions of dollars in stimulus already injected into the markets (and more to come), it would only make sense for silver to rise.
For short-term traders, it might not be the "sexiest" trade out there, but these days, it's as good as gold.