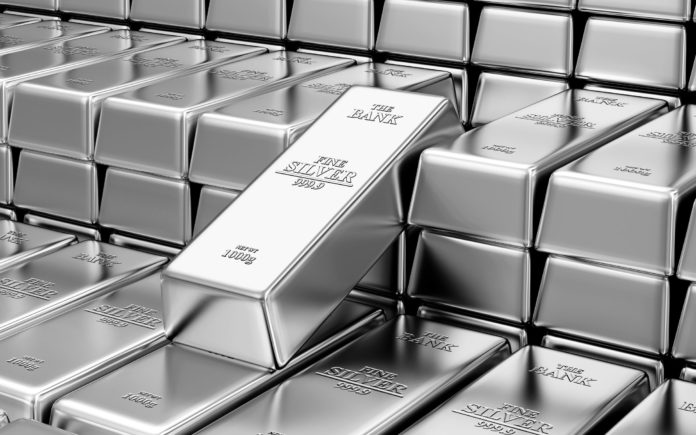 Goodbye, bear market. Hello, bullish continuation.
Stocks shot higher again today as the Dow joined the S&P and Nasdaq Composite in erasing their 2020 losses.  With the major indexes all pushing toward new record highs, and the Fed in full "dove mode," the sky's the limit for equities.
All while the U.S. economy is left playing catchup.
"The industrials are the last of the major broad indexes to [make a comeback]," Randy Frederick, vice president of trading and derivatives at Charles Schwab, said.
"To some extent, this is psychologically positive for the market."
To Frederick, it was only a matter of time until the Dow returned to positive territory.
Leading the way today were Walmart (NYSE: WMT) and Coca Cola (NYSE: KO), which rose 2.7% and 3.3%, respectively.
"For now, stocks seem to be enjoying the best of both worlds as they are seeing signs of improving economic momentum while monetary stimulus continues to very accommodative and more fiscal stimulus is likely on the way," said Yousef Abbasi, global market strategist at StoneX, in a note.
The Fed's been the market's biggest supporter since equities crashed in response to Covid-19. Fed Chairman Jerome Powell may have cemented a continuation of that trend – and another leg up – with his speech on Thursday. In a prepared statement, Powell outlined a roadmap for the U.S., including low rates and an inflation target above 2%.
In other words, he plans on keeping things sufficiently dovish until the economy is completely back on track. Stocks unsurprisingly climbed in response to his remarks.
Meanwhile, the U.S dollar is at a 27-month low.
"The Fed will be in no hurry to raise rates," said Greg Daco, chief U.S. economist at Oxford Economics, in a note.
"If and when the unemployment rate falls, the Fed will strive to ensure that the benefits from looser policy are as inclusive as possible."
With that in mind, short-term traders now have another shot at a bullish opportunity they may have missed the first time around.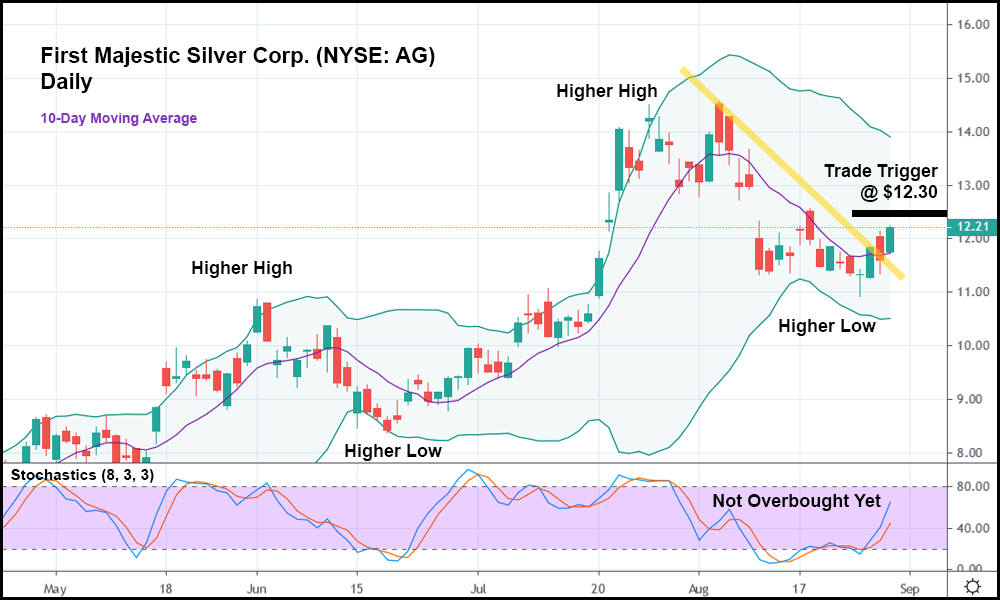 The First Majestic Silver Corp. (NYSE: AG), a silver miner that operates in Mexico, is gearing up for another rally. Silver sold-off considerably from its high in early August, but now is rising once more.
Over the last few months, AG set several higher lows and higher highs, which is the kind of thing that usually happens in a strong uptrend.
And with the Fed's continued dovish posture, precious metals should flourish.
Silver included.
For those reasons, should AG trade above today's high, it might make sense to take the stock long with a trade trigger of $12.30.
It surpassed both its minor bearish trend and the 10-day moving average this afternoon, which are both good signs for shareholders.
Over the next couple of weeks, AG's breakout should only intensify further.