Stocks rose slightly today, pushed higher by a dovish Fed. The central bank revealed a new plan involving rock-bottom interest rates in the hopes of hiking inflation to a "healthy" 2%.
Bulls, of course, were glad to hear it.
The Dow (+0.60%) and S&P (+0.20%) posted gains in response to Fed Chairman Jerome Powell's morning speech. The Nasdaq Composite (-0.30%), meanwhile, dropped for a small loss.
It wasn't a full rotation out of tech, per se, but many sectors finally saw a bounce after weeks of waiting. To CNBC's Jim Cramer, the buying could very well continue.
"This is incredible," he said about the announcement, adding that the Fed is "going to let things run, and [it's] not going to be a part of the equation until the economy actually does even better than we think."
Cramer is referencing Powell's promise not to raise rates until an economic recovery is complete. Other analysts see it as a boon as well.
"Today was a pretty meaningful day," Gregory Faranello, head of U.S. rates trading at AmeriVet Securities, said.
He argued that in today's remarks, Powell is saying "we don't want the job market strong for just Wall Street bankers and people that are doing really well. We want it strong for the people that need it the most in this particular time.'"
Among the biggest winners of the day were bank stocks, which saw positive results across the board. Big Tech, meanwhile, fell considerably. Especially Facebook (NASDAQ: FB) and Netflix (NASDAQ: NFLX), which dropped 3.5% and 3.9%, respectively. Microsoft (NASDAQ: MSFT) was the lone survivor, enjoying a gain of 2.5%.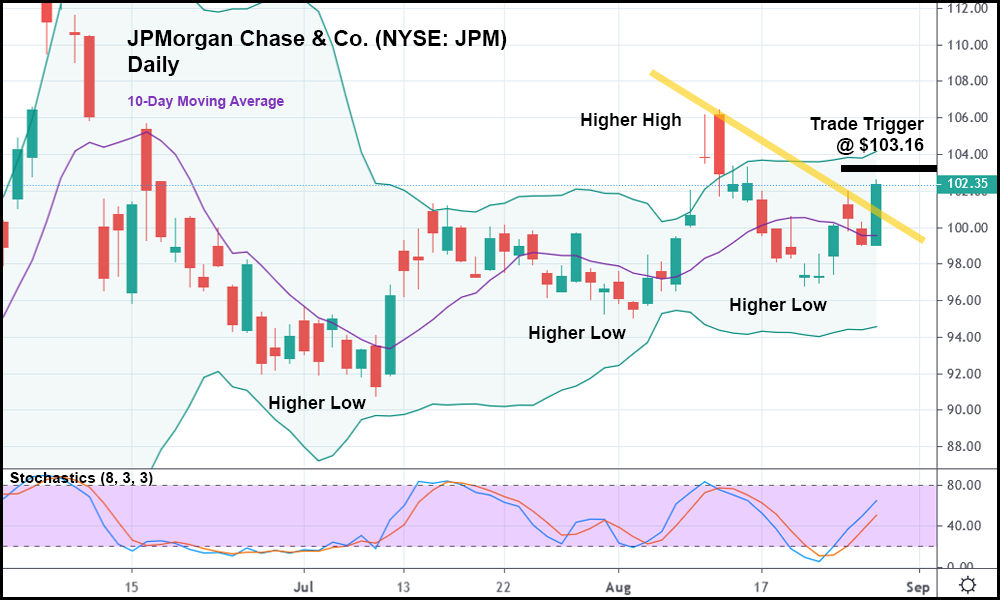 And if the rotation out of tech is for real, the cash could continue to land in bank stocks like JPMorgan Chase (NYSE: JPM). The stock has been trading all over the place since it sold-off in late June, but now, has finally set a streak of higher lows.
JPM also managed to break out above the 10-day moving average and the stock's minor bearish trend (represented by the yellow line) today.
For those reasons, it might make sense to take the stock long with a trade trigger of $103.16 should JPM trade above today's high.
If a tech correction is coming, the beat-up banks could prosper. JPM's a leader in the industry and commands the most positive momentum as a result.
It's already looking like a great trade for short-term bulls, and, provided that the current trend continues, it's likely to get even better in the coming trading days.