Stocks inched higher today as the S&P 500 (+0.20%) finally secured a new all-time high. The index has completely erased its coronavirus losses as a result, even though the U.S. remains stricken by the pandemic.
The Nasdaq Composite (+0.70%) rose, too, hitting a record high of its own while the Dow (-0.20%) closed lower.
But analysts were mostly focused on the S&P this afternoon, which has officially pushed Wall Street into bull market territory.
By the strictest definition, a bull market is "on" when a rally greater than 20% coincides with a record closing high.
The S&P has spent the last few weeks well above the 20% rally requirement. What changed things was its close at a new high earlier today.
"There has been a lot of good news seemingly validating [a continued rally]," Andrew Slimmon, managing director at Morgan Stanley Investment Management, said.
He continued, noting that recent economic data has been strong along with corporate earnings.
"But I would argue the market here is very vulnerable to some type of bad news […] You look at the type of stocks that have worked, and they're the higher-risk, higher beta plays."
Perhaps most surprising of all, though was Big Tech's continued dominance. Last week it looked like investors were rotating out of the market's top stocks and into less popular sectors.
That rotation may be over with after today's impressive tech gains. Amazon (NASDAQ: AMZN) shares surged 4%. Netflix (NASDAQ: NFLX) and Google-parent (NASDAQ: GOOG) gained over 2% as well.
With two of the three major indexes above their pre-coronavirus levels, does that mean the market recovery is finished?
Not necessarily. Shawn Cruz, senior manager of trader services at TD Ameritrade, says that investors may still be holding losing trades from before Covid-19.
"Technically, we're back to where we were before the sell-off, but there's still a lot of sectors that are not close to recovering," he said.
"So, if you're holding a diversified portfolio, you probably still have some positions that are in the red."
And some stocks could certainly get "redder" as shareholders flee for top tech offerings.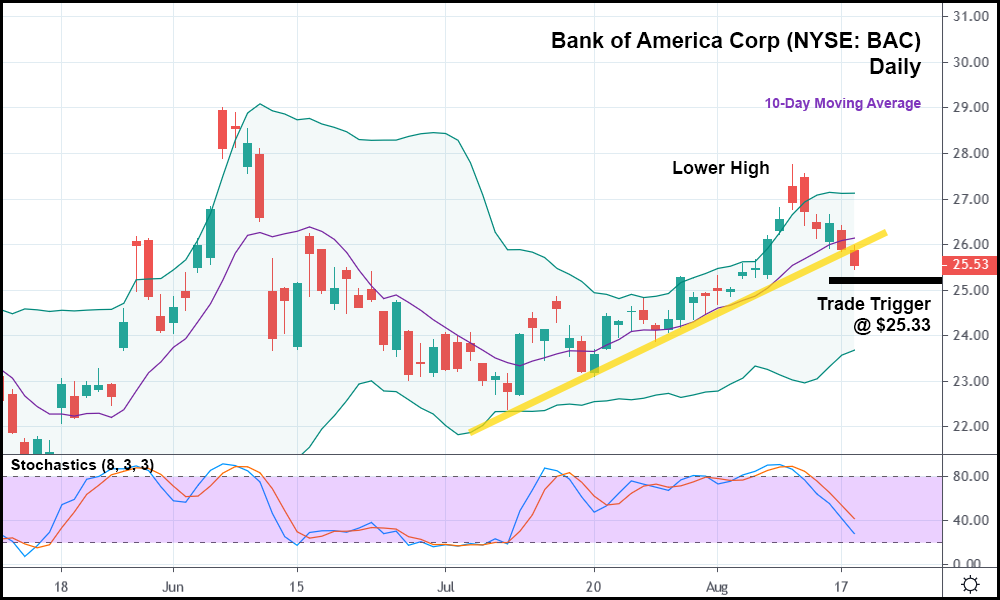 Bank of America (NYSE: BAC) is a great example of this. Bank stocks looked like they were ready to finally break out past their post-crash highs.
Instead, they all stalled last week when the tech rotation reversed. Now BAC is sitting beneath a recently set lower high as well as a 5-session plunge.
The stock even fell below the 10-day moving average yesterday, and today, it broke out beneath its minor bullish trend (represented by the yellow trendline).
Should BAC tumble further, it might make sense to take the stock short with a trade trigger of $25.33.
The S&P and Nasdaq Composite could absolutely further (albeit slowly) from here. If they do, that might not lift BAC out of the gutter. A small handful of sectors are keeping the market afloat at the moment.
Bank stocks (and financials in general) are unlikely to participate in a "second leg up" if that continues to be the case, which ultimately makes BAC an attractive short.
Regardless of what happens with the broader indexes.