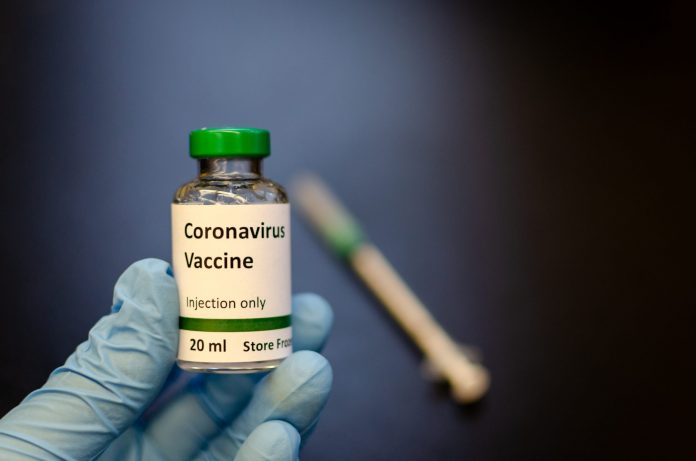 Another month of social distancing. That's the story today after President Trump's address last evening. POTUS announced that the self-isolation advisory will continue until April 30th – an order that the market's taking surprisingly well.
Thus far, Americans have mostly listened, either out of fear or obedience. The government's given us the "all clear" to go full couch potato.
We're taking advantage of that opportunity.
Since the self-isolation began, though, there have certainly some "adjustment pains."
Grocery stores ran out of toilet paper. COVID-19 cases surged despite the herculean efforts of healthcare workers.
Celebrities, meanwhile, sang John Lennon's Imagine on Instagram, live from their 15,000 square foot mansions. At least we've been given something to laugh at during these turbulent times.
For investors, social distancing means something else entirely. The market hasn't seen a situation like this before, let alone at the end of a historically long bull run.
As a result, uncertainty over the future remains high. Volatility, which has driven traders mad with indecision, rose aggressively over the last month and peaked a few weeks ago.
Now, it's dying down and stocks are beginning to surge.
The Dow, S&P, and Nasdaq Composite are all up as of midday. Last Thursday's high – a level of key resistance hanging overhead – is within sight.
If the market can breach that price, another weekly "pop" could be in order. If it fails, however, a re-testing of the recent 3-year low seems just as likely.
And though investors remain fixated on the major indexes this morning, there's another group of companies that deserves as much (if not more) attention amid the intensifying coronavirus outbreak:
Healthcare stocks.
Unsurprisingly, the healthcare sector is rising after getting crunched in the coronavirus-induced sell-off. Since bottoming out last Monday, the iShares S&P Global Healthcare ETF (NYSE: IXJ) is up over 18%. And though its resurgence might seem a little premature, it also just accomplished something that the general market has yet to.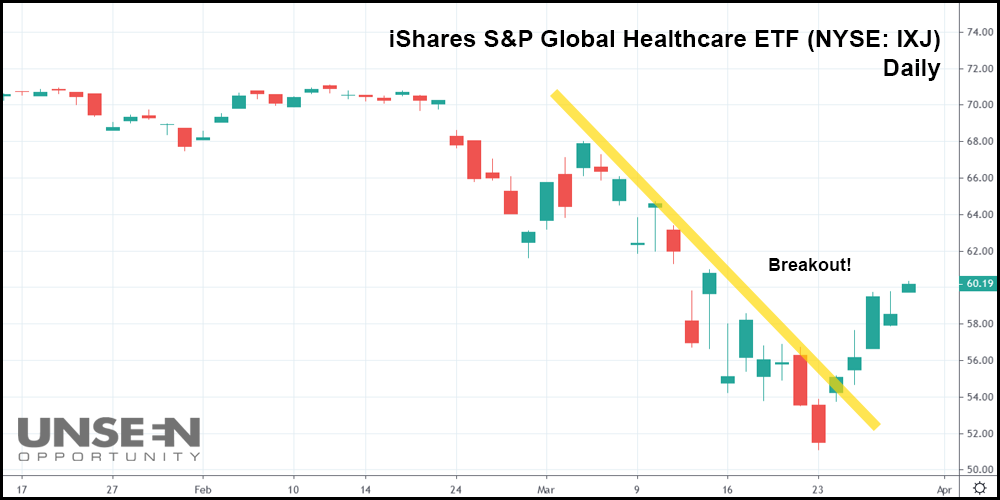 Today, IXJ managed to break out above its high from Thursday back when the general market soared. The major indexes, by comparison, are all trading below their Thursday highs, which could serve as a major limiter on equities if left unconquered by bulls.
Even recovery-leading bank stocks haven't achieved this feat.
With the global healthcare sector's bearish trend (represented with the yellow trendline) in the rearview mirror, don't be surprised to see IXJ continue its run this week.
Johnson & Johnson (NYSE: JNJ) just announced a potential COVID-19 vaccine, causing its share prices to spike. More healthcare firms will undoubtedly do the same in the coming days.
Traders looking to get ahead of a rising market might want to consider healthcare stocks as an option to achieve that goal.
Best of all, if coronavirus cases continue to increase exponentially in the U.S., the sector could still prosper, potentially eliminating one major variable from the "uncertainty equation."
Which, given the circumstances, is a welcome change for investors trying to time the next rally.