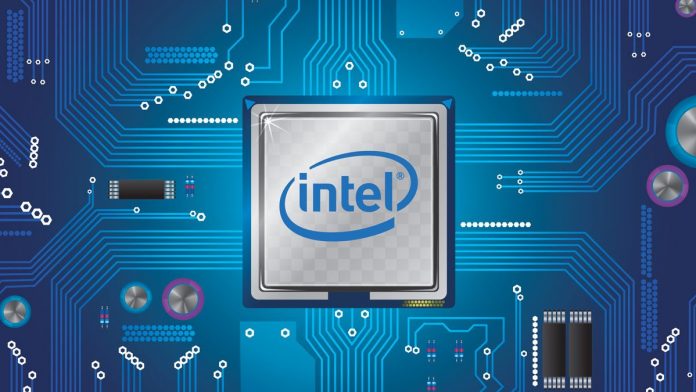 After several nervous trading sessions, bulls finished out the week on a high note in response to a massive monthly payroll gain.
The Labor Department released its May jobs report this morning, which revealed that 2.5 million jobs were added (not subtracted) last month. Consensus estimates had Wall Street expecting an 8 million job loss.
Instead, investors got the confirmation they needed to continue buying. Even if that meant doing so at dizzying heights relative to the COVID-19 lows.
The Dow, S&P, and Nasdaq Composite all surged on the day.
"We're back," said CNBC's Jim Cramer.
"I think there were a lot of people who felt that the layoffs would be permanent and it's obvious that there's so much demand that people have to bring people back."
Drew Matus, chief market strategist at MetLife Investment Management, believes the data will only get better as the economy plows forward.
"The unemployment rate was solid; the participation rate was higher. This checks all the boxes for a solid report," Matus said.
Want more FREE research and analysis on the best "unseen opportunities" in the markets?
"So even though this was coming off a horrendous report the previous month, there's nothing that screams this is some sort of error that can be ignored. If anything, it suggests we should be looking for more good news next month."
There's no doubt that the 2.5 million job gain was tremendous. The unemployment rate – down to 13.3% – while far better than expected, is by no means "solid" like Matus claimed. Unemployment hit roughly 10% at its worst stretch following the 2008 Financial Crisis. In 1982, at the height of the early 1980s recession, unemployment grew to 10.8%.
13.3% is nothing to celebrate.
It is, however, a statistic to watch as the U.S. economy reopens. Prior to the release of the May jobs report, the Atlanta Fed predicted that second-quarter GDP would fall by 53%.
If that happens, it could take a long while before America's truly back on its feet. The "V-shaped" recovery could resemble more of a "swoosh," meaning that the rebound in productivity will eventually tail off.
Even with last month's big payroll gain, it's still a possibility. For now, however, traders need to consider long positions in the very short-term as sentiment pushes more optimistic by the day.
And with Intel Corp (NASDAQ: INTC) rising, a great bullish setup has appeared.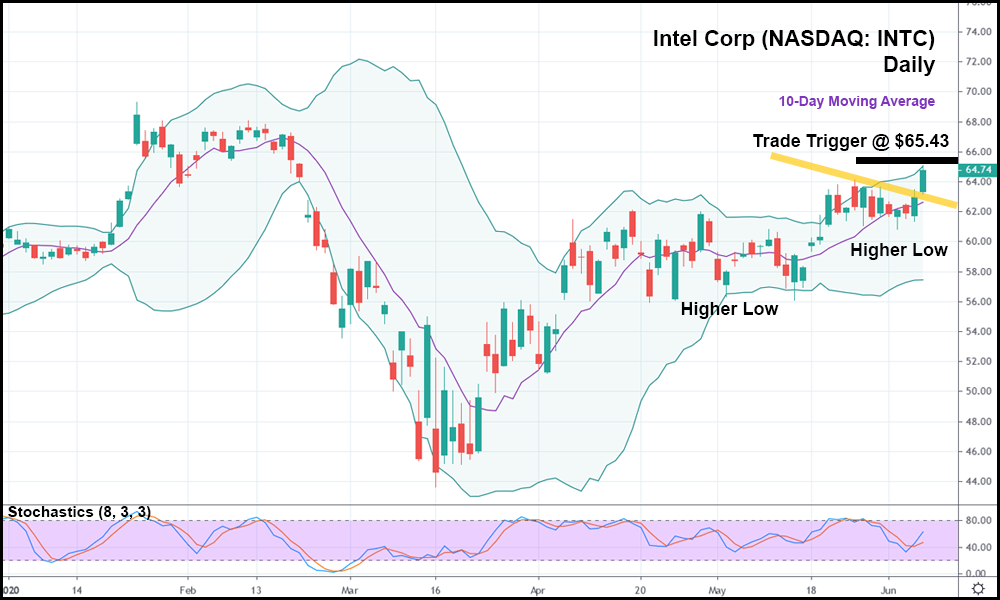 INTC, since bottoming in mid-March, has risen and then stalled. Over the last few months, the stock was unable to truly "take-off" as it did after hitting its 2020 low.
Today, though, following the setting of a second higher low, INTC broke through its minor bearish trend (represented with the yellow trendline) and opened above the 10-day moving average.
INTC is close to the upper Bollinger Band, but considering all the positive momentum currently behind it, the stock still looks to have plenty of upward potential.
Should INTC trade above today's high, it might make sense to go long with a trade trigger of $65.43.
And even if the rally doesn't hold, INTC's "explosive" enough to soar in just a handful of sessions. For short-term traders, that's great news.
Regardless of whether today's gains hold in the moderate-term or not.