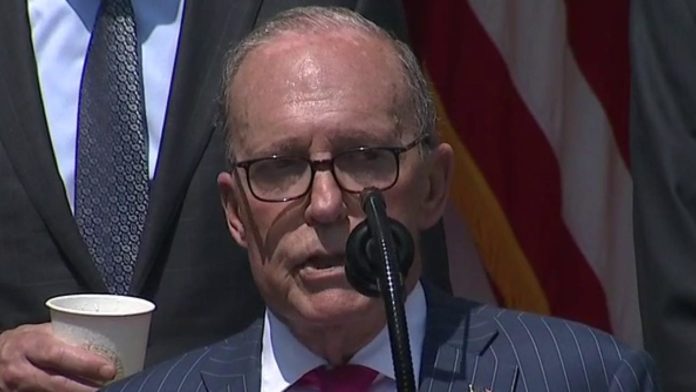 The May jobs report is here.
And all expectations have been surpassed – no, shattered – following a shocking 2.5 million monthly payroll gain.
Stocks are unsurprisingly surging this morning as a result.
The Dow, S&P, and Nasdaq Composite have already posted substantial returns early into the trading session.
How much farther they go is up to investors, and whether the market is truly deserving of its current valuation.
According to CNBC's Jim Cramer, it absolutely is.
"We're back," Cramer declared.
"I think there were a lot of people who felt that the layoffs would be permanent and it's obvious that there's so much demand that people have to bring people back."
And as good as the May jobs report was, it doesn't change the fact that there's still a wealth of jobs missing from the economy. Unemployment dropped to 13.3%, which is a triumph given the April numbers, but it's still a tough hill to climb.
In other words, the fight isn't over quite yet. Especially now that President Trump has the ammo to reignite a U.S.-China trade war.
"It's a stupendous number. It's joyous, let's call it like it is. The Market was right. It's stunning!" tweeted the President shortly after the report was released.
With the economy looking better than initially thought, POTUS may feel more comfortable firing back against Beijing.
U.S. National Economic Council Director Larry Kudlow listed off even more good news in a press conference this morning alongside President Trump.
"We are beginning to see this rapid recovery," Kudlow said.
"Which, I believe will extend well into the third quarter and the fourth quarter. We're still looking for some 20% economic growth in [quarters] three and four and a big number in 2021."
Kudlow continued, adding that the "phenomenal economy" of 2019 will soon resume as a result of low taxes, regulations, and beneficial trade deals moving forward.
There's no doubt that the U.S. was firing on all cylinders prior to the coronavirus pandemic.
How quickly the economy will recover, however, is up for debate.
Even with 20% quarterly GDP growth (annualized) for the next three quarters – Kudlow's current projection – it might not be enough to bring the U.S. level with its GDP of last year.
At the end of 2019, GDP increased to $21.73 trillion. In Q1 2020, it fell 4.8% to $20.69 trillion based on an advance estimate from the Bureau of Economic Analysis.
The Atlanta Fed predicts a Q2 drop of almost 53%.
Mind you, that prediction was released prior to the May jobs report, back when economists expected a job loss of 8 million.
If the Atlanta Fed's right, though, and GDP did actually fall 53% in the second quarter, then 20% economic growth in Q3, Q4, and Q1 2021 would put the U.S. slightly below where it was in Q4 last year ($21.73 trillion). Kudlow's projections, though seemingly impossible at first glance, are quite tame if a "V-shaped" recovery is truly in the works.

Ed Yardeni, head of Yardeni Research, believed a "swoosh" recovery was more realistic based on the Atlanta Fed's estimate. Yardeni, at the time, didn't think a full recovery could happen until late 2022.
Now, economists the world over are stunned. Q2's economic projections have been thrown out the window in the wake of May's payroll gain.
That's not to say that Q2's GDP change will be surprisingly good as well, however. A lag period typically follows a hiring blitz, and unemployment only fell from 14.7% to 13.3%, which while historic, is still higher than it was following the 2008 Financial Crisis at roughly 10%.
Greener pastures certainly seem likely, but there are still potential headwinds that could send stocks lower. Buying right now, tempting as it may be, is also a risky move. With the May jobs report, we have one piece of the puzzle.
Let's find the rest before declaring the COVID-19 recession officially over.