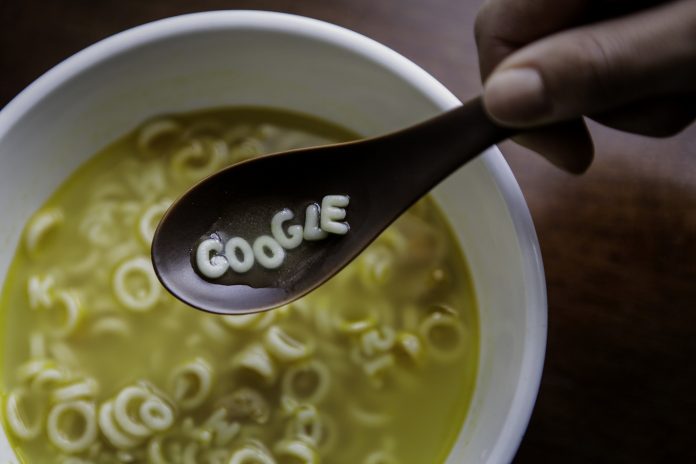 There's trouble brewing at Alphabet Inc (NASDAQ: GOOG), parent company of Google – our long-standing "internet overlords" who control almost 90% of the web search market.
But maintaining a near-monopolistic operation isn't enough these days if you're not continuously growing. On Monday afternoon, Alphabet reported earnings that sent GOOG share prices spinning after-hours, as investors reacted with huge disappointment to lackluster revenues.
The bleeding continued into Tuesday's trading session, marked by an 8% drop at the day's open.
Alphabet fell short of analyst expectations in every single one of its major sales categories and got slapped with another hefty fine by the European Union – further cutting into some already "flat" earnings.
The company took in $6.66 billion (or $9.50 a share) in profits for Q1, on revenues totaling $29.48 billion. A year ago in the same period, Alphabet posted an EPS (earnings per share) of $13.33 on less revenue ($24.86 billion).
Becoming less efficient year-over-year won't make anyone happy – especially as Q1 is now turning out to be a surprisingly positive quarter for most corporations (as well as the economy) – and the continued collection of European fines (which dinged GOOG for $1.7 billion) spoiled the party even more.
Without the EU penalties for Google's online-advertising practices, Alphabet would've posted an EPS of $11.90, a whole $2.40 more than their reported figure, beating analyst expectations (which didn't take fines into account) of $10.60.
Revenue grew less than 20% for the quarter, with sales growth lingering at 16.7%. By comparison, Alphabet's 2018 Q1 sales grew 23.4%, and not a single quarter that year showed year-over-year growth lower than 20%.
In general, it was a historically bad quarter for Apple, and investors treated it as such – even after CFO Ruth Porat placed much of the blame on currency exchange rates, stating that they would have a lesser effect on business moving forward:
"Based on the continued strengthening of the U.S. dollar relative to key currencies, we expect to continue to see headwinds to our revenues and operating income again in the second quarter."
The three "cores" of Alphabet's business (as designated by the company) are Google advertising, Google revenue, and "Other Bets", AKA non-Google ventures. All three disappointed in Q1 – especially Google advertising, which produces the bulk of Alphabet's revenues.
But most alarming of all for GOOG bulls is the decline in non-ad related revenue. For better or for worse, Alphabet's success is predicated upon their continued generation of advertising income, and the more that they can get away from that, the better.
This quarter, though, Alphabet has shown us that they're actually moving in the opposite direction – marked by continued failures with non-advertising products, like their Pixel smartphone.
"Hardware results reflect lower year-on-year sales of Pixel, reflecting in part heavy promotional activity industrywide given some of the recent pressures in the premium smartphone market," said Porat in Monday's earnings call.
In many ways, Alphabet's huge success (and reliance on one product) mirrors Apple's relationship with the iPhone. They've both achieved massive growth with their iconic brands, but in order to move forward, they'll have to expand their horizons.
So far, it hasn't really worked out for Alphabet, who remains tethered to Google. If this first quarter is any indication of things to come, then shareholders might be in for a bit of turbulence until Alphabet leadership can find out what the "next big thing" is – a tall order for a company that's had little competition for most of its history.