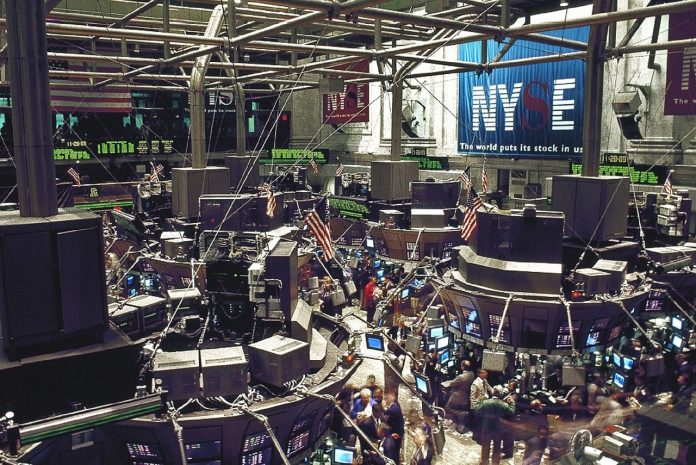 Elon Musk shocked his shareholders and investors earlier this month when he told the world via Twitter that he was considering taking Tesla private. The news created a firestorm that tanked Tesla's stock and put Musk in the crosshairs of his longtime investors.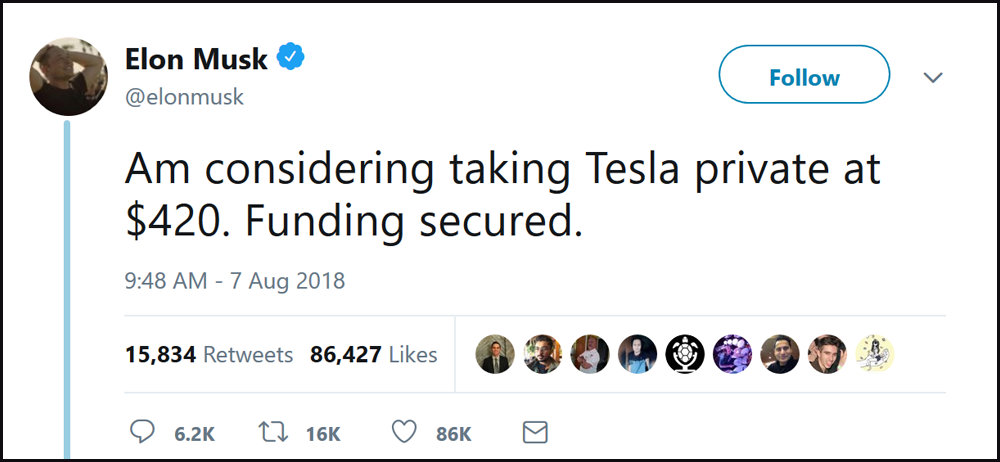 Tensions have since calmed as Musk walked back his comments, and Tesla stock has remained steady at key technical support.
But is this really the end of Musk's most recent faux pas?
And, if we take a contrarian point of view, does the news that Tesla is remaining public actually give the bears incentive to push Tesla stock lower?
Musk Clarifies: Just Kidding, We're Not Going Private
In a Friday afternoon news dump on Tesla's blog last week, Elon Musk issued a press release making it clear that after talks with financial experts and Tesla shareholders, he would not in fact be making Tesla a private company.
Want more FREE research and analysis on the best "unseen opportunities" in the markets?
The news came as a huge relief to investors, who unlike Musk, seemed to have grasped what privatizing Tesla would do to the company's finances. The indebted company taking on more debt in the face of increasingly bad news almost certainly gave even the staunchest supporters a bad case of indigestion. Add to this the rumors that Musk was in talks with Saudi investment bankers for the cash to buy back public stock, and it was simply too much for Tesla investors to take.
Tesla's largest shareholders, which include T. Rowe Price, Baillie Gifford, and Fidelity, are clearly more interested in fighting fires than setting off new ones.  With issues plaguing Tesla's Model 3 production, and a slew of high-profile resignations over the last few months, these investors almost certain wish Musk would lay low for once, which is looking increasingly like a pipe dream every day he remains the company's CEO.
Is Musk Fit to Run Tesla?
Elon Musk these days is both the star and executive director of his own made-for-television soap opera. Early in July, he insulted a British diver who aided the Thai cave rescue on Twitter, and then he doubled down with even more vitriol until he was all but forced to apologize.
Then, in a New York Times piece out earlier this month, a notably flustered Elon Musk described his frustrations about running Tesla. "This past year has been the most difficult and painful year of my career," he said. "It was excruciating." During the same interview, he wept openly and swore he "wasn't on weed" when he wrote his text about taking Tesla private.
All of this points to a pattern of destructive behavior on the part of Musk, who's no stranger to controversy, but of a type which he seems to have been able to manage well enough, until now.
What All This Means for Tesla and Its Shares
Tesla stock has since stabilized after the shock of Musk's comments wore off, and later, when he clarified that he would not take the company private. Investors may be willing to buy into this support, at least for now, in hopes that it proves a lucrative entry position for what may be a major market rally in Q4.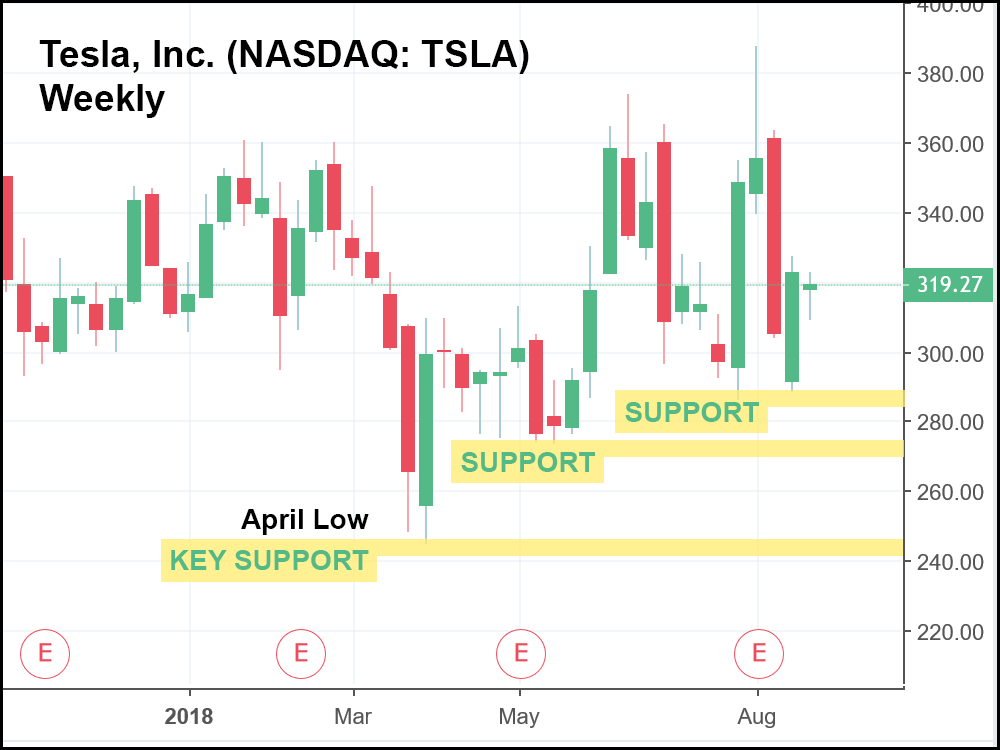 Bears, however, will not give up on Tesla stock so easily. Market shorts will play on the greed of shareholders who had hoped to buy Tesla stock before it went private. If an exodus of money does hit Tesla, it could push the stock price down to its April lows.
So, if you are ready to jump into a long position on Tesla, it might be worth waiting a bit – at least until Musk regains some control over his Twitter feed first.