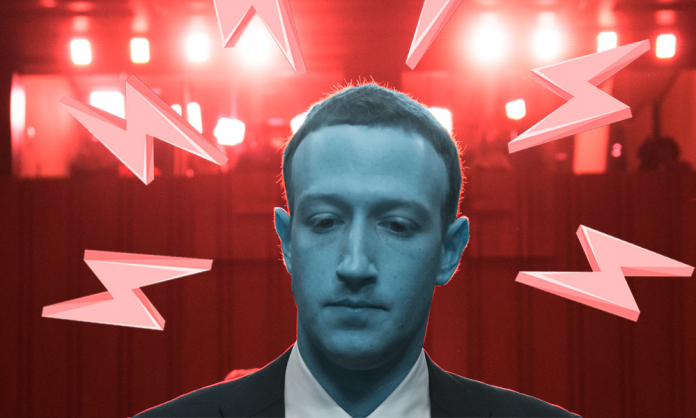 Stocks plunged today as yields climbed higher once more. The 10-year Treasury yield rose above 1.50% temporarily before dropping to 1.48% around noon. That's below the high of last week (1.56%) but still not what bulls wanted to see with equities trading near their September lows.
Big Tech, in particular, was wounded by the rise in yields. Apple (NASDAQ: AAPL) fell alongside Amazon (NASDAQ: AMZN), the latter of which is now actually down on the year.
But the biggest loser in tech this morning was Facebook (NASDAQ: FB), which saw its shares drop over 5% after a company whistleblower was interviewed on "60 Minutes" Sunday evening. Frances Haugen, who formerly worked as a product manager at Facebook, leaked a number of documents to the Wall Street Journal. The information contained within revealed a candid look at how Facebook operates, and more specifically, how the social media giant handles "misinformation."
Haugen "became increasingly alarmed by the choices the company [made] prioritizing their own profits over public safety — putting people's lives at risk."
"I've seen a bunch of social networks and it was substantially worse at Facebook than anything I'd seen before," Haugen told "60 Minutes."
The documents Haugen leaked showed that Facebook execs were well aware of the platform's negative impact on young users, in addition to Facebook's inability to police hate speech.
"We estimate that we may action as little as 3-5 percent of hate and about 6-tenths of one percent of violence and incitement on Facebook, despite being the best in the world at it."
She continued, adding:
Want more FREE research and analysis on the best "unseen opportunities" in the markets?
"When we live in an information environment that is full of angry, hateful polarizing content it erodes our civic trust, it erodes our faith in each other, it erodes our ability to want to care for each other, the version of Facebook that exists today is tearing our societies apart and causing ethnic violence around the world."
Haugen was referring to a controversy from 2018, when the military of Myanmar used Facebook to promote genocide against its Muslim population.
Facebook spokesperson Lena Pietsch responded to the allegations:
"Every day our teams have to balance protecting the ability of billions of people to express themselves openly with the need to keep our platform a safe and positive place," Pietsch said.
"We continue to make significant improvements to tackle the spread of misinformation and harmful content. To suggest we encourage bad content and do nothing is just not true."
Shareholders now fear that Facebook could face stricter regulatory measures from world governments. It's ironic, in a way, that Facebook is now being scrutinized for not censoring enough of the content posted on its platform. Conservatives have long bemoaned Facebook's content policies, which banned users earlier in the year for posting links or messages relating to the Covid-19 lab leak theory – the very same theory that American intelligence now feels is the most likely origin of the coronavirus pandemic.
Sunday evening, Haugen attacked the social media giant from the other end of the spectrum. Facebook isn't doing enough to police content, she said.
It seems that Mark Zuckerberg & Co. can't make anyone happy these days.
But will the US government (or any other Western governments, for that matter) take regulatory action in response to Haugen's accusations? Probably not. Facebook's been slapped with fines for its transgressions in the past.
At worst, another cash penalty is coming down the pipe. It's all because Dems run the show in Washington, and they've never really shown a propensity for lording over Big Tech. That's more of a Republican thing.
And unless Republicans can swing Congress back in their favor in 2022, Facebook should continue to operate unimpeded. Yes, a stricter content policy aligns with the beliefs of progressive legislators.
But even if Democrats end up providing anti-Facebook soundbites later today, they'll merely be doing so to keep up appearances. Facebook is unlikely to feel too much heat from Haugen's leaks, simply because the more progressive Democrat lawmakers are still in the minority relative to those that toe the party line, most of whom are fearful of regulating America's top corporations.