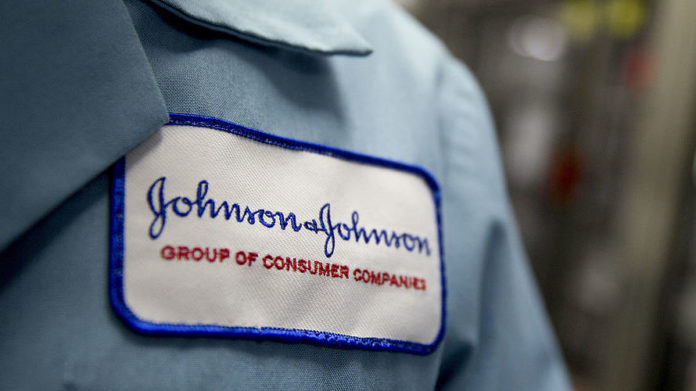 Stocks stumbled today, brought down by a tech slump and renewed U.S.-China tensions. The major indexes opened lower and sold-off further by the close as investors finally pocketed some extended rally winnings.
The big story of the day, however, was Intel (NASDAQ: INTC), which reported earnings last evening. The semiconductor giant beat revenue estimates, but completely fumbled its 7nm CPU – an important product that's been delayed until late 2022 or early 2023. Intel originally planned on an early 2022 release.
Then today, the company also announced that its 10nm desktop CPU won't arrive until the second half of 2021. Analysts and shareholders alike expected an earlier release.
The news, coupled with uninspiring earnings guidance, sent shockwaves throughout the industry. Intel shares got crushed as a result.
Advanced Micro Devices (NASDAQ: AMD) shares, meanwhile, surged. Intel's loss is often AMD's gain, due to its status as a top Intel competitor. The rest of the tech sector didn't fare as well.
Tesla (TSLA) suffered big losses in the selling, too, even if it had little to do with the INTC collapse.
Investors are starting to learn that equities – and tech stocks in particular – are likely overbought. Retail investors have swarmed the market over the last few months following the Covid-19 crash.
Now, they're looking to jump ship, presuming stocks have hit the top. And even if the market doesn't drop, it should still experience a glut of volatility.
"We're living in this constant state of high volatility. We're surrounded by this uncertainty, not just in markets, but also around every corner of everyday life," remarked Johan Grahn, head of ETF strategy at Allianz Investment Management.
"It's really hard to see this volatility and all the uncertainty that it implies go away anytime soon."
If the market does plunge again, though, certain stocks will lead the way. And surprisingly, the list of likely culprits includes major drug manufacturer Johnson & Johnson (NYSE: JNJ).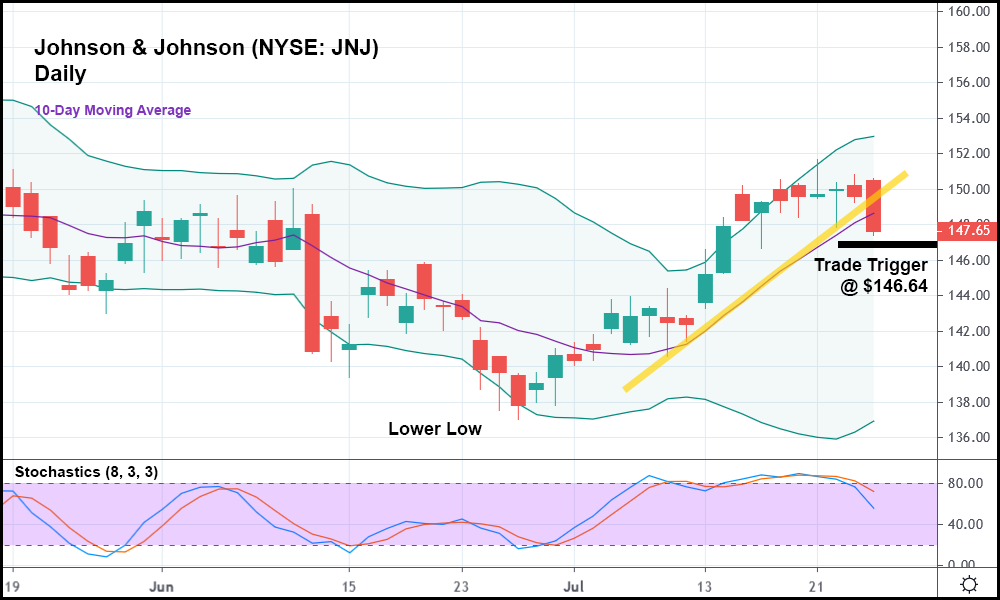 JNJ peaked in late April, and unlike most of the market, never really enjoyed an early June revival. The stock has choppily fallen for months and is now stalling after encountering resistance at $150.00. In fact, the recently set high is a lower high relative to JNJ's April high.
And, of course, the stock also set a lower low.
After coming into contact with the upper Bollinger Band (BB) last week, JNJ finally closed below the 10-day moving average and its minor bullish trend (represented by the yellow trendline).
Should JNJ trade below today's low, it might make sense to take the stock short with a trade trigger of $146.64.
The wider market seems ready to sell-off, and if it does, JNJ will drop right along with it, if not precede a larger collapse.