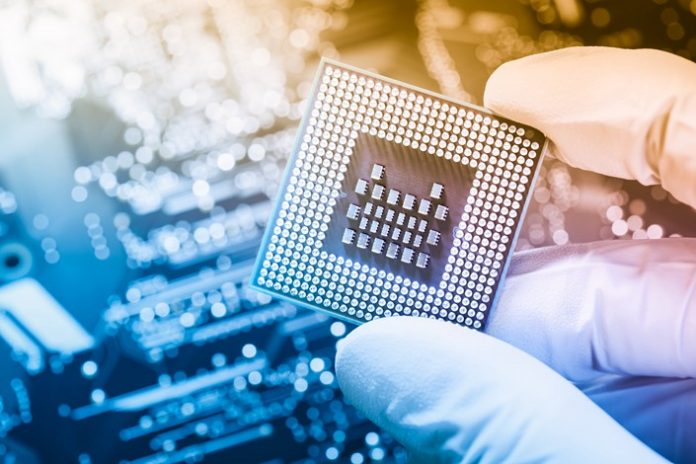 Stocks hit record highs once again today, in a trading session that saw the major indexes close lower from where they opened. The coronavirus outbreak is keeping a lid on equities, it seems, and investors aren't quite ready to jump all the way back in.
That's not to say some sectors didn't flourish, though. Plenty of them did.
Semiconductors, for example, are eyeing new heights after plunging last Friday. NVIDIA (NASDAQ: NVDA) is just $5.25 (2.06%) from a yearly high. AMD (NASDAQ: AMD) isn't too far off, either.
But the real star of the show was Micron Technology (NASDAQ: MU), the infamous growth stock that made a handful of investors wealthy from 2016-2018. Today, MU shares were up 3.36% in what could be the start of a new rally.
MU even caught the eyes of Raymond James analyst Chris Caso, who upgraded the memory chip manufacturer from "Market Perform" to "Strong Buy."
"We are upgrading Micron to Strong Buy from Market Perform and initiating a $70 price target," Caso said.
"Our more bullish view is no longer unique, as sentiment has improved sharply due to recent price increases. Those price increases, occurring in the seasonally weakest part of the year, indeed surprised us."
Caso continued, adding:
"Our analysis of conditions looking forward concludes that supply/demand conditions are highly likely to improve further as the year progresses. Memory CAPEX has been in sharp decline for three quarters, which will keep a lid on 2H capacity."
And so, outside of the technical analysis (which we'll also take a look at), it seems that the stars could be aligning for a strong performance out of the semiconductor sector in 2020. Caso believes Micron might lead the charge in that regard.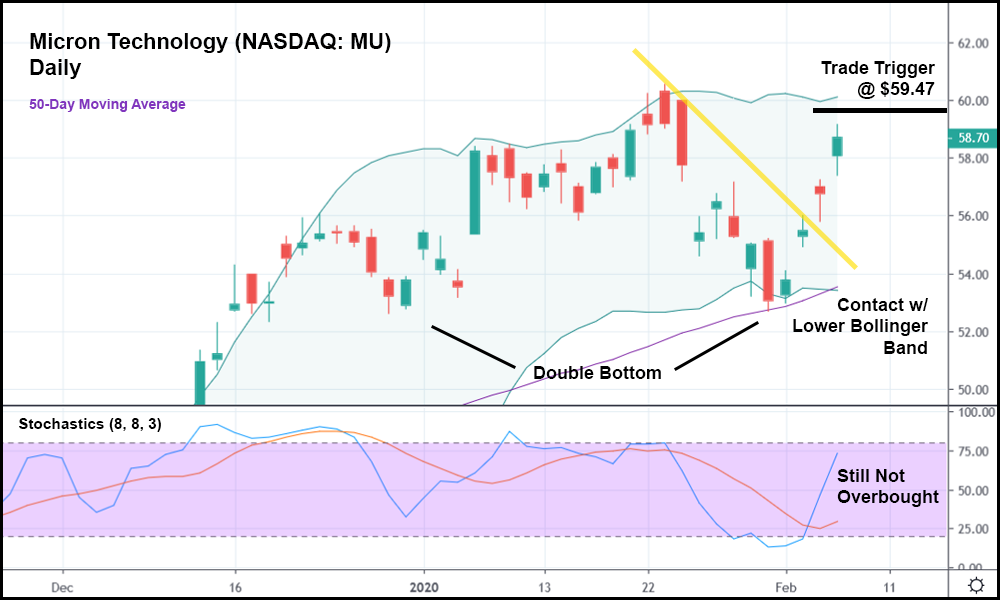 And in the daily candlestick chart above, you can see that MU has plenty of positive momentum going for it after the coronavirus-induced sell-off. A double bottom has been set, along with contact with the lower Bollinger Band (BB). MU broke out of its minor bearish trend yesterday, but because it logged a red candlestick, we didn't have quite enough evidence to suggest that a rally was on the horizon.
Today's green candlestick, however, changed everything. And even though the stock has already risen significantly, the stochastics indicator suggests that it's not yet overbought. Should MU keep rising, it might make sense to go long with a trade trigger of $59.47. From there, key resistance lingers close by.
If MU can burst past that, a major rally could be waiting on the other side. In fact, that's what many short-term bulls are counting on.