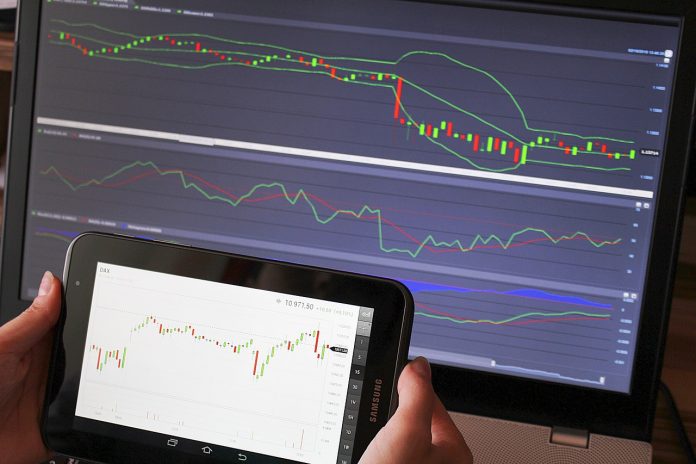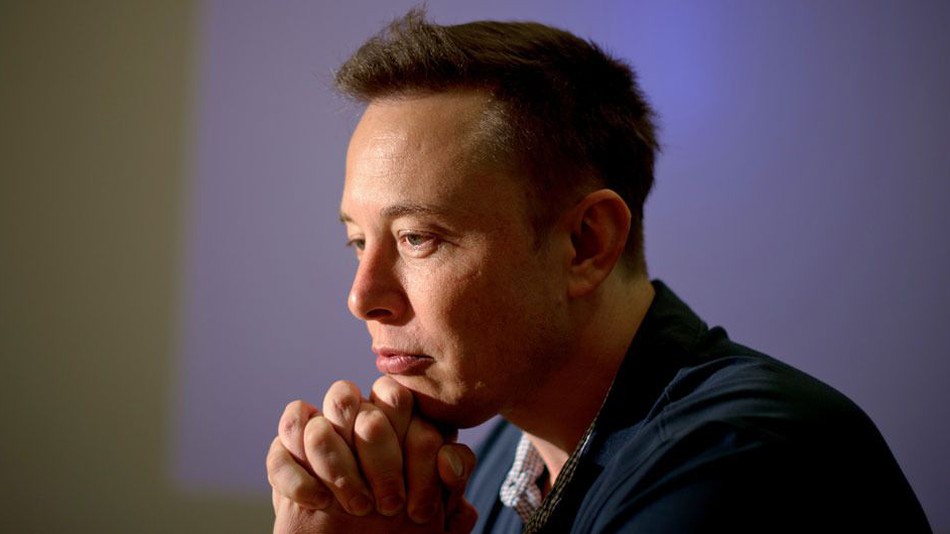 In an interview with The New York Times last week, Tesla CEO Elon Musk said he was willing to completely walk away from the electric car company.
What? Is he serious? Would he really do that? And why?
In the newspaper interview, Musk said the past twelve months have "been the most difficult and painful year of my career," adding that the period "was excruciating." The chief executive even admitted that his job is beginning to take a toll on his health. "I've had friends come by who are really concerned."
After a strong quarter for Tesla that seemed to satisfy investors, this news came as a huge shock.
But should it really be such a big surprise?
Musk wouldn't be the first CEO to resign over health problems, after all, and it's undoubtedly a tough job. Remember – he's trying to run two companies, with SpaceX simmering in the background. Who else out there is a CEO of two companies?
And in addition to being the CEO, Musk is also Chairman and Chief Technology Officer of SpaceX, and Chairman and Product Architect of Tesla – making that a grand total of six roles within his two companies.
Considering what's on his plate, it might be time to take some irons out of the fire.
If Musk does in fact walk away from the CEO role at Tesla, it's certainly possible he could stay with the company in some other position, such as remaining as Chairman or continuing to work in a technological capacity. Such a move wouldn't be without precedence in the automotive industry, as in 2006, William Clay Ford, Jr. stepped down as Ford Motor Company's CEO and moved to Executive Chairman. It was a mutually beneficial change for both the former CEO and his company, and he still occupies that role to this day.
The Times article reports that Tesla's Board of Directors is very concerned about Musk's health, including his use of the sleeping pill Ambien. Besides insomnia, it can also be used to treat jet lag, something that a multi-CEO like Musk (who's currently wearing six different hats between his two companies) just might possibly suffer from on occasion.
Tesla's chief executive went so far as to say, "[F]rom a personal pain standpoint, the worst is yet to come."
I don't know about you, but that sounds pretty serious to me.
The Board is so concerned that it has started a search for a second-in-command to help with Musk's workload – something that probably should have been done a long time ago.
In addition to their CEO's health, the Tesla board is also concerned with his Twitter account, which he has continued to use without consulting any of the Board's Directors. 
The worst example of this was back on August 7th, when Musk tweeted that he was considering making Tesla a private company. According to the NYT article, he made this tweet without seeking counsel – within Tesla or otherwise. He even falsely stated that they had "funding secured" to go through with this change, causing many investors to wonder…
What in the world was he thinking? 
Musk decided to shake up a multi-billion dollar company, without even discussing the idea with the Board of Directors.
So it's not surprising at all to hear that the Board is growing increasingly worried about their CEO. If I was a member, I would be, too. There are securities laws in the United States that all publicly traded companies are subject to, regardless of how many rockets you've launched into space.
Even though the Board has made their opinion on Musk's Twitter usage clear, he has said that he has no regrets over the August 7thtweet, which valued the car company at $420 per share.
Tesla has certainly been on a tear since its IPO back in 2010, but can Musk really nudge share prices that high? 
According to a blog post on Tesla's website, the chief executive met with managers of Saudi Arabia's sovereign wealth fund (already a close-to 5% shareholder), and these discussions led to Musk's valuation.
As you might expect, all of this has taken a huge toll, not just on Musk's health, but also on Tesla's stock.
After the tweet, TSLA shot up an impressive 7%, reaching $387 intra-day. Over the next few sessions, the share price gradually declined, dropping below its pre-tweet price of $341. Traders on this stock have a long-term memory of about two days, apparently.
But the worst was yet to come when Musk's New York Times interview was published.
Oh man, was this bad. Traders hammered TSLA, causing it to hit a low of $303 on Friday before closing out the week at $305.50.
This made for the worst week for TSLA since the first week of February 2016. 
While this may sound like bad news for current shareholders,thankfully there's a silver lining for traders waiting to go long. Tesla has been hit so hard in the market this last week that it may have opened up a great buying opportunity in the near future.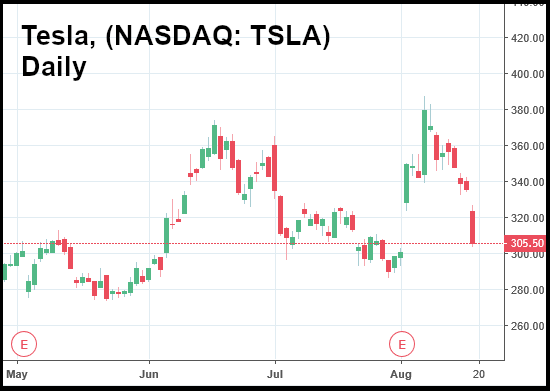 As you can see in the chart above, TSLA is now near a monthly low, and it's approaching a recently set support level at $286.13 from July 30th, 2018. The stock looks like it's been oversold in response to The Times article, despite the fact that Tesla reported an upbeat earnings report in its most recent quarterly announcement. The company generated over $4 billion in revenue, which was more than analysts were expecting.
Furthermore, this number is a billion dollars higher than what was reported in the same quarter last year. Plus, the company has a cash stockpile of over $2 billion – something that Tesla will use to fuel profitable quarters in the future.
But none of that matters now apparently, because of a newspaper interview in which the CEO reveals he's overworked – which in all honesty is something that everybody already knew.
So as Tesla looks to make a turn back upwards following the media circus of the past week, I would be very surprised if all of this culminated with Elon Musk leaving the company completely. The Board will find a role for him in some way or another, because in addition to being highly intelligent, he certainly has a talent for attracting attention from investors – even though his company remains unprofitable for the time being.