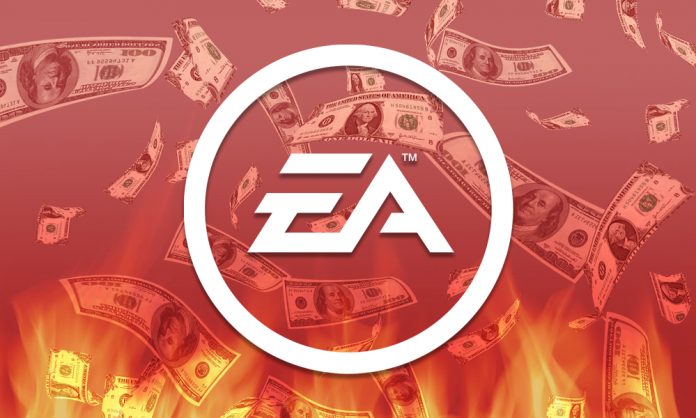 Electronic Arts Inc. (NASDAQ: EA), one of the world's biggest video game companies, saw share prices collapse after announcing earnings last night, in what was one of the worst drops for EA's stock since the dot-com bubble burst 19 years ago.
During after-hours trading last night, shares fell almost 18%, rivaling the company's record 25.5% single-day decline back on December 17, 1999. Other major plunges occurred on October 31, 2008, when the stock fell 17.8%, and again on March 22, 2005, when EA sunk 16.9%. Down over 15% in pre-market trading today, Electronic Arts looked poised for another notably poor session.
At today's open, though, EA shares recovered significantly, opening only 10% down (compared to 15% in during pre-market hours), which was a little surprising considering how poorly the company's last quarter really was.
During the earnings call last evening, EA's Chief Executive Officer Andrew Wilson said that the video game giant faced "significant challenges" for Q3 and expected those obstacles to continue to impede progress in Q4.
One of the company's biggest gaffes was the release of their highly-expensive, highly-anticipated WW2 game "Battlefield V", which was the fifth entry in a long-standing, critically acclaimed series. Sales figures fell flat during the 2018 holiday season, and the game ended selling 1 million fewer copies than expected, tallying only 7.3 million units sold.
Wilson blamed the poor sales figures for their flagship title on misguided tactical decisions, not the game itself:
"As a result of these decisions, we struggled to gain momentum and did not meet expectations for the quarter," he said in the conference call. "We made some calculated decisions that did not work as planned in Q3 and we did not execute well in other areas of our business. Against the backdrop of a very competitive quarter, the combination of those factors led to our underperformance."
What Wilson failed to mention was the major controversy leading up to the release of "Battlefield V", specifically surrounding the political agenda that was shoe-horned into the historical WW2 setting. The game's single-player campaign, which revolves around the "untold stories" of WW2's most astounding missions, was a complete farce. EA's in-house developer, DICE, who worked on the game, altered several real-life WW2 tales of derring-do, injecting female and minority figures to take the place of the real-life heroes.
And while creative liberty has been taken with historical events in the past in both games and movies, we've never really seen inclusive revisionism so blatantly, or on such a massive scale. Operation Gunnerside, for example, is featured as one of the game's most dramatic set pieces spread out across several acts. In "Battlefield V", the story revolves around a Norwegian mother-daughter team trying to sabotage German efforts to produce "heavy water", an essential component for atomic weaponry.
Towards the end of their story, the two women manage to cripple the German war effort all on their own, overwriting the actual events that transpired during Gunnerside (and preceding operations Grouse and Freshman) – which involved the real-life Norwegian commandos, many of whom died during the mission. Their memory, now twisted by DICE and Electronic Arts, will be misremembered by millions of impressionable young gamers who naively accept the events of "Battlefield V" as at least an approximation of what actually happened.
The real Operation Gunnerside was an astounding story of grit, determination, and the indomitable will of the human spirit. If you haven't read about it, I implore you to do so if only to make sure that the true historical account of these brave men endures the test of time.
Wilson, who claims that a few "calculated decisions" caused "Battlefield V" sales to come up short, has completely glossed over the fact that his company published a game with a severely tilted political agenda.
A game that dishonors not only the memory of the real men and women who served (and perished) in one of mankind's greatest conflicts, but also insults the intelligence of consumers who are expected to believe the nonsense served up by the game's developer.
Leading up to the game's release, critics of the revisionist changes were labeled as "misogynists" and "racists" by the gaming media.  Sound familiar?
If anything, the lesson that Wilson and other media companies need to learn here is that scores of consumers will be displeased by political agendas in their entertainment – especially ideologies that are left-leaning. Moreover, they need to know that dishonoring the memory of military veterans in a blatant manner will not go unpunished. Electronic Arts, who served as the publisher on the title, seemed to embrace the controversy initially in mid-2018 as it generated significant buzz from several news outlets.
As it turns out, though, not all publicity is good publicity, and today, EA's investors are paying for it.