Stocks traded higher this morning after opening lower on the day. The tech-heavy Nasdaq Composite led the pack, rising 0.4% while the Dow eked out a small gain.
Stronger-than-expected earnings kept spirits high following the late September/early October selloff.  Now, after testing their recent lows, the major indexes seem poised to rally further.
Of the S&P companies that have reported earnings thus far, over 80% beat their earnings-per-share (EPS) estimates. Other important reports are due out this week from industry leaders like Johnson & Johnson (NYSE: JNJ), Tesla (NASDAQ: TSLA), and United Airlines (NASDAQ: UAL).
To analysts, there's plenty to be happy about.
"Growth in 2022 seems likely to be lifted by the lagged impacts of monetary stimulus, the lagged impacts of surging Consumer Net Worth, reopening, and inventory rebuilding," wrote Ed Hyman, Evercore ISI Chairman, in a note.
"Supply chain problems are likely to ease, and unfilled demand from this year is likely to be met next year. Wages are likely to increase, lifting consumer incomes."
Oanda senior market analyst Edward Moya piled on with even more bullish enthusiasm.
"Wall Street was expecting a slowdown in spending, but it turns out the U.S. consumer is not to be messed with," Moya explained.
"Back-to-back months of better-than-expected retail sales data shows the consumer looks strong heading into the holiday season," he added.
But the biggest story of the day didn't concern quarterly revenues, economic reports, or retail sales data. Instead, it had to do with Fed Chairman Jerome Powell and the moves he made within his investment portfolio.
American Prospect magazine revealed this morning that Powell sold somewhere between $1 million – $5 million worth of stock from his personal account on October 1, 2020, right around the same time the market bottomed out from a September-to-October plunge.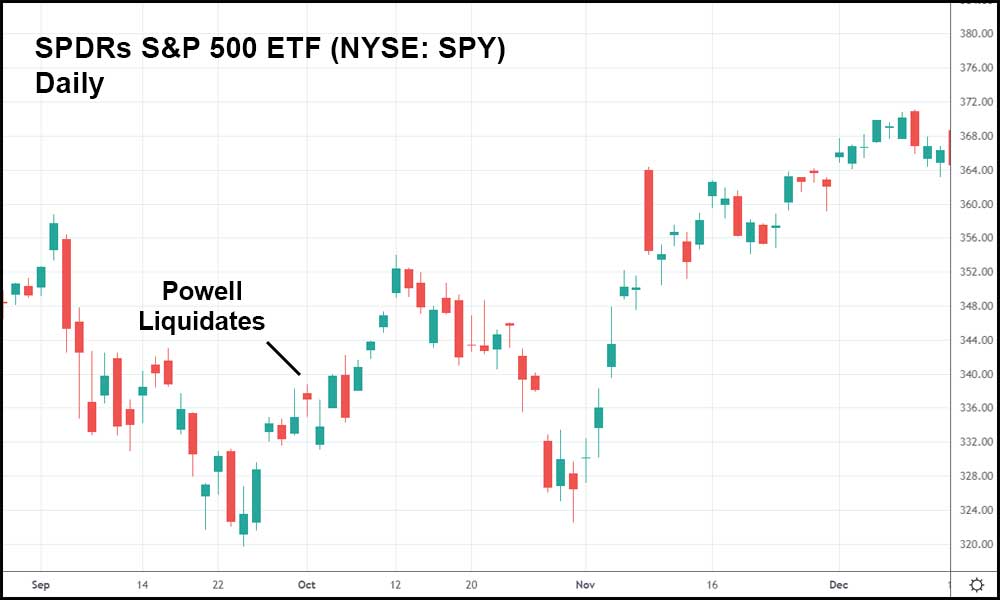 In hindsight, it wasn't a good move, nor evidence that Powell was attempting to tilt sentiment in his favor via policy shifts. But it's unlikely to play well for Powell's coming renomination. In fact, that's exactly why American Prospect leaked the trades today – the magazine's far-left staff are trying to get Powell replaced by Lael Brainard, the Fed's most liberal (and subsequently socialist) member.
The leak shows that Powell was actively trading amid unprecedented equity upheaval, which many lawmakers could ultimately frown upon. Sen. Elizabeth Warren has perhaps been Powell's most vocal critic over the last few months.
"Your record gives me grave concern," Warren said to Powell in a recent Senate Banking Committee hearing.
"Over and over, you have acted to make our banking system less safe. And that makes you a dangerous man to head up the Fed."
Warren will undoubtedly attempt to use the leak against him.
The Fed's code of conduct says that officials "should carefully avoid engaging in any financial transaction the timing of which could create the appearance of acting on inside information concerning Federal Reserve deliberations and actions […] They should be careful to avoid any dealings or other conduct that might convey even an appearance of conflict between their personal interests, the interests of the System, and the public interest."
Did Powell violate that code of conduct? Maybe, maybe not. But you can be sure that his critics will argue that he acted irresponsibly, even if Powell's maneuver barred his portfolio from enjoying another epic rally.