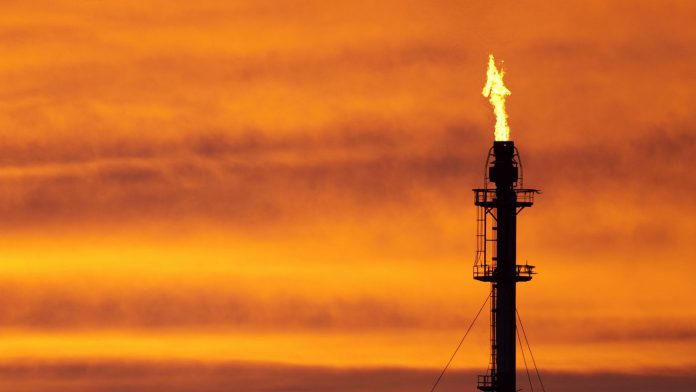 Get ready to buy, bulls.
The number of new coronavirus cases in the U.S. is slowing down. Only 28,200 new cases were reported Sunday, down significantly from Saturday's 33,260.
Even New York State – the hardest hit region in the U.S. – reported a decline in COVID-19 deaths. 594 still perished on Sunday, sadly, but it's a decrease from the 630 deaths on Saturday.
Investors have interpreted the leveling-off as a reason to celebrate. The Dow, S&P, and Nasdaq Composite all soared over 6% on the day despite sinking oil prices.
The Trump administration made sure to double down on the wave of positivity, releasing a statement Sunday evening that confirmed hospital rates were stabilizing.
Analysts were particularly fixed on New York's coronavirus-related deaths reduction, as it might suggest that the virus is losing its "punch" ahead of schedule.
"Incoming data suggests NY state might peak sooner than Cuomo's optimistic case," Fundstrat's Tom Lee – the same Tom Lee who correctly predicted a $20,000 Bitcoin – said in a note to clients.
"With better visibility on the healthcare crisis in the US, particularly, on a potential to model a national peak, we believe buyers are now taking control."
Death rates are receding in Europe, too, indicating that the U.S. could reach its COVID-19 peak shortly. Which, again, drew the attention of analysts looking to find entry points.
"I am beginning to get optimistic," tweeted Pershing Square's Bill Ackman on Sunday.
"Cases appear to be peaking in NY. Almost the entire country is in shutdown."
The renewed optimism sent stocks higher at the open. Minutes before today's close, they roared even further.
If the market's truly going to "do this thing" and keep rising, traders need to find stocks to go long on.
And fast.
Case in point, take a look at Schlumberger Limited (NYSE: SLB), an oilfield services company that could benefit from a COVID-19 recovery and rising oil prices.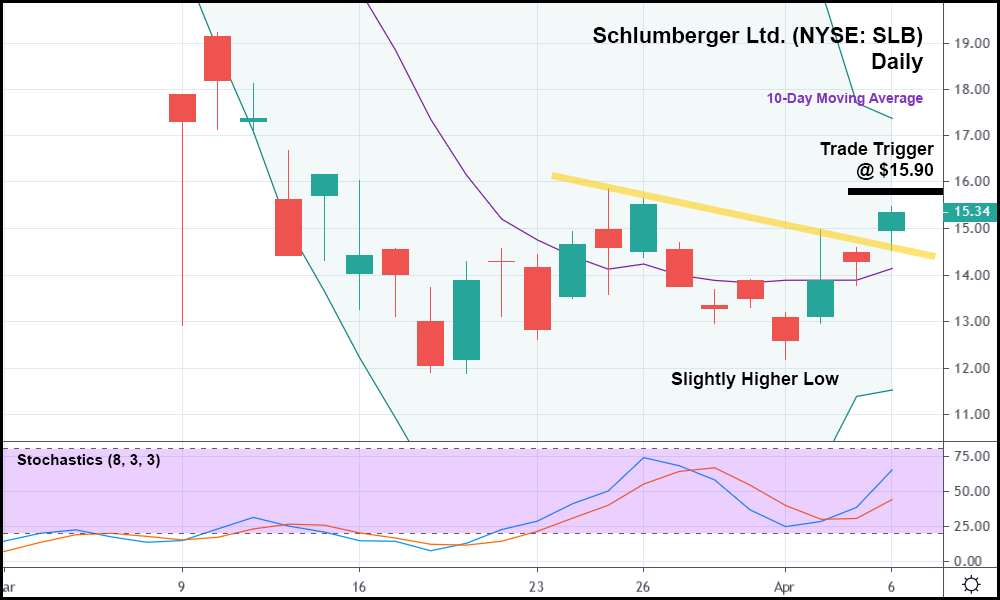 After getting crushed by the coronavirus crash and oil slump, SLB's ready to move once again. The stock set a slightly higher low last week, and today, it managed to break out above its minor bearish trend (represented with the yellow trendline).
SLB is also butting up against key resistance from a recent standout high on March 25th. If SLB can surpass resistance, a rally could be waiting on the other side.
Best of all, the stochastics indicator remains well below 80, suggesting that SLB could climb much further.
Should SLB trade above today's high, it might make sense to go long on the stock with a trade trigger of $15.90. From there, the sky's the limit. The next level of resistance sits at $25.45, or over 60% away from SLB's current price.
Even if it stalls halfway, a 30% gain is nothing to scoff at. Especially if the stock continues to rise in meteoric fashion – something that its recent price action indicates is highly likely.