Stocks are up. Oil's down.
We're only halfway through Monday and it's already shaping up to be a wild week.
This time, medical news is sending the market higher. COVID-19 death rates are slowing in Europe, leading investors to believe that the U.S. could be reaching its peak in the near future as well.
The state of New York reported 594 new deaths on Sunday, down from its 630 Saturday deaths, meaning that fatalities could be leveling off in the U.S.'s most affected region.
Bulls are taking it as a sign that the pandemic is receding.
Whether or not that's actually the case remains to be seen. If daily death tolls drop again, the goodwill should flow into tomorrow's trading session, too.
In light of this weekend's developments, economist Mohamed El-Erian believes that the low from two weeks ago could represent the market's bottom.
"It's about people, fewer people dying, fewer people getting infected," El-Erian said on CNBC's "Squawk Box" this morning.
Want more FREE research and analysis on the best "unseen opportunities" in the markets?
"I've always said it's a medical solution that forms a bottom for this market."
He continued, adding that "the ability of this market to get ahead of what the economists are saying," has him feeling good about the coming weeks.
And just last week, El-Erian warned investors that the market could still set new lows. Now he feels like the selling might finally be over, even though more uncertainty (and volatility) likely lies ahead.
Sunday's coronavirus stats are "a bright spot in an otherwise still gloomy picture," El-Erian remarked.
"I think that we need more than just one spot. I still think that the overall paradigm is going to be like last week — volatile around a downward trend."
Alternatively, if the major indexes can conquer their recent highs, a full-fledged rally could just as easily develop.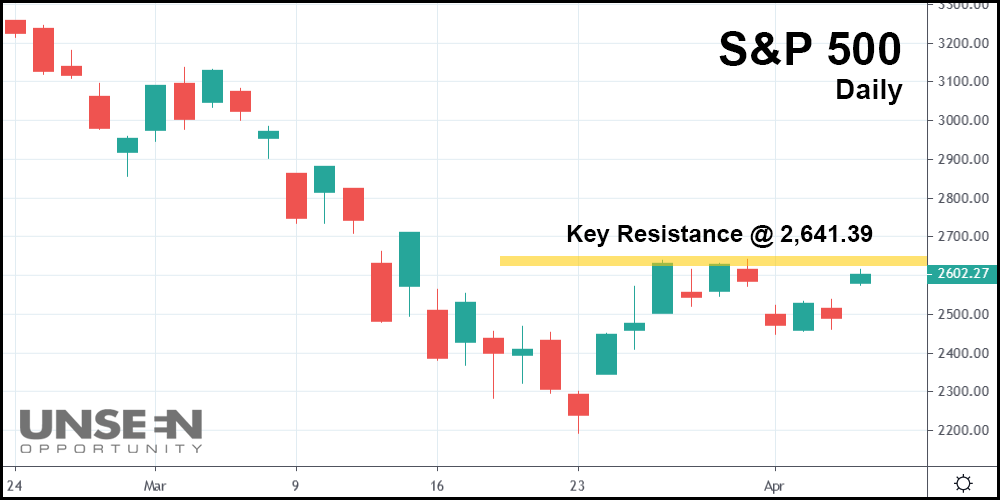 Key resistance from last week looms overhead for the Dow, S&P, and Nasdaq Composite. In the chart above, you can see just how close the S&P 500 is to breaching that resistance at 2,641.39. A breakthrough move could send stocks on a major recovery as coronavirus deaths continue to decline.
Investors have been waiting for stocks to re-test the low of March 23rd. On Friday, it certainly seemed like they were headed in that direction.
Today, however, an entirely different scenario has formed – one that might represent the market's true "trigger point" preceding a massive mid-April rally.
That makes these next few trading sessions especially critical. If the indexes defeat their resistance levels, it could also mean that time is quickly running out for investors waiting on the sidelines.
Keep in mind that the next surge could certainly be the one that "sticks." Back in late 2018, when the market plunged before going straight up for the next four months, scores of skittish bulls refused to buy.
Chances are that they won't make the same mistake twice. Investors too slow to react to the upcoming shift in sentiment will get left in the dust.
My advice?
Don't be one of them when the time comes, especially with share prices trading near their 3-year lows