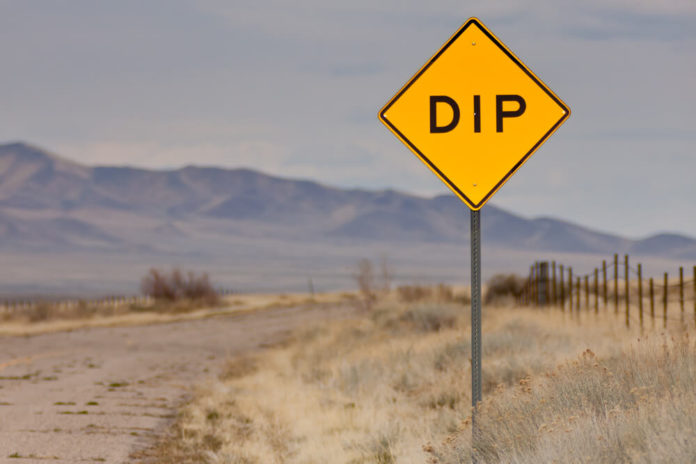 Just yesterday, stocks were imploding. Today, everything's fine.
The S&P endured a big loss in the trading session prior, closing near where it opened for a 1.48% plunge. Rising Covid cases in the US had bulls rethinking their portfolio exposure.
The Dow suffered some of the deepest losses in the selling.
But at the close today, stocks were up big. The Dow roared higher as the tech-heavy Nasdaq Composite followed closely behind.
The S&P erased almost all of yesterday's losses as a result.
It's a classic case of "panic buying." But ask yourself this:
What's changed from yesterday to today?
Not much, really. Except for the fact that Wall Street's now telling investors the Covid delta variant is nothing to worry about.
"The Covid-19 delta variant should not lead to new lockdowns, and despite the rise in cases mortality has significantly declined," wrote JPMorgan's Marko Kolanovic in a note.
"We expect the reflation trade – cyclical stocks, bond yields, high beta stocks, reflation, and reopening themes – to bounce imminently as delta variant fears subside and inflation surprises persist."
Kolanovic concluded, adding that "the link between the [Covid] case count and hospitalizations/deaths in the UK and other countries has weakened meaningfully."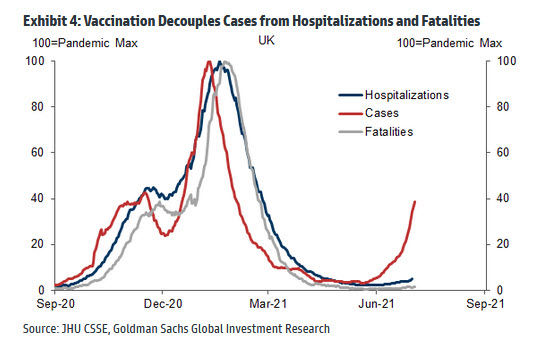 This has absolutely been true. We mentioned last month that the UK would be key in identifying the lethality of the delta variant. Covid deaths have typically lagged infections by around two to three weeks in the past.
Now, though, it seems deaths remain subdued while infections tick higher.
This alone may reduce the chances of new government-enforced lockdowns. Cases are up, yes, but very few people are heading to the hospital for treatment. Even less are dying with Covid.
That's great news for bulls, many of whom participated in a serious round of "dip buying" this morning – something we predicted would happen in yesterday's commentary as the market screamed lower.
However, if future lockdowns are avoided, it's unlikely that the government will provide additional stimulus. That could put a damper on the economic recovery as demand stagnates in response to soaring consumer prices.
In general, though, a less-lethal delta variant is a net positive for bulls. That's been made abundantly clear by today's snap-back rally which has investors of all types – retail, institutional, and everyone in between – buying shares on the cheap.
"Many of the cyclical companies are selling off on fears that Covid will stop the recovery in its tracks," explained Chris Zaccarelli, CIO at Independent Advisor Alliance.
"We don't believe that that's the case and are willing to let the sell-off run its course and buy the dip on the belief that the economy will fully recover and return to its prior growth trajectory, bringing most of the cyclical companies in the airline, travel and leisure industries along with it."
This may not materialize into another massive leg up like the dips of the past, but stocks are likely safe from another rapid sell-off in the short term. The delta variant only temporarily dinged sentiment yesterday.
This morning, Wall Street bulls were successfully able to get bulls back on course.
And don't forget:
This year, every time the S&P 500 fell to the 50-day moving average (which happened yesterday), it climbed back to reach a new all-time high in a matter of days.
Will that happen again? The market certainly seems ready for another burst. Wall Street wants it, too.
And if this week's corporate earnings come in better than expected, there will be little standing in the way of another record-high for equities. Potentially by Friday, or even sooner should the market keep up today's breakneck pace.