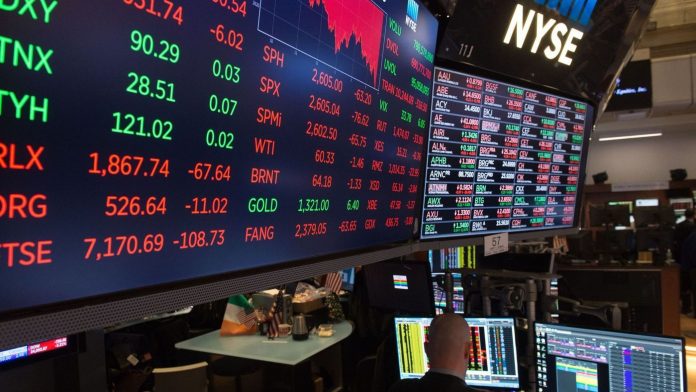 At the beginning of the week, Visa (NYSE: V), the infamous credit card company, officially became the best performing Dow Jones Industrial Average (DJIA) stock on the year.
Even though the index was down in response to rumors of "trade wars", Visa managed to come out slightly on top – closing out the prior week with a 0.2% gain. This was nothing out of order for the company, which has seen consistent growth week-after-week, gaining 18.7% since the start of the year.
Unlike Visa, though, most of the other Dow equities have struggled. In fact, only 11 out of the 30 total DJIA stocks have posted a gain for 2018.
Visa's consistent, resolute rise over the year didn't come on the heels of any significant news or a single "big" event. The stock price just kept trudging upwards, (usually) heading in one direction – all while tech stocks were flying up and down at the drop of a hat.
Here's a weekly candlestick chart of Visa, since January 2017: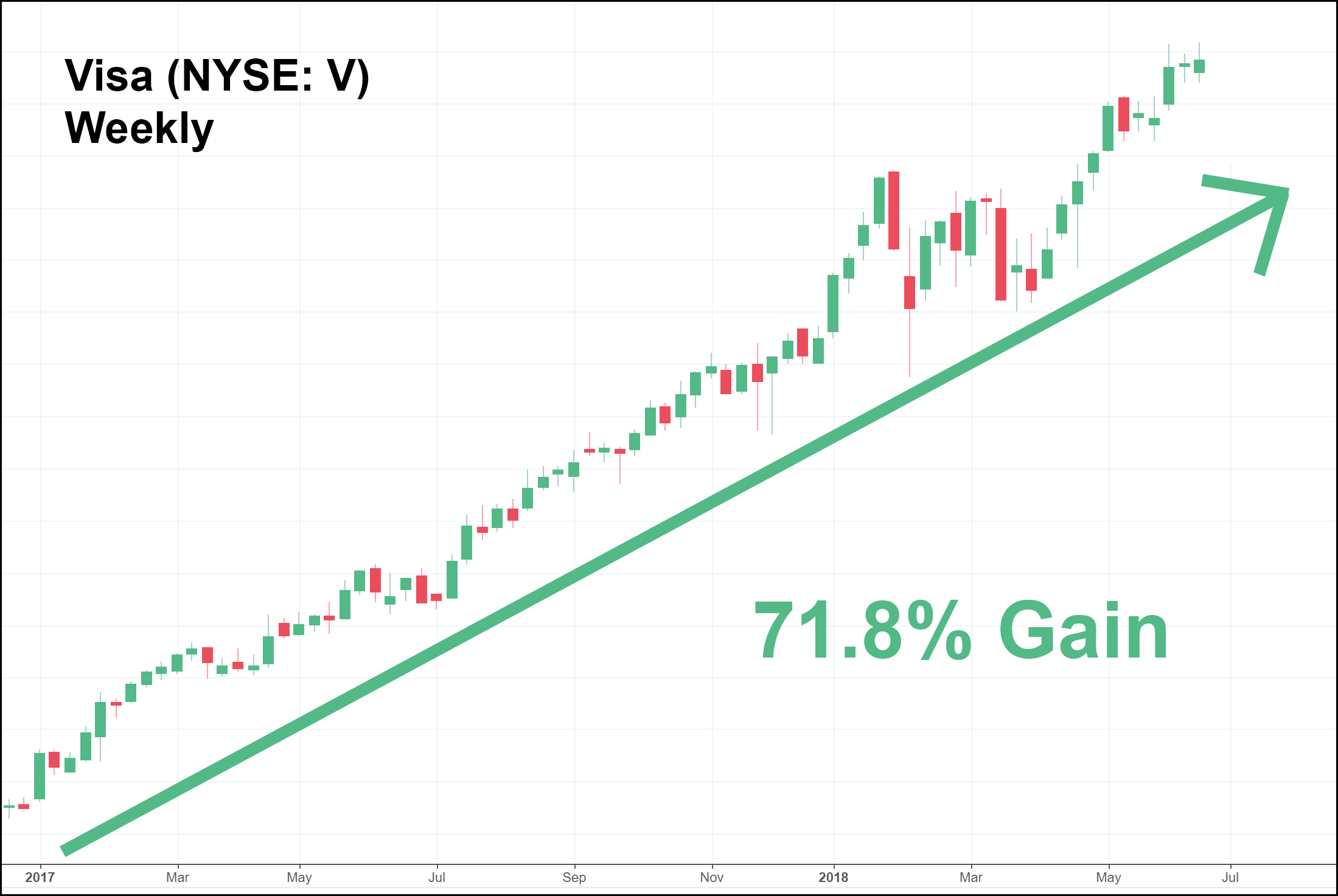 As you can see, it went on a tear since the beginning of last year, setting new all-time highs nearly every week. At the market's close last week, June 18th, Visa set yet another new high at $135.33 – a 71.8% gain for investors who bought in at the start of 2017.
Over the last year, Visa has been on the lips of expert investors all over the world as a portfolio "must have". It staggered slightly in February 2018, creating a "jumping-on" point for traders that missed out on its big uptrend last year.
After chopping back-and-forth for a few weeks, Visa stock made another run for it in April, culminating in what has been an impressive rally to another all-time high.
Everything was going great for Visa, until yesterday, June 25th: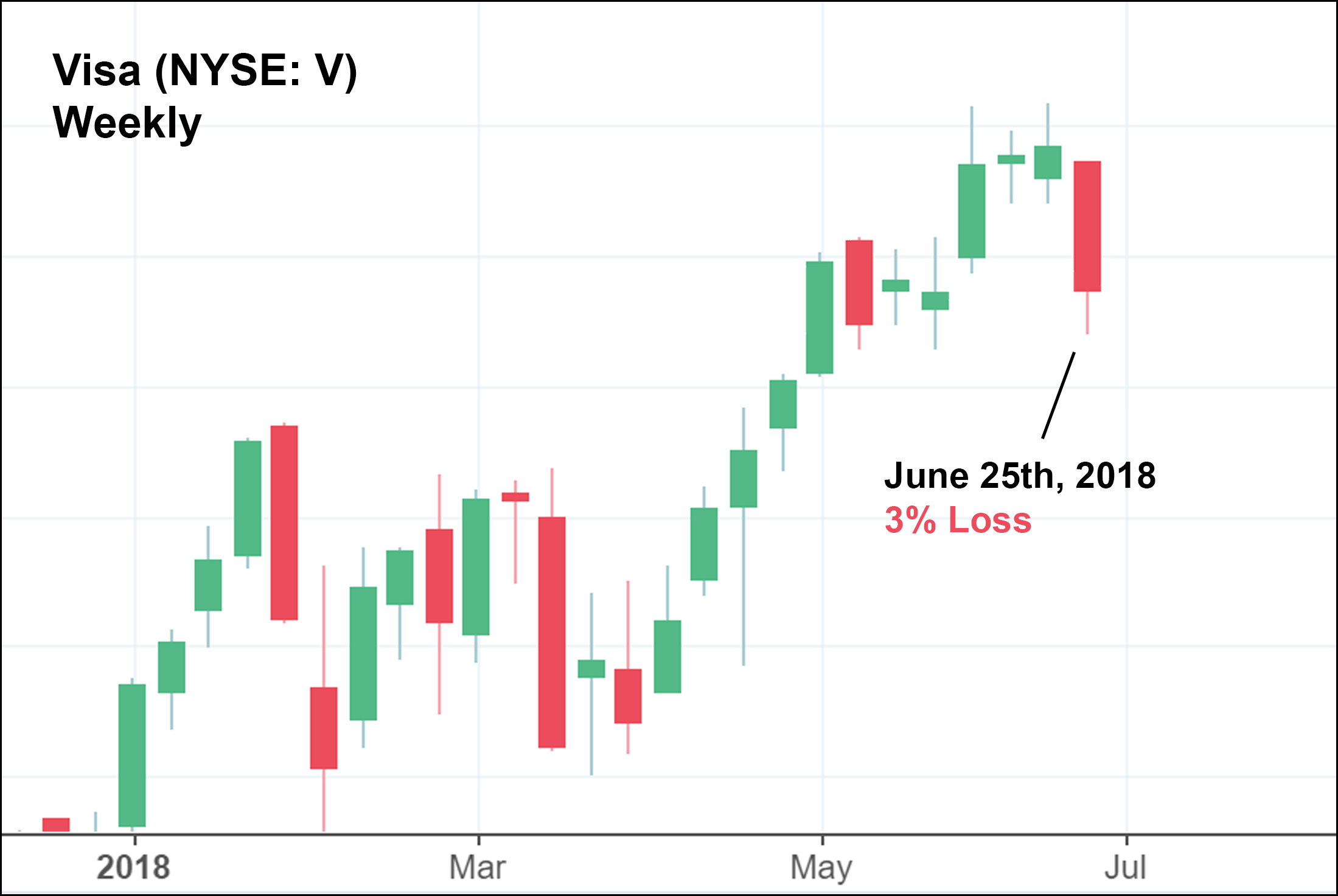 On the heels of an announcement by the U.S. Treasury Department, stating that it would try to limit Chinese investors from buying equity in American tech companies, the markets dropped significantly.
Tech companies, of course, felt the most pain – with many falling double digits in just a few hours.
Some, though, like Visa, were merely caught in the crossfire, and suffered (smaller) losses.
While this may not be great news for current Visa holders, this is undoubtedly an advantageous situation for almost everyone else.
Why, you may ask?
Visa is a head-to-toe great company. It's leading the way in the ongoing "war on cash", as the world switches more and more each day from cash to credit. The amount being spent on credit cards increases each year, and the governments of the world are pushing for "cashless" economies to better track the flow of currency.
The company has extremely strong branding, a massive network of banks that are continuously issuing new cards to their members, and integration with millions of merchants worldwide. The credit card sector just keeps getting more profitable, and Visa is one of only four major players.
In addition to its massive adoption, Visa is also an extremely balanced company. It receives $2.25 billion in service revenues, $2.13 billion from data processing, $1.75 billion from international transactions, and another $230 million from other associated sources.
Companies like this are not very common – not just because of how balanced the business is, but how efficient it is as well. Visa carries a hefty $8.14 billion in cash and cash equivalents on hand.
Oh, and did I mention that it even pays out dividends?
In my mind, Visa is without a doubt a very robust company with an equally impressive stock to go along with it.
So why the heck did it just drop 3% when the company is NOT going to be affected by this Chinese tech investment ban?
Because there are emotional, weak handed investors who saw a red market yesterday and decided to dump their shares in fear of a global recession. After all, if you listened to the news over the last couple of weeks, you'd know by now that Donald Trump is single-handedly trying to kill the market's current bull run…
…Right?
Well, probably not. In fact, I'd say that it's highly unlikely.
I would also say that we should be thankful for those "weak hands", who by selling their shares of Visa have created an opportunity to buy into a rock-solid company at an absolute bargain.
It's a downright steal.
However, if investing was THAT easy – everyone would be making money these days. As you probably know by now, it's a bit more complicated than that – and if you really want to maximize your profits from opportunities like this one, you need to have a tried-and-true trading method that can capitalize on the many possible movements of the markets.
A method like this one that can help you potentially earn 12 times more than regular investors, and with 92.5% less risk.