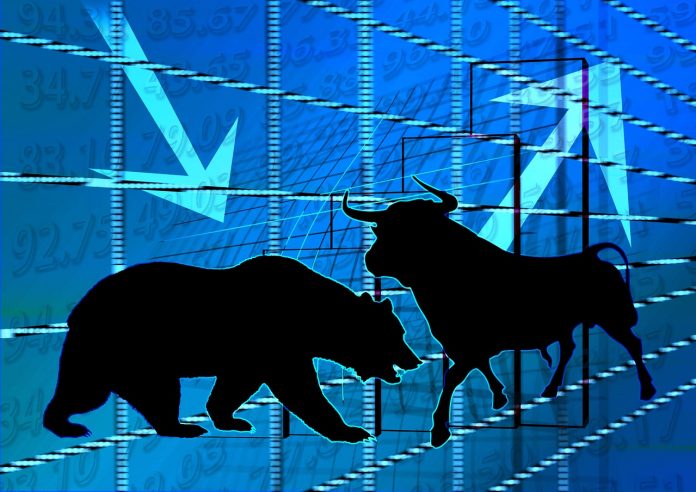 Ever since the motorcycle was first mass-produced in 1894, it has become a symbol of the rebel, renegade, and rogue-spirits of the world.
The very first motorized bicycle to actually be called a "motorcycle" (or Motorrad in German) was the Hildebrand & Wolfmüller, a rudimentary two-wheeled vehicle that didn't even have a clutch or pedals. It's often referred to as a "run and jump" bike, because the rider literally had to get a running start to build up enough momentum to start the engine.
Before manufacturers were turning out the loud, brawny choppers that we're so used to seeing on the road these days, they had to be much more economical with their early designs.
The internal combustion engine was an inefficient and difficult beast to tame back in the late 1800's, so motorcycles back then looked more like their bicycle predecessors than a full-fledged hog.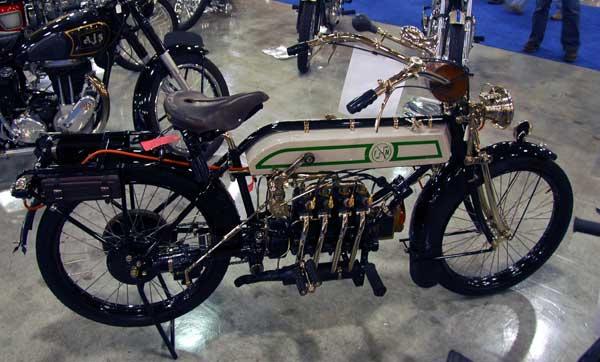 As time went on the motorcycle became more modern, and its purpose shifted as well – it was no longer just for navigating narrow city streets in Europe. Riders took to the open road in the United States, blazing a trail for a bike culture comprised of soldiers returning from service after WW2.
Veterans who desired more of the danger, excitement, and camaraderie of a life at war found what they were looking for in groups of outlaw wanderers, forming motorcycle clubs across the nation. American manufacturers, like Harley-Davidson (NYSE: HOG), embraced this new persona with open arms – happily selling chrome-finished speed demons to anyone that was looking for their next thrill ride.
Meanwhile, European producers were desperately trying to shed their new image associated with the next wave of motorcycle enthusiasts, or as they were now called – "bikers".
Instead of churning out bulbous, aggressive bikes like their American counterparts, the European companies targeted smaller, more sophisticated designs. In 1946, the Vespa was born and became a massive hit for inner-city travel. Looking more like a toy than a real motorcycle, the Vespa was an extreme divergence from the norm, which was ironically characteristic of the "rebel" status that the Italian designers were looking to avoid.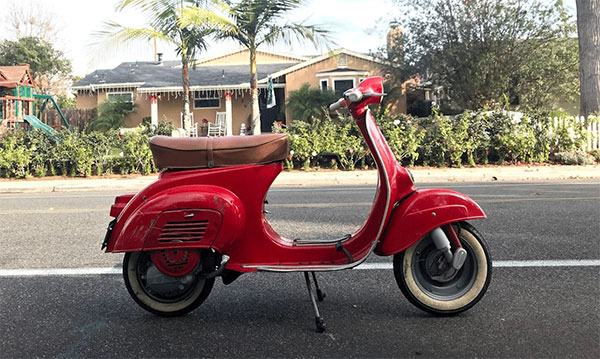 At this point, a line in the sand had been drawn – manufacturers on both sides of the Atlantic had found their separate identities. More aggressive, powerful bikes for the American market and sleek, refined commuter vehicles that were tailor-made for European sensibilities. Soon after, the Japanese entered the market as well – creating motorcycles that fit somewhere in between what the other manufacturers were offering.
Out of all the different bike producers on the planet, though, none can compare to the brand recognition and prestige garnered by Harley-Davidson. Since the early 1930's, they have been largely responsible for pushing motorcycles to new heights and drawing out millions of free spirits in the process. When someone buys a Harley-Davidson motorcycle – they aren't just buying a bike, they're buying a "Harley".
And that's a big deal to me. Getting that kind of pedigree in a space with so much competition is not easy and must be built over many decades.
So, it's no surprise that much like the intrepid individuals who ride their bikes, Harley-Davidson has been a stock that has attracted the adventurous investor.
If you haven't heard by now, the European Union has slapped tariffs on American-made motorcycles in response to U.S. tariffs on European steel and aluminum imports.
As a result, Harley-Davidson admitted that they would have to eat some short-term costs in order to deal with the tariffs, and long-term plans could involve shifting some production overseas.
This gave the mainstream media a juicy story, and they made sure to repeat the same headline ad nauseum:
"Trump tariffs cause Harley-Davidson to move American jobs overseas"
And of course, their stock dropped roughly 10% over a two-day period: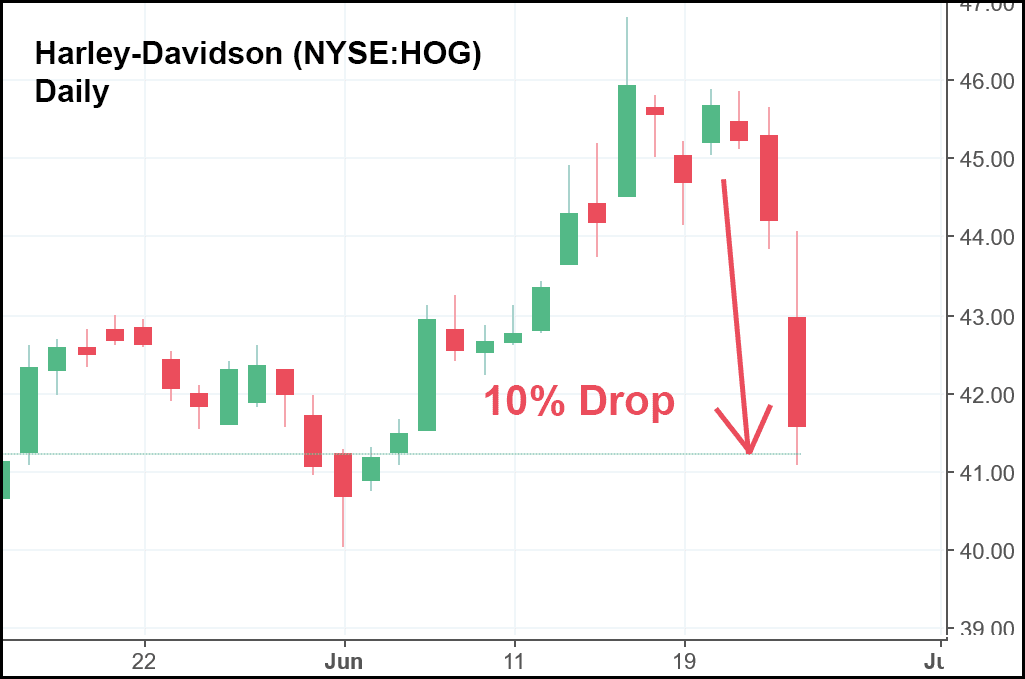 That's really too bad, isn't it?
We must be witnessing the death of the American motorcycle after all! Time for investors to pack it in and sell off their equity in one of the most recognizable brands in the world – right?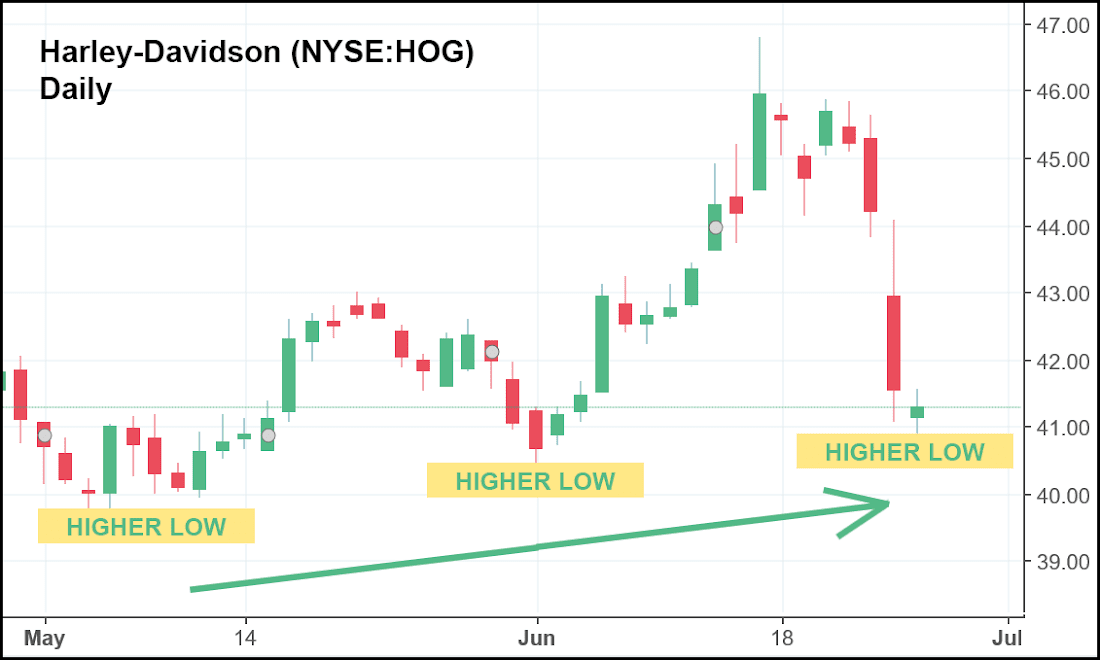 Wrong.
Actually, no, not just wrong – dead wrong.
Even after all this devastating news, and the headlines that suggest Harley-Davidson is going to war with President Trump, Harley-Davidson stock didn't just stop the bleeding…
…It set a new, higher low as well – which as we all known is a universal sign of an uptrend.
Now I'm not saying that Harley-Davidson is about to blow the top off the chart en route to an all-time high any time soon…
But what I am saying is that there's a significant opportunity here for investors that are bold enough to take it. I'm talking about all of the adventurous, wayfaring traders that embody the same derring-do, "against-all-odds" spirit that Harley-Davidson and its customers are known for.
So while tariff talk is scaring off other would-be investors, you may want to take a closer look at HOG before it hits the open road.
For a simple way to identify the best time to buy HOG, look at this tutorial which reveals the options "income engine" I developed to maximize profit potential with the lowest risk possible.