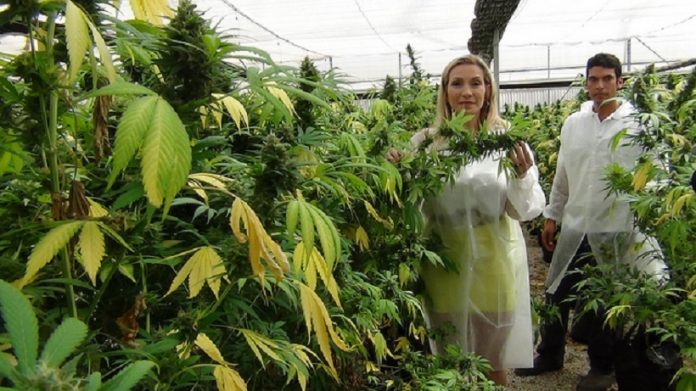 Pot stocks, even after the late 2018 "cannabis crash", still offer some of the best opportunities for life- changing profits for investors. Just a few weeks ago, Cronos Group Inc. (NASDAQ: CRON) share prices went nuclear – shooting up almost 90% for the month of January, before finally calming down a few weeks ago.
And though you might've missed the Cronos "rocket ship" at the start of the year, the good news is that there's still some marijuana stocks that haven't quite popped yet, but seem poised to do so as the cannabis industry begins to heat up once again.
There's plenty of fish in the sea these days, though, and it can be hard to single out specific pot stocks to trade – especially as the general market wrestles with interest rate and trade war news.
But one in particular – Aurora Cannabis, Inc. (NYSE: ACB) – looks like it could be ready to "shoot the moon" nearly any day now. ACB shares have been rising steadily in 2019, up an impressive 64% since the December 2018 lows, showing no signs of stopping as the stock continues its uptrend.
And while no trader would be disappointed by a 64% gain in one month, they also wouldn't want to miss what's coming down the road – a surge that could dwarf the January numbers by a longshot.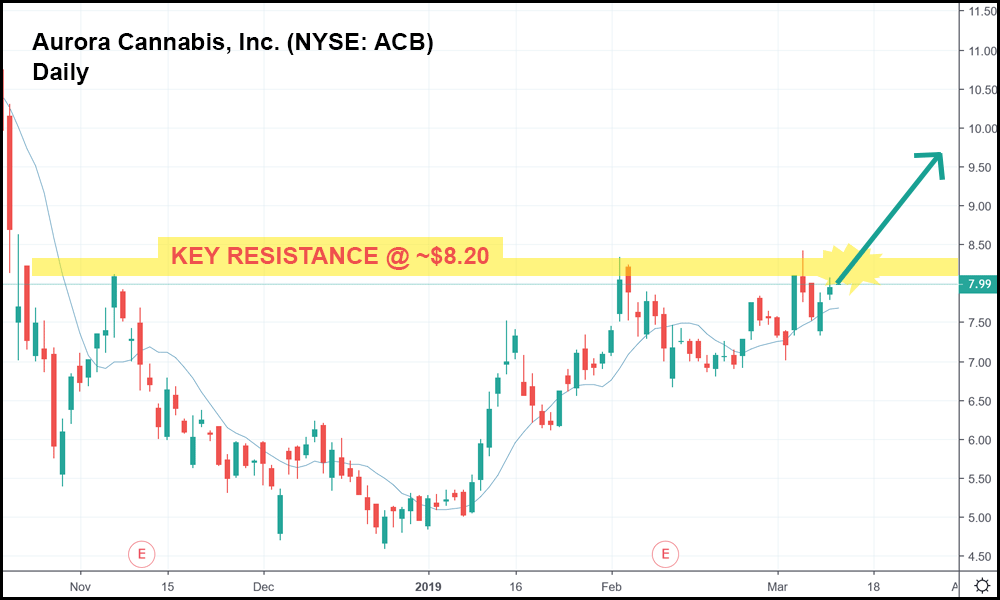 Aurora Cannabis, Inc. is once again encountering key resistance at roughly $8.20, making that third time ACB shares have approached this price level since November of last year.
And even though ACB rose above resistance temporarily just a few days ago, pot stock bulls were unable to achieve a close above that price. Since then, ACB shares have recuperated slightly, setting a higher low before looking to make another run at $8.20.
If Aurora Cannabis, Inc. can surpass that point of resistance, what's awaiting investors on the other side could truly be something special – rivaling the absurd gains of mid-to-late 2018: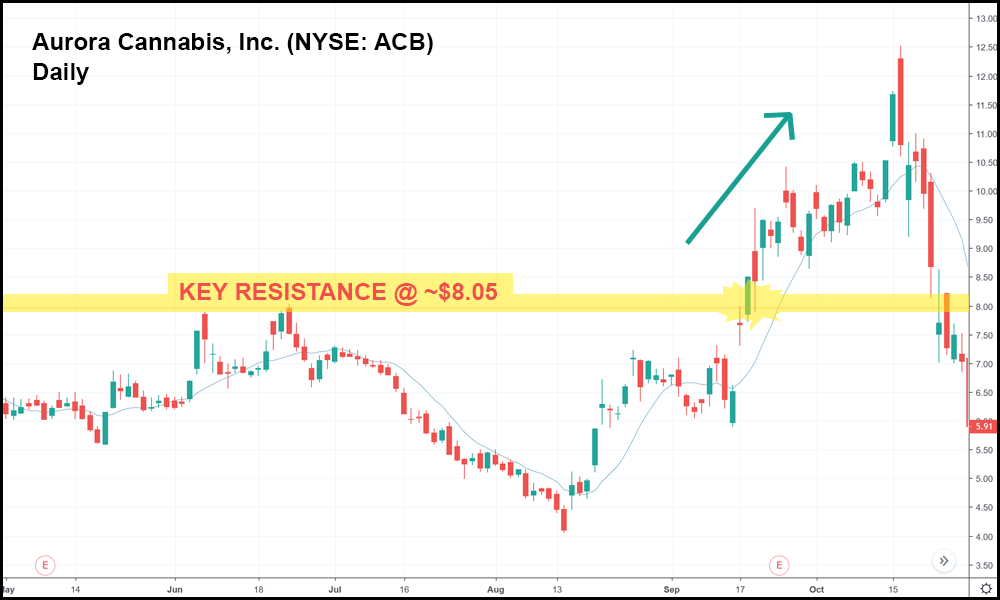 Pictured above in the chart, you can see what happened the last time ACB shares sold-off in a major way, around mid-2018. It took a few weeks, but eventually the stock recovered, running into key resistance (at almost the same price) before skyrocketing.
Investors who bought in after resistance was breached were rewarded for their courage with a neat 55% gain in less than a month. Not bad, right?
Now, I know what you're thinking:
"Didn't Aurora Cannabis already make 64% in 2019? Isn't that more than you would've made buying at key resistance last year?"
And while yes, that may be true, it's also true that this time, the rise could be much, much bigger as investor sentiment continues to look rosy for the emerging cannabis markets – an industry that's expected to see revenue growth of 35% year-after-year.
Even better, Aurora Cannabis Inc. looks like it's about to complete the last leg of a "W" formation that could see the stock surpass its all-time-high of $12.53: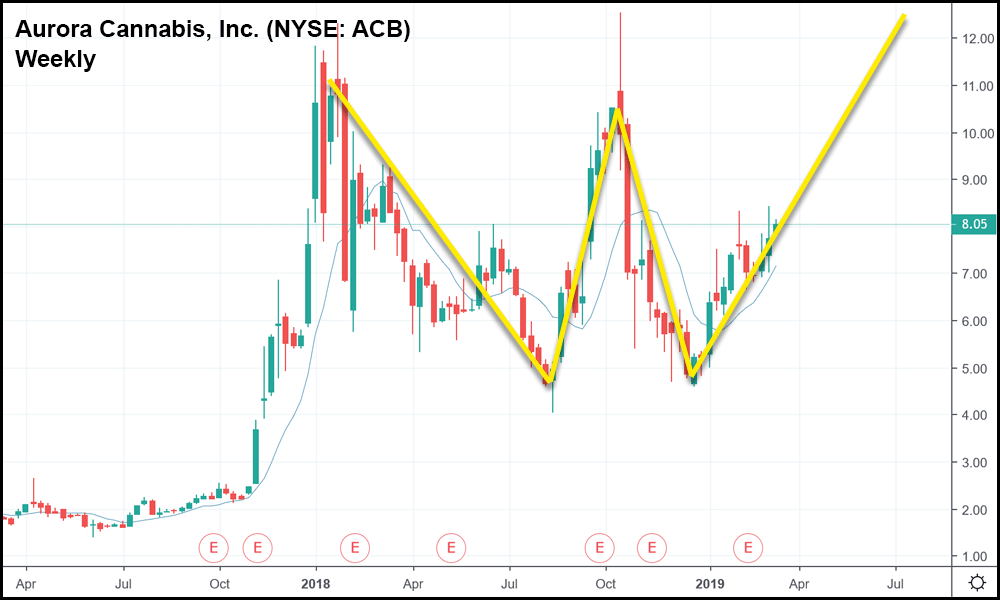 If that happens (and it looks like it will), gains of 70% (or more) are not at all out of the question for traders that buy-in after the current level of key resistance is surpassed.
Plus, you wouldn't have to deal with the stress of buying near the yearly bottom – like some investors did back in January. So, while the whole cannabis market seems set to rise for the rest of the year, some pot stocks will likely enjoy explosive growth, outperforming the rest.
And based on what we've seen over the last few weeks, Aurora Cannabis, Inc. might be the next one to do just that.