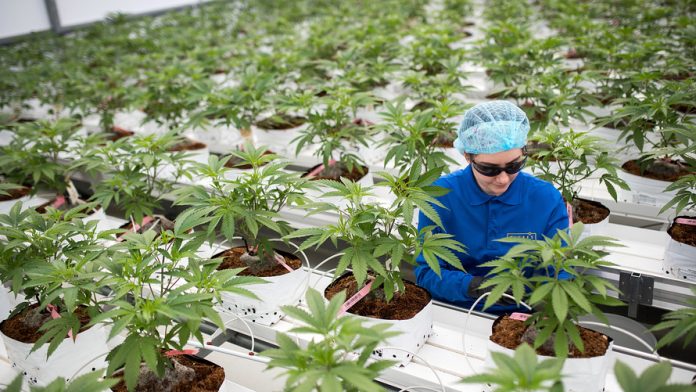 Just one day after being featured in Unseen Opportunity due to its immense upside potential, Aurora Cannabis has surged, rising almost 12% at the outset of this morning's trading session. The boost came on the heels of an announcement from the company earlier today, which revealed that billionaire investor Nelson Peltz will be joining the pot producer as a strategic advisor.
In particular, Peltz will "work collaboratively and strategically to explore potential partnerships that would be the optimal strategic fit for successful entry into each of Aurora's contemplated market segments," according to the press release.
To compensate Peltz for his new commitment, Aurora has offered him the option to purchase 19.96 million ACB shares at a price of $7.74 (10.34 Canadian). That means that at the moment, he's been given the opportunity to purchase a little more than 2% of the total outstanding shares (945.60 million) at a 12% discount.
It's not a controlling stake by any means, but if Peltz can prod Aurora stock further upwards, he'll be rewarded for his efforts handsomely. According to his statement in the press release, though, Aurora's already well on its way to achieving massive success – with or without his help:
"I believe Aurora has a solid execution track record, is strongly differentiated from its peers, has achieved integration throughout the value chain and is poised to go to the next level across a range of industry verticals," Peltz said.
"I also believe that Canadian licensed producers, and Aurora in particular, are well positioned to lead in the development of the international cannabis industry as regulations evolve, with a strong, globally replicable operating model."
And though Peltz may only be one man – and only an advisor, at that – his addition to the company marks one the most significant endorsements of the cannabis industry yet.
As the founder and CEO of Trian Partners, a New York-based multi-billion-dollar asset management firm, Peltz has reengineered numerous companies, morphing them from "middle of the pack" corporations into industry-leading enterprises. With Aurora Cannabis as his next project, he'll leverage his experience in the consumer goods sector in an attempt to take the company to new heights – something that Michael Singer, Aurora's executive chairman noted in an interview on CNBC's Squawk Box:
"We see a number of potential growth areas, certainly consumer packaged goods. The beverage industry, cosmetics, wellness; we see pharmaceuticals now starting to show interest in our space. There are a number of what we call market segments that we expect to operate in with one or many of these potential partners."
Investors, who were pleased to see Aurora's new laser-like focus on consumer goods, took ACB shares well above key resistance – a price level we identified yesterday to be roughly $8.20: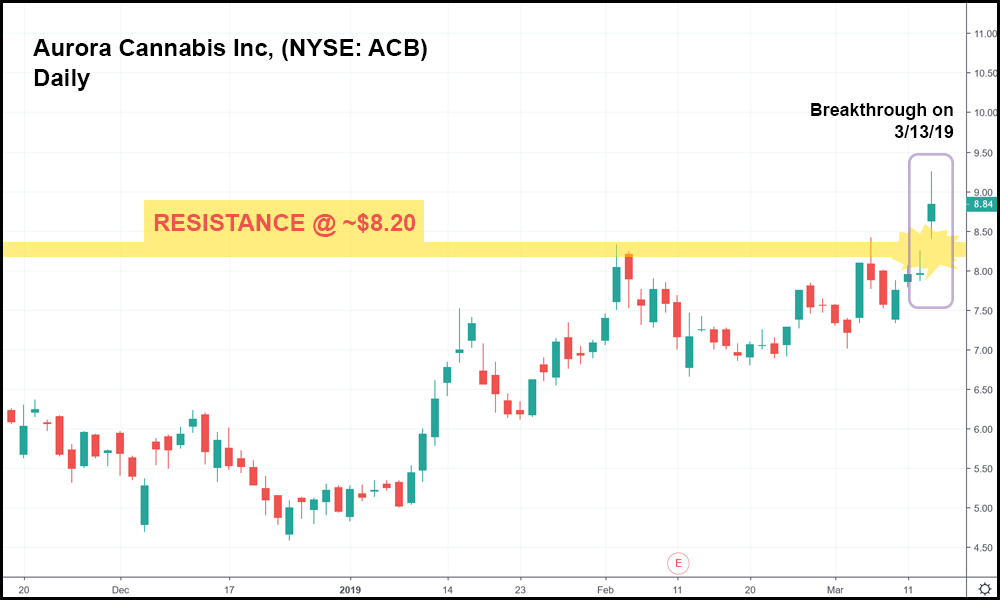 And if you saw our bold prediction, you also might remember what happened the last time Aurora exceeded key resistance, back in 2018: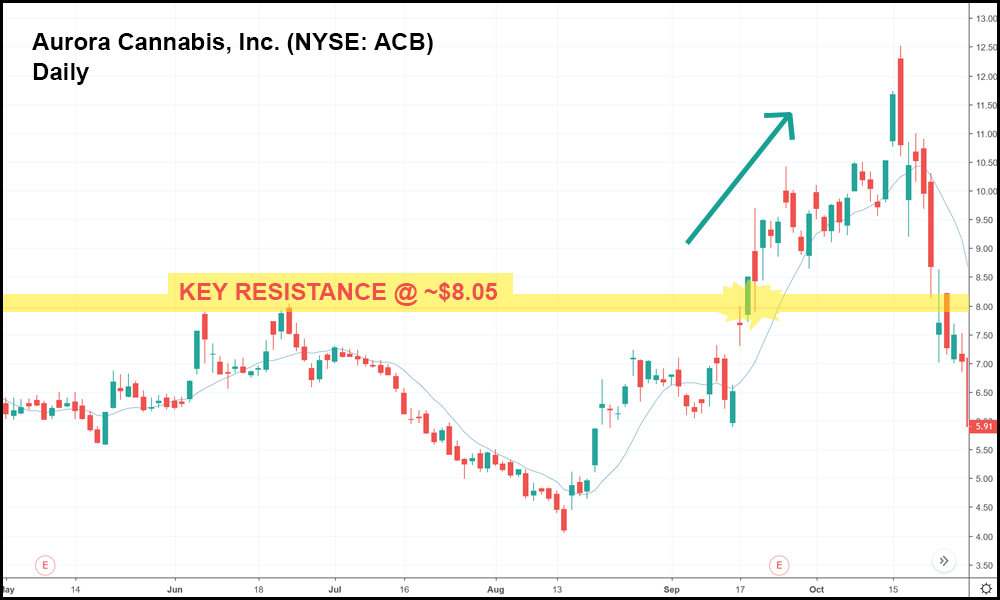 Share prices skyrocketed after "gapping up" in late September, almost in the exact same way that ACB gapped following this morning's announcement. And of course – both surges came after ACB sold-off significantly in the months prior, making that yet another uncanny similarity between the two formations.
Will ACB continue its rise? It's certainly possible, and if it does, it would likely complete the auspicious "W" pattern that has shown itself so many times before in the stock market – particularly in highly volatile, fast-moving securities. Aurora Cannabis share prices were already on track to complete the last leg of the "W", and today's increase may have only hastened that process further: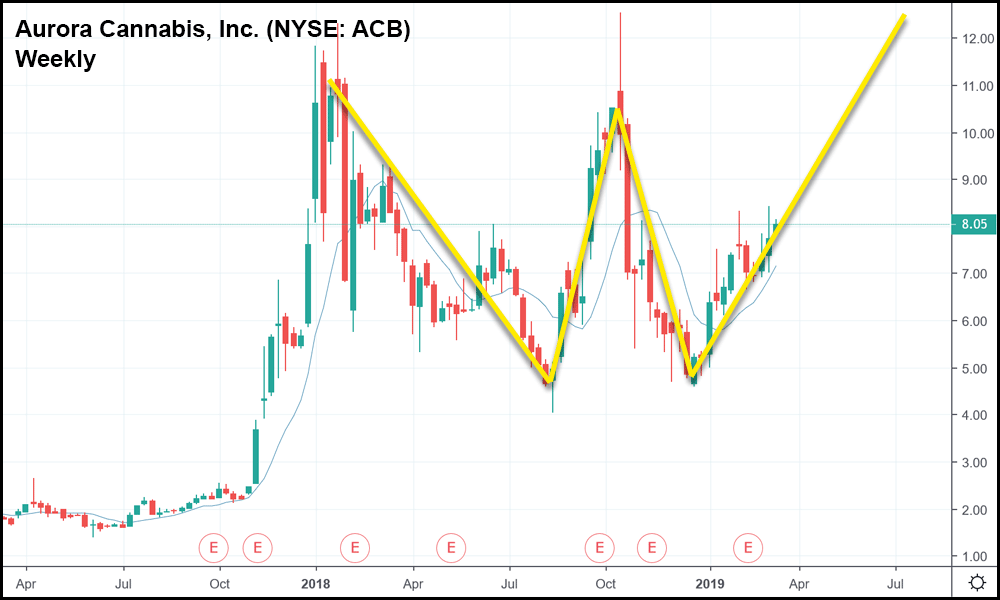 If bulls keep buying-up ACB, it could very well hit its all-time-high (around $12) by July – allowing Aurora investors to pocket some huge gains in just a few months.
Even better, if Peltz's influence has a positive impact on the company, ACB has a shot at soaring well above its previous all-time-high – a level of resistance that it stalled at back in October of 2018.
So, even if you missed the Cronos and Canopy Growth moonshots that have already occurred this year, it looks like Aurora might be giving us one more chance to secure a pot stock windfall before Q1 comes to a close.
What happens in Q2 and beyond, though, could be even more exciting, as the major cannabis players start to clash over their offerings to consumers – a part of the business that Aurora plans on dominating with their new hot-shot advisor.