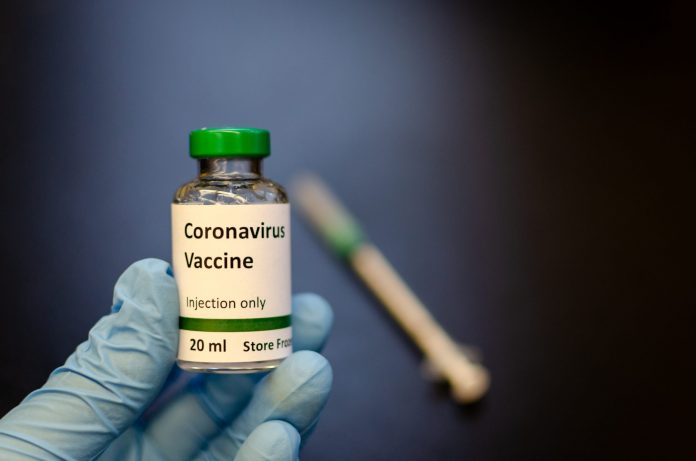 Stocks opened lower today following a grim Covid delta variant report from the CDC. Leaked this morning, an internal report from the agency revealed that the fight against Covid may be growing even more dire.
"The war has changed," wrote CDC officials, who also observed that "public trust in vaccines might be undermined" due to breakthrough infections among vaccinated individuals.  They continued, adding that the delta variant can spread as easily as "chickenpox" and might be more dangerous than first thought.
The end result could be guidance for additional lockdowns – something that bulls absolutely do not want to see. The market's already endured one lockdown-driven crash. Would another set of lockdowns have a similar effect?
More pressing to the CDC, however, is the perception of vaccines and whether Americans truly believe they're worth the associated risks.
"We've done a great job of telling the public these are miracle vaccines," said risk communication expert Matthew Seeger, who has worked with the CDC for more than a decade.
"We have probably fallen a little into the trap of over-reassurance, which is one of the challenges of any crisis communication circumstance."
Dr. Paul Offit, an advisor to the FDA on Covid vaccines, expressed frustration with the delta variant as well last Friday.
"Yesterday, you had 90,000 cases and close to 400 deaths," he remarked.
"Those are the same numbers you saw last summer. I mean, last summer, you had a fully susceptible population and you had no vaccine."
Remember when the Washington Post relayed vaccine efficacy numbers of 90%+ a few months ago? That data may not have been entirely accurate after all. Now, it's causing problems for health agencies spanning the globe. The CDC's internal report suggests as much.
It also poked holes in sentiment this morning, driving share prices lower almost across the board. It came at a bad time, too, given that Amazon (NASDAQ: AMZN) delivered a disappointing earnings report following yesterday's close.
Amazon beat EPS expectations handily ($15.12 reported vs. $12.28 expected) but posted big misses on net sales ($113.1 billion reported vs. $115.1 billion expected) and free cash flow, which plunged 62% to $12.146 billion.
But what dinged AMZN shares the most today was its forward guidance. The e-commerce giant forecasts Q3 net sales ranging from $106 billion to $112 billion, well short of the $118.75 billion estimate. Expected Q3 operating income was also surprisingly low at $2.5 billion – $6.0 billion, missing the Wall Street estimate of $8.11 billion.
This gave AMZN a 7% haircut immediately at the open this morning. And, because market breadth has grown increasingly narrow over the last few weeks, AMZN's sell-off likely dragged down both the S&P and Nasdaq Composite with it.
But overall, it hasn't necessarily been a terrible day for bulls. The S&P was down just 0.50% shortly before noon. The Dow and Nasdaq Composite were down only 0.35% and 0.75%, respectively.
With the delta variant being purported by the CDC as essentially "mega-Covid," that's not too bad, all things considered.
Yes, sentiment could flip on a dime if President Biden authorizes new lockdown measures. That probably won't happen, though, if the US follows the trend of other delta-stricken countries. Both the UK and India saw their case totals level off dramatically following the initial infection surges.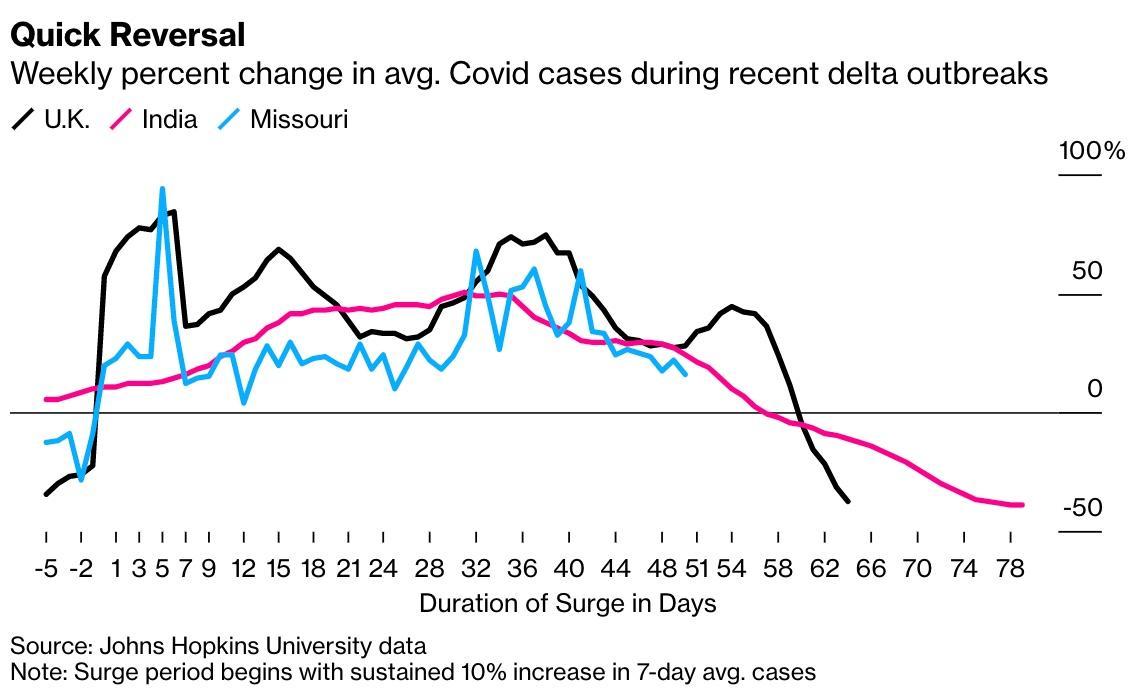 Missouri is tracking this trend closely along with most other states. The CDC may be fearful of the delta variant right now, but really, the data suggests that it too will subside. And soon.
That's probably a good enough reason for investors to stay long on equities, even with the market moving through one of its historically weakest four-week periods (late July – late August) for bulls.