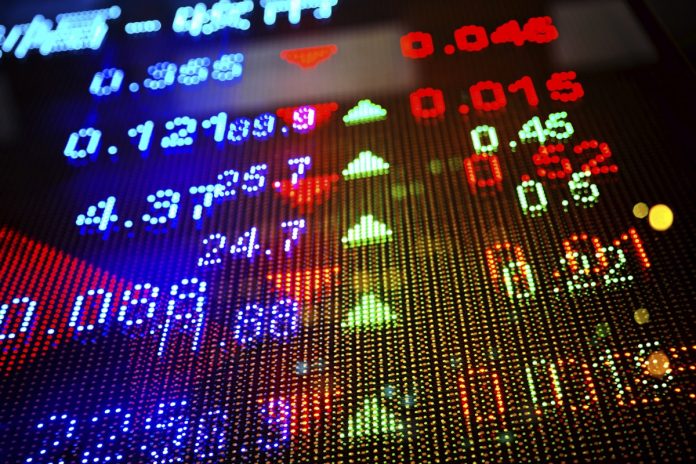 Everything You Need to Know About Waymo's Early Rider Program
Waymo's Early Rider program helps the company offset a portion of the $716 million in quarterly operating costs with paid taxi services for those individuals brave enough to sign up.
The program, which brought in $146 million in Q3, may seem insignificant. But Alphabet's Ruth Porat (NASDAQ: GOOG) was confident that it was another step toward early-stage commercialization.  
"In the third quarter we built on our Early Rider Program, both expanding the group of participants and beginning to test pricing models," said Porat. "So we do now have people paying for rides, and we're also testing pricing models."
She added that on top of that, the company was exploring new opportunities in logistics and deliveries. "It's very early days," she said, "and we are taking a very deliberate iterative approach to broadening it out."
Sundar Pichai, Google's CEO, was also confident about Waymo's future. "We take a very long-term view, and we want to invest to get the user experience right. And we are pretty confident that when we do that, the value will follow."
Alphabet's Waymo Is on Pace to Build the "World's Most Experienced Driver"
In June of this year, Waymo CEO John Krafcik got up in front of the National Governor's Association in Santa Fe, New Mexico, and announced that the company's fleet had driven over eight million miles on public roads, an increase of 100% from just eight months earlier.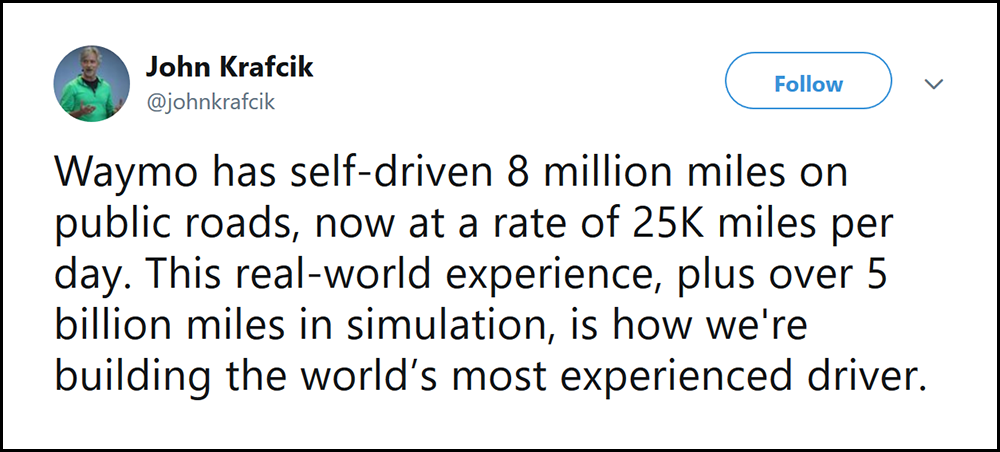 In fact, the number of miles racked up by Waymo's driverless cars have been rising parabolically since 2015, when just a few thousand of such vehicles were on public roads. Today, Waymo has over 25,000 driverless cars on the road with another 80,000+ planned in the near future, all of which are sending massive amounts of data back to Alphabet HQ, where Google's Deep Mind artificial intelligence sifts through the information and uses machine learning to create smarter, safer, more efficient autonomous vehicle algorithms.
Incredibly, the experience gained through driving on actual roads is nothing compared to the number of miles racked up through simulations. According to Krafcik, over 5 billion miles of simulated driving have been logged and processed, which places the company leagues ahead of its nearest competition.
Self-Driving Cars Are A Future Trillion-Dollar Industry. And Alphabet's in the Driver's Seat
Autonomous vehicle revenues may not be much to look at now, but there are indications that they could create thriving new economies and save countries billions of dollars every year.
This industry, by some estimates, could be part of a $7 trillion market by 2050, and has the potential to save the economy hundreds of billions more in property damage, health costs, and insurance costs.  It could change our roads, our cities, and our lifestyles . Heck, it could even change how we view parking lots forever.
And Waymo seems poised to dominate the space. Here's why:
They have the money: Alphabet is sitting on billions in cash and their ad revenues from Google aren't going anywhere anytime soon. They were up 21% in Q3 of this year alone.
They have government connections: Just two days ago, on October 30th, California's DMV issued the first ever permit to allow the testing of driverless autonomous vehicles in Santa Clara county. Governments in Arizona, Colorado, Florida, and other states have also issued permits.
They have a good (so far!) reputation: Waymo has managed to avoid the worst of the bad press associated with autonomous vehicles. For instance, they haven't killed any homeless people (looking at you, Uber). Or at least not yet, anyway.
We believe we're witnessing the birth of a new industry; one which Alphabet will come to dominate by as much as 60% according to an estimate from Financial Times analysts. So, while traders concern themselves over short-term revenue expectations, it may be wise to "buy the dip".